Games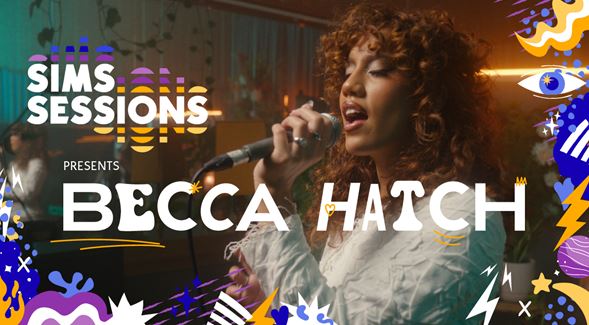 Published on March 29th, 2023 | by Andrew Bistak
Becca Hatch Debuts Simlish Single 'Blessed' in Australia's First Sims Session @BeccaxHatch @EA
EA and Maxis today announced a partnership with Australian musician Becca Hatch as she debuts her single 'Blessed' in Simlish. Inspired by her love of The Sims series, She has put a new spin on her Pop-Disco hit to bring it to the virtual world of The Sims 4.
Becca Hatch is a singer-songwriter from Sydney, and has curated a space in the Australian contemporary R&B scene that is wholly her own. The Kamilaroi/Samoan artist's lifelong adoration of The Sims has inspired her to believe that you can be anything you want, and has carried that across her career, including two APRA Award nominated tracks and a Triple J Like a Version performance. Now, The Sims is passing the spark and iconic Plumbob to Becca for Australia's first Sims Session.
Sims Sessions is a series and an open invitation to music fans and Simmers to go behind the curtain with musicians who challenge the status quo and experience their creative spark as they record their songs in the Sims' signature language, Simlish. The nonsensical, fictional language of Simlish was created for the original Sims game. It was designed to be universally relatable, composed entirely of improvisation and emotion.
"It's surreal to be doing this campaign with a game that has been part of my life since I was a child," said Becca Hatch. "I still have fond memories of my brother and I sitting at our old desktop pc living out ridiculous lives in the world of The Sims. To be honest it was always a dream to work with The Sims franchise on something relating to my music and now that I've had the opportunity, I can't wait for people to see it. In other words, yob fweebin boofed!!! (I'm feeling Blessed)"
Becca's single 'Blessed' will join the existing library of 550+ other recorded Simlish tracks, including New Zealander, BENEE, in The Sims 4 on April 18. Becca Hatch will also be available as a downloadable Sim herself from The Sims public gallery on this date. The Sims has a long history of pushing musical boundaries, and all these iconic tracks can be listened to on the in-game radio as Simmers play out their virtual lives.
To view Becca Hatch's Sims Session video, please visit: Becca Hatch & Tentendo – Blessed | Sim Sessions – YouTube
To learn more about Sims Sessions, please visit: https://www.ea.com/games/the-sims/spark-something/sims-sessions
The Sims 4 is available for PC via EA app, Mac via Origin, Steam, Epic Games Store, PlayStation 5, PlayStation4, Xbox Series X|S and Xbox One systems.