Switch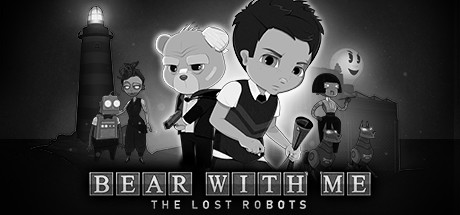 Published on August 23rd, 2019 | by Lyla Saudi
Bear With Me: The Lost Robots
Summary: A traditional point 'n click game with a noir twist.
Welcome to the gritty, monochrome world of Paper City, where you take the role of a young boy named Flint who, with the help of your sarcastic, grumpy, and alcoholic partner Detective Theodore Edward Bear (Ted E. Bear for short… and yes, he's an actual Teddy Bear) are here to crack a kidnapping case.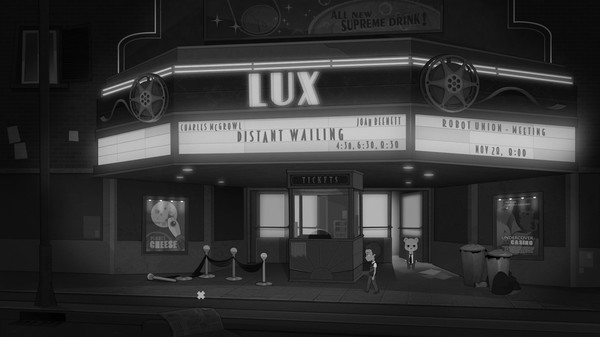 Think 1940's black and white grizzled crime movie, complete with self-narrated graphic novel cut scenes, where only hard edged, hands-on detective work will get the job done. Using traditional point-and-click adventure gameplay (from the glory days of Lucas Arts), you will find items, solve puzzles, and interact with shady crime characters all amidst an atmosphere created by the evocative soundtrack and uniquely animated film-noir art-style. 
Developed by the Croatian development team at Exordium Games, the game is set as a standalone prequel chapter to the original 3-part series of the same name, in which you played the role of Flint's sister Amber. The prequel introduces a new set of characters and helps provide some background of the events which lead to the first three episodes. As someone who hadn't played the original game, I found the initial introduction a little abrupt with no real set-up or back story as to why I was here, who everyone was and what was going on. But this dissipated as I became focused on the current story and the bigger issue of solving the sinister mystery of missing robots.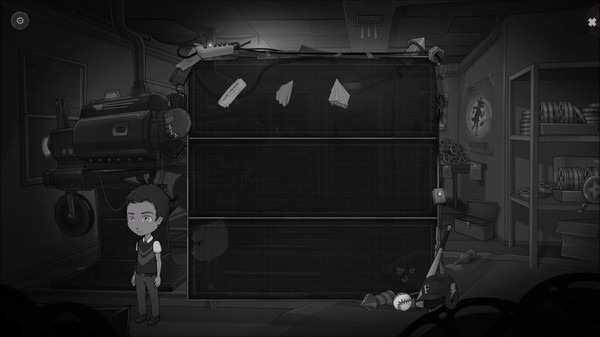 The point and click gameplay is streamlined and easy to navigate. The game is only of medium difficulty with most of the item puzzles fairly logical. You will get your fix for exploring environments, seeking items of interest and interrogating suspects, and there are enough brain teasers in there to provide a level of satisfaction upon completion. A neat feature for point and click fans is the fast travel system which provides an easy method of finding that pesky 'missing item' without the pain of backtracking through all those environments. With fast loading times, a neat player menu and a well-paced game it is easy to pick-up and work through without any hold-ups.
It is a short game but very enjoyable. The voice acting felt very odd at first, feeling slightly jilted between characters and delivered in a very flat and uninspired manner. But as you spend more time in this world it starts to feel appropriate for Flint, our dry and lethargic teen, and Ted, our grizzled and disengaged veteran. Ultimately it is the relationship between these characters which is the highlight of the game. A mix of engaging dialogue, drama and solid storytelling and dry, morbid and very funny humor which makes the game experience.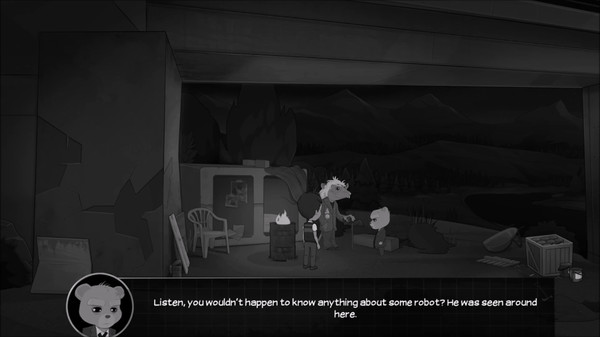 The black and white game environment is delightful. The gritty city with various animal and robotic characters provide the perfect backdrop on which the game's story sits. Each area is well drawn with a nice amount of detail. There is a dedication to the film-noir style through the soundtrack, sarcastic black comedy style, black and white art style and gritty self-narration.
Final Thoughts?
Bear With Me: The Lost Robots is only a short point and click game, with a play time of around 2-3 hours. The lack of introduction and odd character dynamics makes the start a shock to the system, but spend a few minutes in this world and you will want to play it through to its completion. The film-noir style, demonstrated through visual, audio and storytelling methods allows the game to win you over with its humor, drama, and gritty crime tale.
Game Details
Title: Bear With Me: The Lost Robots
Publisher: Modus Games
Developer: Exordium Games
Genre: Point and Click
Platform: Nintendo Switch