Comics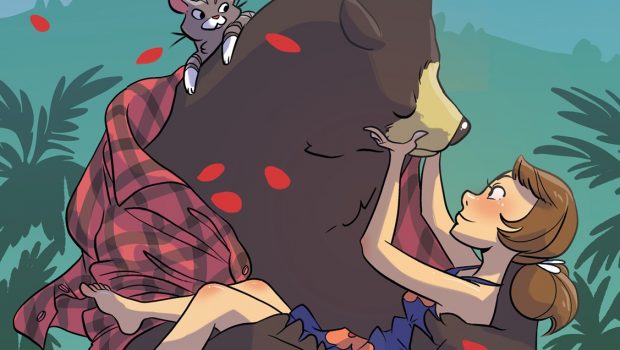 Published on June 22nd, 2017 | by Dana Folkard
BEAR MEETS GIRL IN NEW ONI PRESS GRAPHIC NOVEL "MY BOYFRIEND IS A BEAR"
Portland's premier independent comic book publisher, is excited announce a new graphic novel
MY BOYFRIEND IS A BEAR
by Pamela Ribon (
SLAM!, Moana
) and Cat Farris (
Emily and the Strangers
). This romantic comedy of bear meets girl stars 28-year-old Nora, frustrated with the dating scene until she meets the perfect boyfriend—a 500-pound American black bear.
"The comics market right now has a lot of very dark, serious stories," says Farris. "I'm really excited to help put a story out there that is silly and sweet. Something that hopefully makes people smile. It's not everyday you get to sell people a book about a girl dating a literal bear, and I hope folks are as charmed by this story as I have been while working on it."
"I love how comics can shift from big moments to small," says Ribon about making her first graphic novel. "There's a wonderful intimacy with the reader that allows for sweetness, surprise, and depth of honesty at an immediate, visceral level."
Nora has bad luck with men. When she meets an (actual) bear on a hike in the Los Angeles hills, he turns out to be the best romantic partner she's ever had! He's considerate, he's sweet, he takes care of her. But he's a bear, and winning over her friends and family is difficult. Not to mention he has to hibernate all winter. Can true love conquer all?
 
Pamela Ribon is a screenwriter (Moana, Smurfs: The Lost Village), TV writer, comic book writer, author, and best-selling novelist. She's currently co-writing Disney's Wreck-It Ralph 2: Ralph Breaks the Internet and has been a member of the Disney Animation StoryTrust since 2013. Ribon was previously a writer and narration consultant on the DisneyNature documentary Bears. Her debut comic book series SLAM!, co-created with Veronica Fish, was published by BOOM! Studios, and she occasionally guest writes issues of Rick and Morty™​.
Cat Farris is a native Portlander, and member of Helioscope Studio. She is the creator of the webcomic The Last Diplomat, and the minicomic series Flaccid Badger. She has worked for companies such as Amazon and Rovio Entertainment, and illustrated Dark Horse Comics' Emily and the Strangers. She enjoys using her cute and lively animation-influenced style to draw things that are disturbing yet somehow still adorable. ​
My Boyfriend is a Bear will be available in comic shops, bookstores, and ComiXology in April 2018.