Collectibles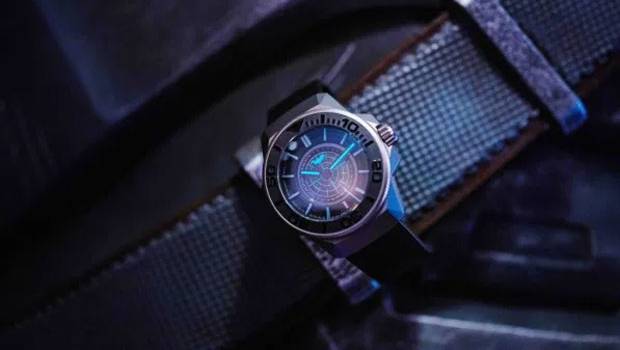 Published on September 24th, 2020 | by Andrew Bistak
BE THE BAT … UNDONE BATMAN QUANTUM WATCH REVIEW
Summary: Undone's Batman Quantum Watch is a true timepiece and a true celebration of The Dark Knight himself!
Undone are a prestigious watch maker who are known for the high-quality 100% custom made watches and for the uninitiated, they have a partnership with Warner Bros' DC Comics. This means officially licensed and totally cool merchandise and joining their line is the amazing new Batman Quantum Watch that not only screams The Dark Knight but looks equally as stylish and something our favourite hero's alter ego Bruce Wayne, would wear.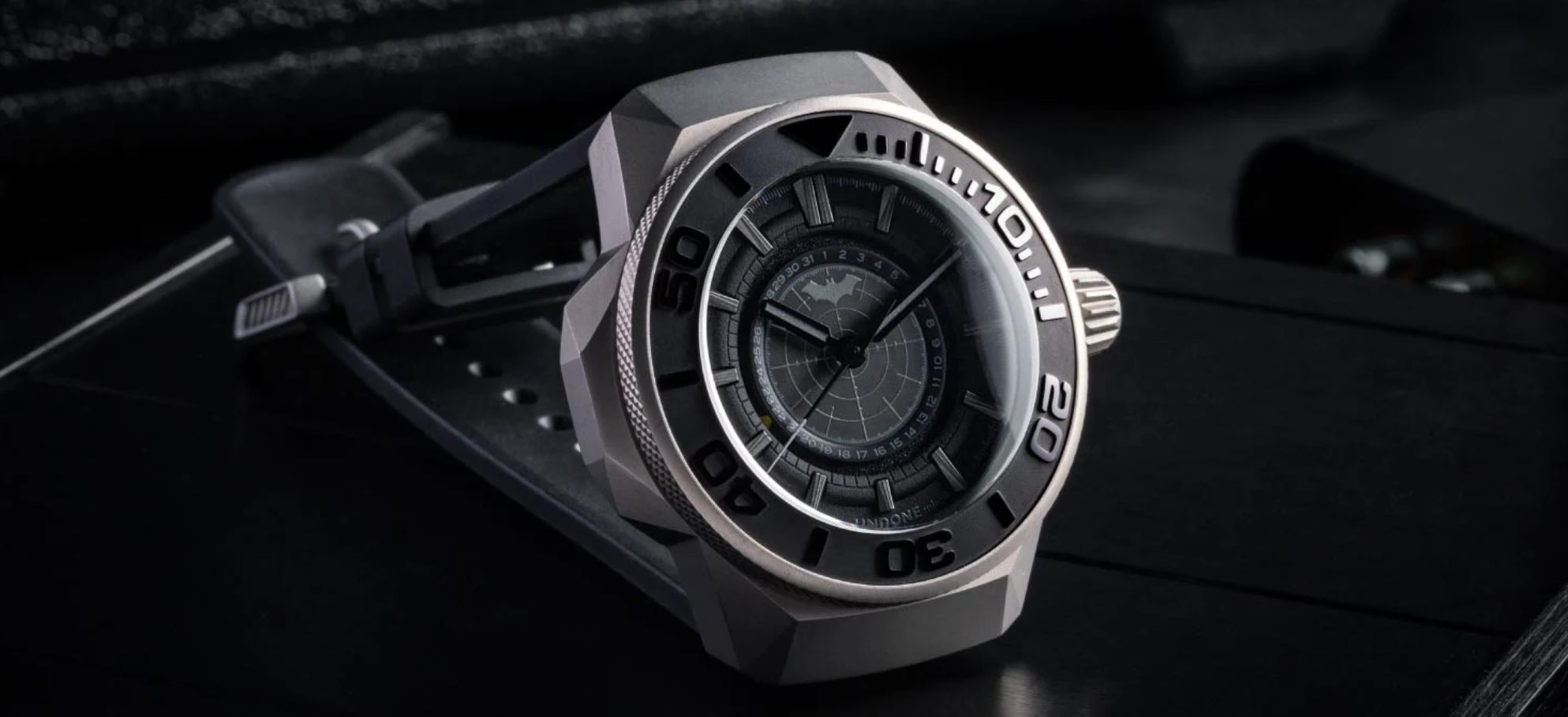 Just be aware that this is no "throw-away" smart watch with a 1 or 2 year lifespan but rather, it is a true timepiece and one that will be sought by collectors from around the globe. There's also two versions of this watch available, the Batman Quantum Black (Limited Edition) and the Batman Quantum Silver (Standard Edition) that both look equally amazing. We were fortunate to review the standard edition that channels the gadgetry of this hero from its overall appearance to its minuscule detail which is all Batman and Gotham!

Batman Quantum Black (Limited Edition)
In terms of this watch's origin, the Batman Quantum is inspired by their SONIC series of watches with the label of "Quantum RADAR" that includes a Japanese Seiko NH35A Automatic Winding Mechanism and it boasts a scratch-proof sapphire crystal dome, plus an indestructible Grade II Titanium alloy case.
So as you can see, it's definitely something that would not look out of place in the world of Batman. Given the upcoming film, The Batman by director Matt Reeve with The Dark Knight played by Robert Pattinson and from the trailers, this watch would not look one iota out of place in that movie.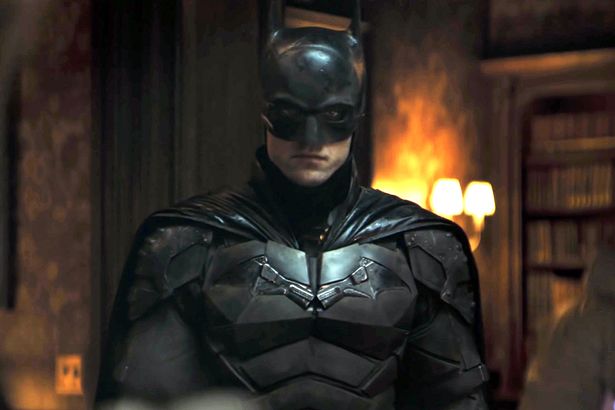 Fans witnessed in awe as Batman last pushed the capabilities of SONAR technology (Sound Navigation And Ranging) to new heights. When he essentially converted every active cellphone in Gotham into a high-frequency generator, mapping in echolated detail (shape, size, speed and distance) of every hopeless criminal in the city, the technology had proven quintessential in his final showdown against the Joker. UNDONE ventures with an unveiling of the cutting edge technology – the cryptic and powerful "Quantum RADAR", which is a supercharged version of the same SONAR concept, all in the form of the UNDONE Batman Quantum.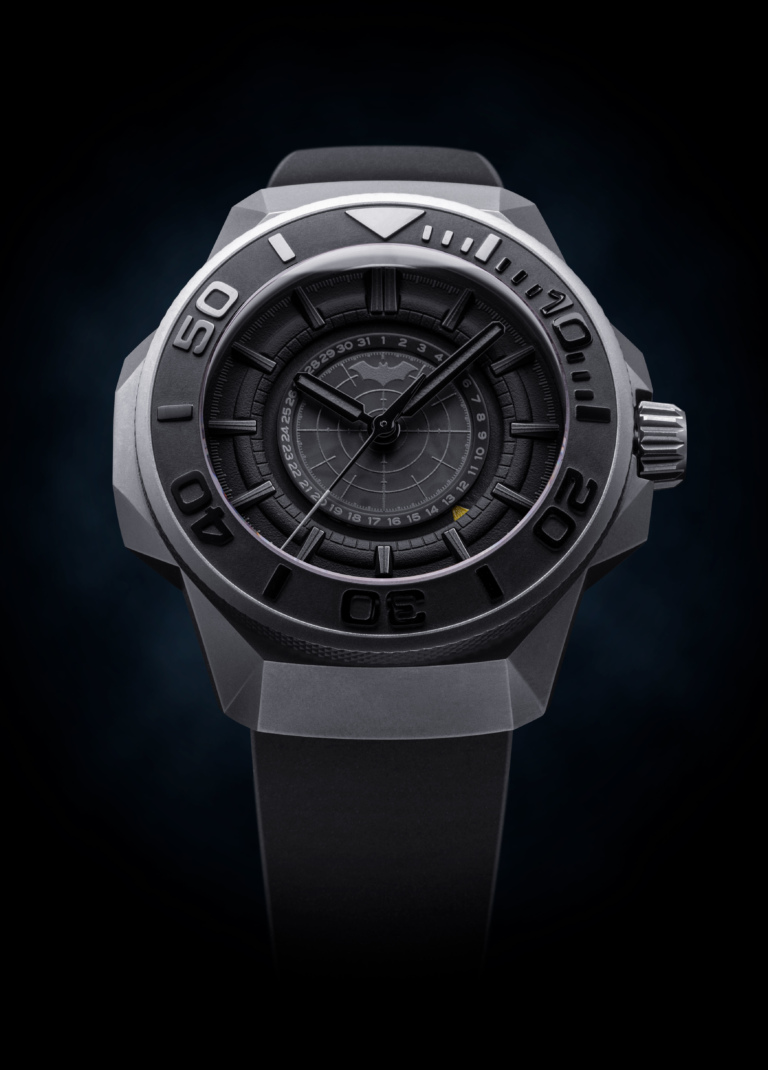 Now here's the tease…
..
Unboxing Shots
..

..
Straight out of the box, the first thing that I noticed about this watch was its angular designs that is reminiscent of the modern art style of Batman, including the Batmobile and of course, Batman's armoured suit with a touch of Mecha thrown into the mix. Furthermore, the sandblasted metal is quite distinctive and really makes the watch standout, especially with its multi-levels.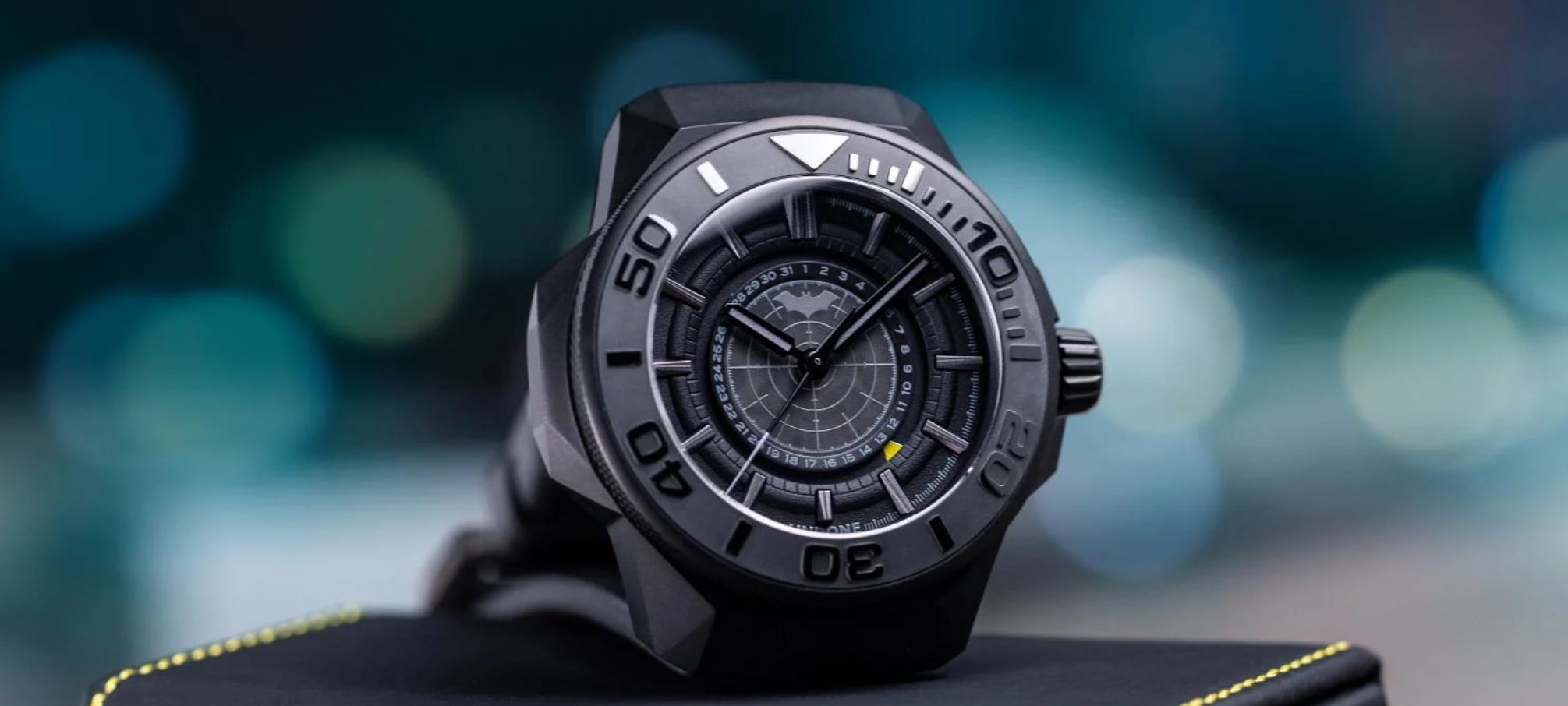 The diameter of the case itself measures at 47mm or 50mm if you include the crown with a thickness of 16.25mm and it comes with a crystal lens and underneath that is the proudly displayed Bat logo. For those looking to get the Limited Edition, it comes with a diamond-like-carbon PVD coating for additional sturdiness. The watch evencomes with a Batman inspired card so you can mark off when it was "activated" plus an owners manual.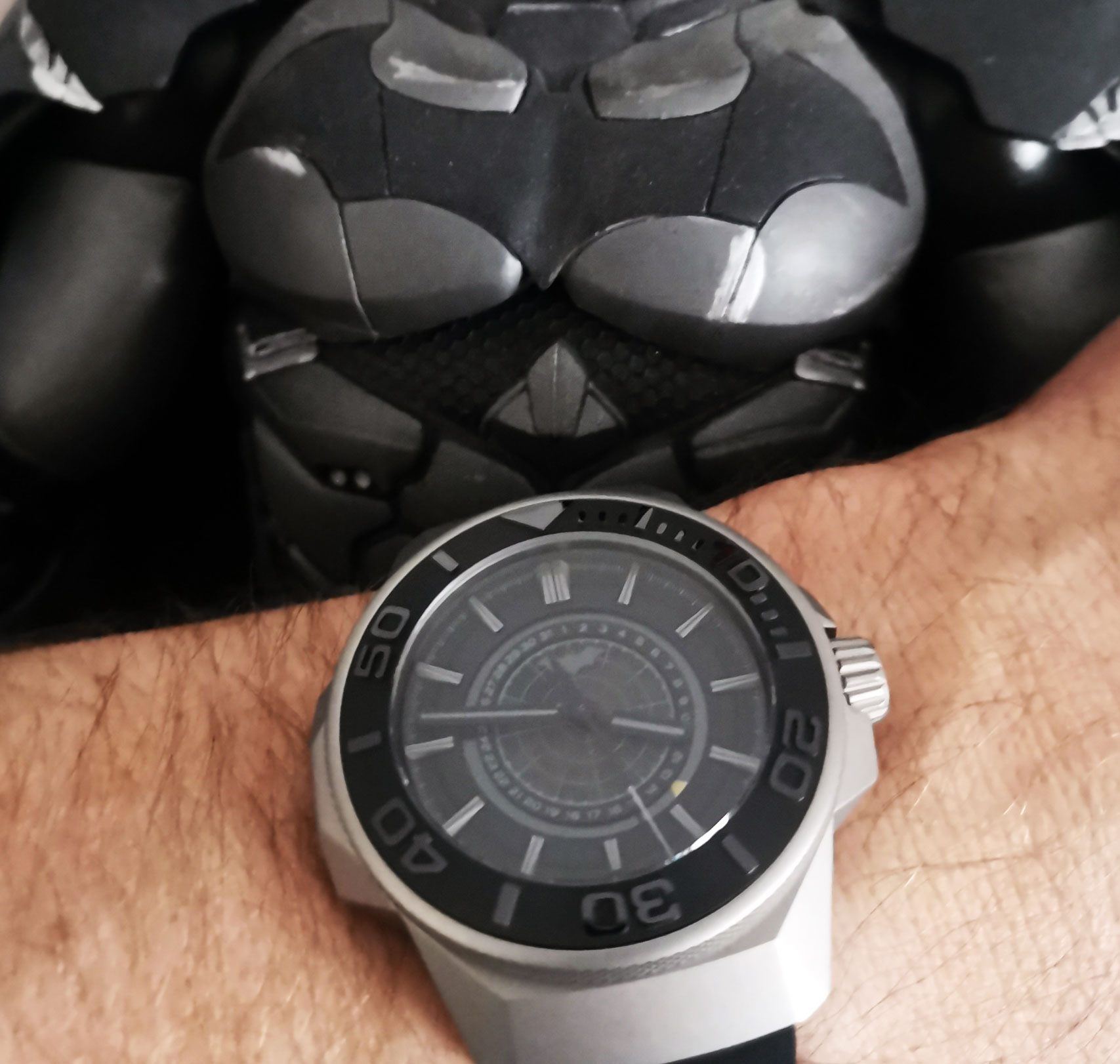 I also like the small touches that have been made by Undone such as the roman numerals inside the case that would not look out of place in Gotham City and of course the aesthetically impressive dial with another Bat Logo.
Then there's that textured element around the bezel and adding to the overall design is the think and strong band and if you put it all this together, it creates a standout watch.
On the reverse is another Bat logo and an engraved note from Undone stating "Pressure tested to 200m / 20ATM – Undone – Grade 2 Titanium case and back – Undone."
Overall, a totally impressive looking timepiece that not only channels The Dark Knight mythos well but Undone have created an almost apocalyptic proof watch. You could even go swimming with Aquaman (another DC hero) of up to 200 metres that means it can withstand pressures of 20 atmospheres.
And when the sun goes down…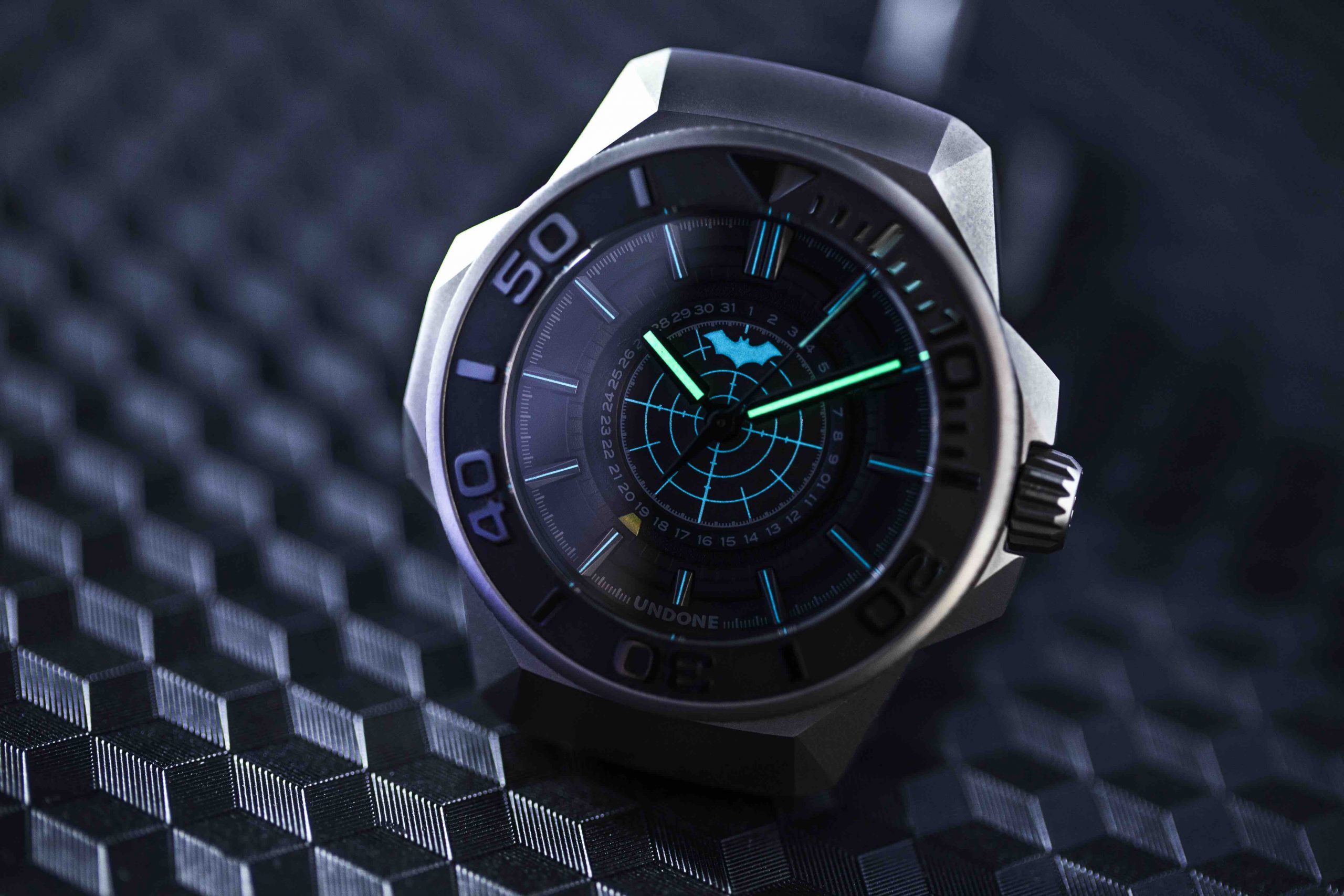 … the watch takes on another persona as both the logo and hands come to life. I also like the subtlety of the day logo which allows you at a glance to know what day it is.
Final Thoughts?
Undone's Batman Quantum Watch is a must have to all Batman fans and if you're looking to spoil yourself during these unprecedented times in COVID-19 or looking for the perfect gift, this watch is the panacea to something totally impressive and totally cool at the same time!
Brilliant!
Prices
Batman Quantum (Standard Edition) RRP Price: USD 650
Batman Quantum Black (Limited Edition) RRP Price: USD 799 (*)

(*) Limited to 500 pieces
For more information and to pre-order, please visit https://www.undone.com/en/
#: Available from 24th September 2020
Studio Shots
Undone Batman Quantum Watch Trailer