News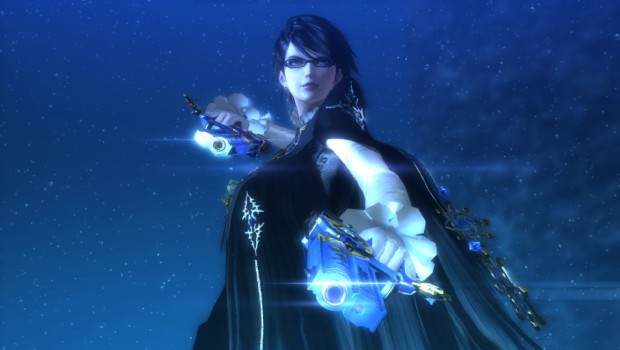 Published on October 24th, 2014 | by admin
BAYONETTA RETURNS TO SET THE WORLD ALIGHT IN BAYONETTA 2 ON Wii U
PlatinumGames's Wii U masterpiece launches 25th October across Australia and New Zealand
23rd October 2014 – Over the top. Breathtaking. Out of control. Stylish. Beautiful. Any of these words can be used to describe Bayonetta 2, which launches exclusively for Wii U on Saturday, and is developed by action-game maestro PlatinumGames. Fans of the original Bayonetta game know that the series stands out from almost any other video game series, delivering intense action, massive set pieces, gorgeous HD graphics and fluid, responsive controls. With Bayonetta 2, all this is dialled up, with the titular Bayonetta more powerful than ever, using wild new moves and weapons in single- and multiplayer to take down both angels and demons in a thrilling quest to save a friend from eternal damnation. Just another day in the life of the Umbra Witch herself.
With her magic-imbued hair, chic glasses and gun-toting high heels, Bayonetta is one of the most original characters in video games – and she doesn't just sit back and wait to be rescued. In Bayonetta 2, players take control of this damsel-that-causes-distress to slash, shoot and guillotine through multiple chapters that find our heroine going head-to-head with a towering enemy while flying outside a skyscraper, taking down an ogre-sized angel on the back of a speeding train or confronting angelic foes while standing on the wing of a fighter jet; amongst other magnificent set pieces. By performing well in battles, players earn medals that reflect their performance, ranging from the room-for-improvement Stone to the perfect Pure Platinum medals.
For the first time in the series, players who want to take on battles with a friend can team up online with another player in Tag Climax. In this co-op mode, two players with a broadband internet connection can destroy legions of enemies together, playing as a variety of characters from the game. As players journey through the main story mode, they will unlock Verse Cards that can be used to unlock additional stages in Tag Climax, and the halos earned in Tag Climax can be used to buy new moves and weapons to bring into the next battle.
Both the original Bayonetta and Bayonetta 2 games include in-game costumes that will be a treat for any Nintendo fan. Bayonetta can wear exclusive costumes modelled after fan-favourite Nintendo characters such as Princess Peach, Samus Aran and Link. These amazing outfits aren't just for looks, as the game changes in fun and unexpected ways when Bayonetta dresses up. For example, whilst wearing the Princess Peach costume, Bayonetta summons Bowser's paws instead of infernal demons. Donning the Samus Aran costume allows Bayonetta to use the Arm Cannon to blast away foes. Dressed as Link? Bayonetta wields the legendary Master Sword – and you may hear a familiar chime after a puzzle is solved.
IGN, 9.5 out of 10 – "One of the most satisfying action games I've played."  
Game Spot, 10 out of 10 – "Nothing short of astonishing." 
GameInformer, 9 out of 10 – "No matter what you do…you look and feel awesome while doing it."
If your appetite has now been whet for Bayonetta 2 ahead of her arrival on Saturday, you can try the free demo available on Nintendo eShop which allows you to try out a slice of the non-stop climax action.
At retail, the Special Edition will bundle the original Bayonetta game with the packaged version of Bayonetta 2 (SRP AU$79.95). Digital versions of Bayonetta 2 (AU$69.95/NZ$89.95) and Bayonetta (AU$49.95/NZ$69.95) can be purchased on Nintendo eShop at launch, and if both games are purchased, a special discount will be applied during the purchase process of the second game, making the total for both games AU$79.95/NZ$99.95.
Bayonetta 2 launches 25th October in Australia and New Zealand at retail and on Nintendo eShop.