Comics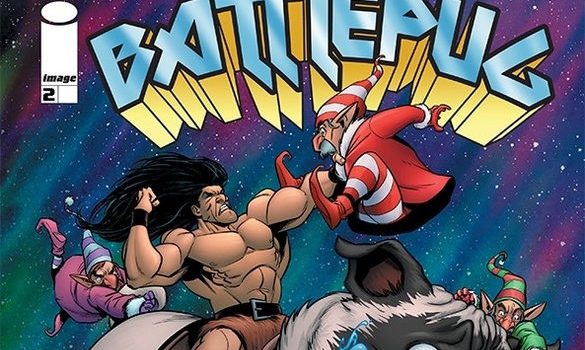 Published on October 10th, 2019 | by Tim Chuma
BATTLEPUG – War on Christmas #2 Review
Summary: The gang's all here! Battlepug and his master return to the icy wastes of his birth to settle some scores.
I was a big fan of the web comic and was wondering when a new series was going to start as it seemed like the creator wanted to take some time off after finally finishing the series on their website.
The story picks up when the last Kinmundian and his faithful Battlepug Sprinkles return to the land of his birth to settle some old scores. At the same time the rest of the gang go meet up with Callistus in his pirate city who has now reformed and is a smallgoods manufacturer. Lucky for them he hates the food service industry and agrees to go along.
The warrior soon runs into troublesome elves and gang encounters the Nobody's Ponies and the story is continued in the next volume. There is also a short story at the end written by another author and letters and photos of readers' pugs.
It is a big leap to go from a weekly web comic to a published format and I think it has gone well. I would want to wait for the trade paperback to come out so I could read all the story but if you like to buy the individual comics then I would recommend it.
The story seems to be in a different format this time as the previous story was told in form of one of the characters relating the story and then at the end it came to them. This time it seem to be a more traditional story. Also it will not take several years to tell this story hopefully so there will be more progression in a shorter period of time.
The art style is as great as it was in the web comic and I remember reading something about why the warrior has such skinny ankles, but thick thighs but I forget where it was. Special guest for the story is the Nobodies Ponies, an obvious dig at My Little Ponies but evil.
The short story written by Shawn Pryor and drawn by Ray-Anthony Height helps fill in some of the lore of the series and is a nice addition to the comic.
I would recommend getting this comic if you were a fan of the original and wanted to collect each one as it comes out.
Comics Details
Writer: Mike Norton
Artists: Mike Norton, Allen Passalaqua