Games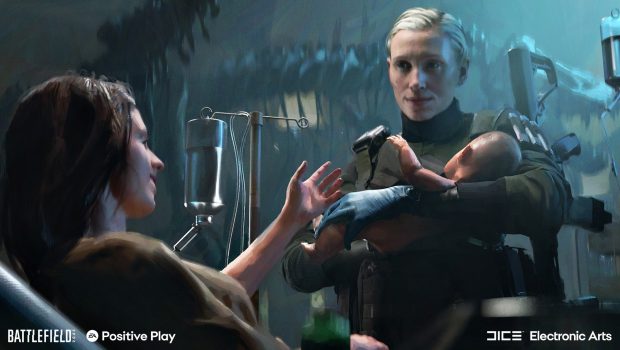 Published on October 1st, 2021 | by Adrian Gunning
Battlefield 2042's Commitment to Positive and Fai
The Battlefield 2042 team has released a blog post outlining several initiatives and approaches the team is developing to ensure a positive, fair and welcoming experience for all players within the Battlefield universe.
You can find the full blog post below, or at the following link.
Battlefield's Commitment to Positive Play
Our community is the core of Battlefield and we're excited by how much it's grown since we first released Battlefield 1942, nearly 20 years ago. With Battlefield 2042, we're strengthening our commitment to ensuring Battlefield remains a welcoming experience that encourages Positive Play.
As part of this commitment, we wanted to update you on the initiatives that we're developing to ensure our community remains a positive space.
We want you to be proud of being a part of the Battlefield community – a globally inclusive and diverse community where any race, gender, sexual orientation, religion, heritage, or country of origin are welcome.
For that reason we've created a Community Charter outlining our expectations for members of our community that join us on the Battlefield:
Treat Others as They Would Like to be Treated – Squad up and play the objective, together. We won't tolerate players who negatively disrupt or engage in harmful behavior towards others.
Keep Things Fair – Be on the right side of the fight. If you see players breaking the rules, report them.
Share Appropriate Content – Don't fight dirty. Make sure whatever content you're sharing is appropriate for Battlefield
Keep Things Honorable – Protect your squad. Keep it legal in Battlefield, and do not participate or encourage in dangerous or illegal activities.
We take our commitment to Positive & Fair play seriously, and won't tolerate bad actors on the Battlefield. As a community, we play the objective, together.
Visit our website to read the full Battlefield Community Charter.
Positive Play is about ensuring you're able to refine your social experience while playing Battlefield 2042. This comes in the form of several tools and features to help you define that experience for yourself.
You are able to block or unblock players in-game, ensuring they cannot message or voice chat with you.
An in-game text profanity filter will always be active.
The option to mute in-game text or chat is available. You can select to mute either individuals, or all players or chat.
You can report a player directly from in-game, so that you don't need to tab-out.
Battlefield Portal will also offer players several admin tools such as the ability to apply persistent bans across Community Experiences that you've created.
We ask you to be on the right side of the fight when it comes to keeping things fair. If you see players breaking the rules, report them so we can investigate. It helps maintain a healthy community and we appreciate your help.
With Battlefield 2042, we've streamlined our reporting process to make it more efficient so you can report the player and get back to the game. To make sure you understand the different reporting tools that will be available to you, we've outlined them here:
In-game
Reporting a player is faster than in previous Battlefield titles, and can now be done directly in-game as follows:
From the Player and Squad List or Social Menu, select the player you wish to report
Select Report
Select the reason for your report

Abusive Text Chat, Abusive Voice Chat, Cheating/Exploiting, Gameplay Sabotage, Offensive Player Name, or Harassment

Select Send Report

. You can add an optional comment if necessary
EA Help
If for any reason you can't report in-game or need to report something that happened online, you can also give us the details on EA Help:
Click Contact Us from any page on EA Help.

We recommend logging in to your EA Account.

Select your Product.
Select your Platform.
For Topic, select Report concerns or harassment.
For Issue, choose from Real-life threat, Report player, or Report website.
From here, you'll open a webform to let us know more about what happened.
Xbox and PlayStation®
If another player has sent you harassing messages in a chat or voice on Xbox or PlayStation®, you can report them directly to PlayStation and Xbox. Find out how to do that on their websites:
So you reported a cheater, what happens next?
You told us it was unclear what happens next when you report a cheater. So we've made a few changes for Battlefield 2042 to ensure you're kept in the loop once you've submitted your report:
If you report a cheater, we'll let you know in-game that we've received your report.
If we've taken action based on that report, we'll let you know via email that action was taken on the cheater.
Ensuring Fair Play for anyone that steps onto the Battlefield is something we take seriously at DICE. In short, that means we don't tolerate cheating, and we have teams dedicated to preventing, identifying, and sanctioning cheaters.
In Battlefield 2042 our first approach to ensuring Fair Play is that we'll use Easy-Anti Cheat (EAC) as our anti-cheat tool of choice. EAC already has a proven track record in identifying  cheaters, such as within Apex Legends and STAR WARS™: Squadrons. It is also proven to be effective in ensuring your privacy, and security.
Another change for Battlefield 2042 is that due to cross-play functionality, when a cheater is sanctioned it will cause them to be instantly disconnected mid-match and permanently banned across all platforms. As before, we still have the ability to apply IP and hardware bans if necessary. To keep our community a fair place, we have a no tolerance rule in place. There are no warnings and no suspensions when it comes to cheating. If you don't play by the rules, you're out. Any actions made on your account can be appealed via EA Help.
Lastly, ensuring Fair Play and combating modern cheating solutions is an ongoing commitment that doesn't end at launch. While not always visible to you as a player, this means that post launch we'll continue to invest in developing internal capabilities and technologies that augment 3rd party anti-cheat solutions, provide multiple layers of defense, and ensure our games are fair and fun for everyone.
Easy Anti-Cheat will be in place for both the Open Beta from October 6th to October 10th, and for the full release of Battlefield 2042 this November.
Console – Mouse & Keyboard Support
We've heard your questions about mouse and keyboard support for consoles. We can confirm that we won't be supporting this on consoles at the launch of Battlefield 2042, but we are still investigating the various options about making that available, and how it may impact cross-play. If that ever changes, you'll hear it from us first.