Books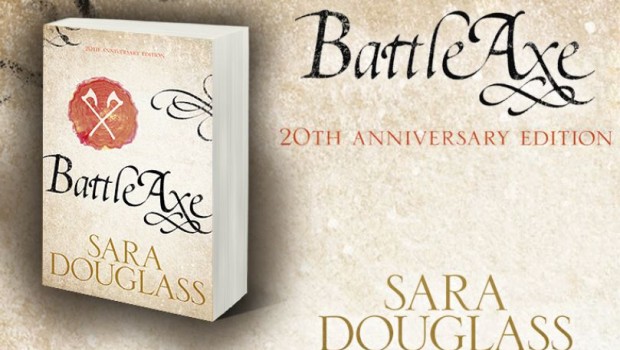 Published on March 16th, 2015 | by admin
BattleAxe 20th Anniversary Edition Review
Battleaxe
Author: Sara Douglass
Genre: Fantasy Fiction
Format: Paperback
Publisher: Harper Collins
Pages: 592
Price: 27.99 AUD
Reviewer: Peter Bourke
Celebrating the 20th anniversary of one of the most influential fantasy writers of our era, Harper Collins have just re-released Sara Douglass' amazing novel, Battleaxe that is set in a medieval world filled with political intrigue, religion, drama, action and classic storytelling. The protagonist of the story revolves around Axis, the bastard son of the dead Princess Rivkah who is forced to the battlefront of Gorkenfort with his elite warriors in order to give command to his half-brother Borneheld. However upon the way, Axis falls for his brother's betrothed Faraday and along the journey to the north, his belief system is challenged when he meets two holy men who challenge the very doctrine that his tribe has held to their hearts over a thousand years.
Furthermore, to complicate the situation, a new evil is rising from the North who have been destined to return as strange occurrences and unexplainable phenomena have caused the tribes to reunite and challenge this nefarious evil. From battles to death, Battleaxe really draws you from the first few pages in this intriguing novel. Religion also plays a key component to the story, especially the Acharites who have a hatred of the trees in the forest and as a result the Axe Wielders are the protectors of the lands who can prevent the forbidden ones from returning.
Like the recently released Magician (Raymod E. Feist) to celebrate its 20th anniversary, Battleaxe is equally as powerful and is still relevant in this new era of fantasy such as George R. R. Martin's Game of Thrones or Joe Abercrombie Shattered Sea Trilogy. Unfortunately Sara Douglass passed away in 2010 but she is still considered the mother of the fantasy genre in not just Australia but also the world. Her classic novel Battleaxe still successfully ticks all the right boxes for his genre, including many unexpected twists and turns that makes her writing such a joy to read.
Although this novel by Douglass does have some parallels to J.R.R. Tolkein, especially with this new evil rising from the north and the uniting of many tribes to face an ancient evil, there is still something fresh and unique with her storytelling. Add in magic and politically intrigue, Battleaxe also features a romantic storyline through the many myriad of tales of this adventure which does make the hero more likeable opposed to some of the other characters from this genre. Even though I have read the original, this 20th anniversary edition is still just as gripping and really had me glued to the book as I returned to this colourful world with very relatable characters filled with emotion, motivations and different views on the troubles of this world called Achar.
Final Thoughts?
As mentioned Battleaxe is still a powerful read that really adds itself well to this genre and is filled with passion, not just from the characters but also the writing of Douglass that successfully takes the reader on a wondrous and dangerous journey as we follow Axis and his supporting cast on an evolutionary journey that will lead him to the deadly secrets of his people that will force him to question the very societal structures that have held his people together for a millennium. With fascinating characters and easy to read writing, it's easy to see why Harper Collins have revisited this amazing series.