Books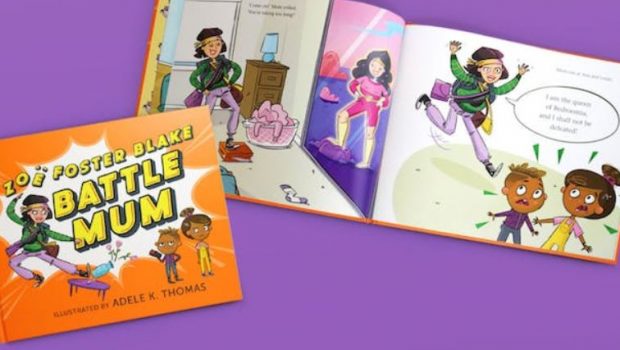 Published on October 29th, 2022 | by Admin
Battle Mum Book Review @zotheysay @hamishblake @PenguinBooksAus
Summary: Battle Mum? Zoë Foster Blake Wins! Flawless victory!
Zoë Foster Blake is back with another hilarious children's book with illustrator Adele K. Thomas where Zoë successfully draws on her own personal experience as a mum as the main character turns the tables on her children Ana and Louis. For most kids, when they are enjoying themselves, they rarely want to stop and this is where the premise of Battle Mum comes into "play".
Suddenly mum tumbled both kids onto the bed!
Opposed to the never ending energy of children, this time the mum holds that endless reserve of energy who wants nothing more than to imaginary play fight in all sorts of battle realms. Unfortunately for Ana and Louis who just want to watch TV after a hard day at school, they are drawn into the imaginary battles of their mother which will resonate with both children and adults alike. While the premise is highly amusing, the illustrations bring it to the forefront with its hilarity.
"Initiate Electro-legs!" she yelled snapping her legs like angry scissors.
There is a caveat to these battles and mum promises to follow the rules of not being rough or tickling. How does it end? Well, you just have to find out for yourself! But like the play battles of children where it's all fun and games until someone gets hurt, mum unwittingly causes things to break and even accidentally hurts herself as they play fights commence with mum being a pain and also changing the rules.
Final Thoughts?
Like previous books from Zoë Foster Blake, they are very well written (including lots of humour) and her words really bring the story to life, particularly when matched with the colourful illustrations of Adele K. Thomas. All in all, another hilarious children's book from Zoë Foster Blake.
Zoë

Foster Blake Wins! Flawless victory!
Gallery


Book Details
Title: Battle Mum
Authors: Zoë Foster Blake, Adele K. Thomas
Publisher: Penguin Australia Pty Ltd
ISBN: 9780143779681
Ages: 3+
Format: Hard Cover
Publication Date: 01/11/2022
Pages: 32