Comics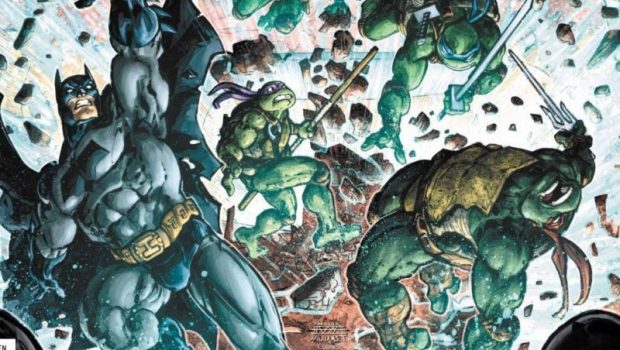 Published on September 10th, 2019 | by Matt Fischer
BATMAN / TEENAGE MUTANT NINJA TURTLES III ISSUE #5 REVIEW
Summary: Turtles and Bats? Pointless!
SPOILERS INHERENT IN REVIEW!
What started a few years ago as a fun idea has finally run out of steam. The idea that Krang is piloting the Anti-Monitor like his bodysuit of the 1987 animated series is great, but this whole volume of this series got off on the wrong foot (ha! I made a funny!)
Opening in a brand new world where nothing is like we expect it (and know it should be) is great, but we have yet to see how Krang actually pulled this off (unless I missed something major). We are TOLD how he did it in a little bit of dialogue and if this was a TV show it would be fine, because the budget probably wouldn't allow a showing of rewriting reality. But this isn't TV, these are drawings on paper, and not actually being able to see this event is just maddening.
The issue basically has the Turtles and Bats free the prime Turtles, stop Joker, and then Shredder shows up with the Foot clan to help stop Krang. Bruce realizes something is still missing and shines the Bat-signal, which brings Nightwing, Batgirl, Red Hood, Damian, and Tim to the battle. Yay.
One more issue and this trilogy (that shouldn't have been a trilogy) comes to a close. There's no point to this and can definitely be classified as a cash grab.
2 out of 5.