Comics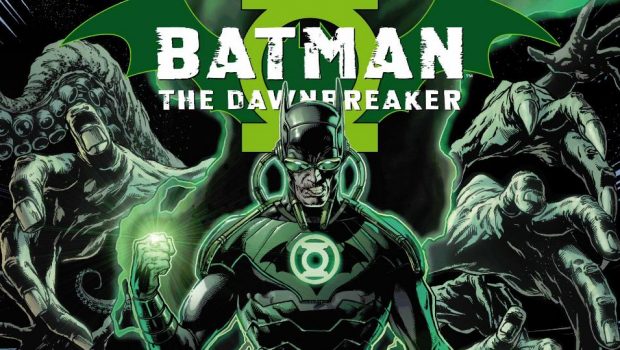 Published on October 4th, 2017 | by Andrew Bistak
BATMAN THE DAWN BREAKER #1 REVIEW
Summary: Batman the Dawn Breaker introduces a very corrupted Bruce Wayne as a Green Lantern in a truly spectacular fashion!
I'm thoroughly enjoying Dark Nights and BATMAN THE DAWN BREAKER #1 by Sam Humphries, Ethan Van Sciver and Jason Wright was my favourite comics of the week and of course is a Metal Tie-In. What happens when a Bruce Wayne is corrupted by the power of a Green Lantern's ring? This issue revolves around that question and how this version of Batman becomes part of the Dark Multiverse posse.
The story begins on Earth-32 in Gotham City where a young Bruce Wayne witnesses his parents murdered in cold blood. However this Bruce is a little different and when a Green Lantern ring calls to him as he has the ability to overcome fear, he becomes part of the Green Lantern Corps. However his willpower is driven by hatred as he pushes this weapon of power to its limits as it becomes corrupted by something dark and as a result, he enables lethal force.
Needless to say, the cowardly villain who murdered his parents is killed by Bruce and this new Green Lantern even attempts to raise his parents from the dead in a frightful panel by artist Ethan Van Sciver. Although Bruce Wayne is corrupted by the ring, he is still a 'hero' of Gotham as he eliminates with force any threat to Gotham from Scarecrow to the Penguin.
This Bruce definitely has parallels to Superboy Prime as he literally kills anyone in his way, including Commission Gordon and even the Green Lantern Corps and their masters, the Guardians of the Universe when they question him.
Still motivated by the 'night' of Bats, Bruce enters the power battery on OA, only to come out as a twisted version of Batman and a Green Lantern, including a very impressive new oath…
"With Darkness Black, I choke the Light!
No Brightest Day escapes my Sight!
I turn the Dawn to Midnight!
Beware my Power, DAWNBREAKERS MIGHT!"
… something however is missing from his life.
This void is filled by Lord Barbatos as he recruits this twisted Green Lantern into his army and orders him to Earth-0… New Earth or the Rebirth Earth. It is here where he meets Hal Jordan, Earth's mightiest Green Lantern but our emerald hero is absorbed into the darkness which surrounds this Bruce Wayne only to be rescued by Dr Fate as he takes him away from Coast City in order for him to help save the Multiverse.
The issue ends with Bruce Wayne from Earth-32 reigning havoc on the Denizens of Coast City.
Final Thoughts?
Wow! This issue was insane and writer Sam Humphries really brings this character to life in more ways than one. More particularly, his dialogue is very easy to read and I love the head space of this incarnation of Bruce Wayne who is corrupted by the power he wields. It was also a very gruesome issue and artist Ethan Van Sciver created some very spectacular and violent panels. I'm really looking forward to see more of these Dark Knights rise and if you're looking for a great read for the week, you should check out BATMAN THE DAWN BREAKER #1!
GALLERY