Comics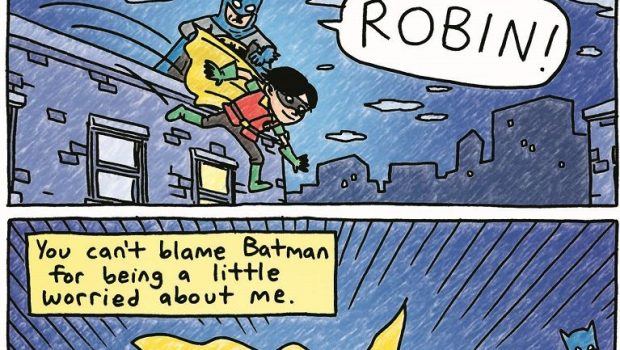 Published on November 9th, 2021 | by Tim Chuma
Batman and Robin and Howard (2021) Review
Summary: Robin manages to overcome his dad Batman being a massive dork and makes a new friend in Howard. A fun read and worth a look even if you are not in the target age group.
When Damian Wayne makes a mistake whilst out on patrol as Robin with his father Batman, he is sidelined and told he needs to redeem himself by getting some experience out in the real world. His dad takes him out of his posh school and puts him in a public school where he meets Howard.
The two end of becoming academic and sporting rivals, until they have a scuffle and are threatened from being suspended from school. In the meantime Batman has been investigating some strange occurrences involving the soccer teams of different teams and ends up imprisoned by an evil soccer coach.
Howard's parents make him take over a letter of apology and due to a series of events he ends up at the mansion and getting to know Damian properly and this is where the story really takes off.
This was a very fun story and takes it in an interesting direction even if there is not much crime fighting in this one and Batman is the one who ends up cooling his heels despite wanting Robin to do so.
I enjoyed the artwork and the writing in this one. The looser style suits the plot and the characters and makes it feel more alive as not having everything smooth and polished makes it feel more realistic in a way.
While this is aimed at a younger readership I would recommend fans of Batman and Robin have a look at it to see if you would like it as it something you don't usually get to see from stories with superheroes just living normal lives.
Book details:
Author and illustrator: Jeffrey Brown
Published: 18 January 2022
Imprint: DC Comics Children's
ISBN: 9781401297688
Format: Paperback
Pages: 160
RRP: $16.99