Comics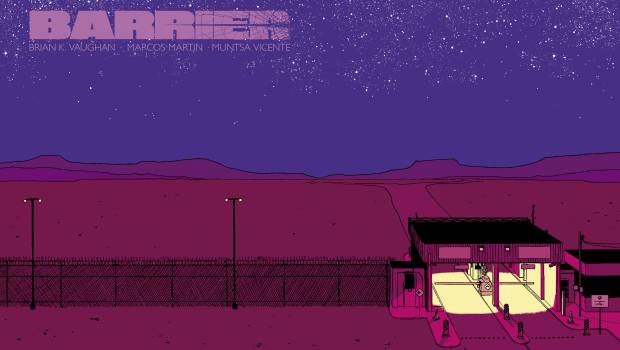 Published on May 9th, 2018 | by Dana Folkard
BARRIER #1 & 2 REVIEW
Summary: A story about immigration with a clever science fiction twist.
Penned by legendary writer Brian K. Vaughan, with art by the super talented Marcos Martin, Barrier is a gritty science fiction tale about immigration that ventures to explore the barriers between two individuals who wind up in an unexpected interstellar adventure.
After debuting via PaneSyndicate.com back in 2015, this critically acclaimed miniseries is finally available in print throughout local comic shops. This special collectors edition, which is printed in landscape format, is a nice chunky 50-plus pages, making it larger to match the next four issues being released weekly throughout May.
The story focuses on two separate tales that eventually meander their way together. The first follows Liddy, a Texan rancher who comes across a decapitated and skinned head of one of her horses. She immediately suspects local cartels are running drugs across her land and that the horse head is a kind of message, warning her of their presence. The second story follows Oscar, a young man who is attempting to illegally make his way into America from Honduras. Their two stories intersect when Liddy comes across Oscar wounded in one of her traps. White light surrounds them both with the story taking a dramatic science fiction twist. What follows is an unexpected and compelling journey as these two unlikely individuals are jettisoned into an epic interstellar adventure.
I went into this comic knowing full well what kind of twist was going to unfold. Regardless of that, I still found these first two issues to be wonderfully compelling and enthralling. Immediately, I was struck by the clever parallel narratives that slowly come together in a seamless way. Both characters are completely separate from one another, yet somehow are in sync, with the barrier between their lives growing smaller until their separate stories become one. Oscar's story is completely told in untranslated Spanish. I won't lie, I was a little overwhelmed with this initially – yes, unfortunately I don't speak Spanish – but I quickly adapted and in the end enjoyed these scenes thanks to Marcos Martin's lovely and expressive art. Both the art and writing come together to form a dynamic and engaging visual narrative, that I found to be quite breathtaking at times.
Overall, I thought it was excellent to finally have this series in print. I loved the clever writing and the risks that these guys took to deliver a bilingual story about the hot topical subject of immigration. The twist, though expected, is well-developed and masterfully written, which reflects the strong storytelling. The art is lovely and expressive, capturing the emotional highs and lows of these two characters perfectly. I highly recommend checking this series out.
5 out of 5 stars!
---
COMIC DETAILS
CREATIVE TEAM: Brian K. Vaughan and Marcos Martin
PUBLISHER: Image Comics
GENRE: Drama/Science Fiction
PUBLICATION DATE: May 09, 2018
REVIEWER: Dana Folkard