Events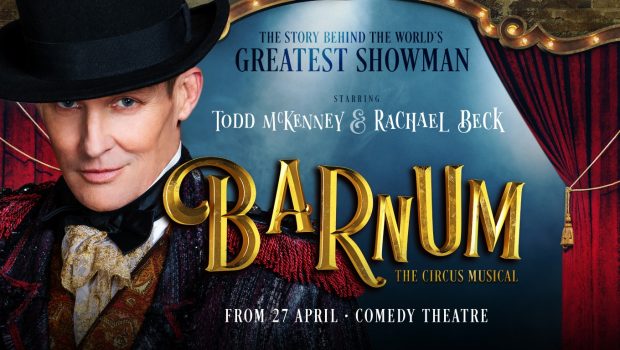 Published on May 3rd, 2019 | by Joseph Bistak
BARNUM THE CIRCUS MUSICAL REVIEW (Melbourne 2019)
Summary: Barnum the Musical is a delightful rendition of "The Greatest Showman" starring Australia's very own Greatest Showman, Todd McKenney!
The extraordinary story of P.T. Barnum (Todd McKenney) has arrived at the Comedy Theatre in Melbourne with Barnum the Musical and its official opening was last night. Being the opening night of this extravagant musical, the audience, including celebrity faces were milling outside in anticipation of this show, including a Drag Queen who looked like they had just stepped out of Priscilla Queen of the Desert that helped put everyone's expectation in the right mood.
Given that P.T. Barnum ran a circus, the stage was set up like a big top, giving you the feeling of actually being in one thanks to the set design. Interestingly the orchestra (who were excellent) were above an old fashioned circus box wagon prop that changed with the story of this master story teller.
Barnum the Musical is a combination of play meets musical with a few twists, surprises and modernity thrown into the mix. As we follow P.T. Barnum (aka The Greatest Showman), he builds a museum to house his "human" attractions such as the delightful Tom Thumb (Joshua Reckless), however becomes distracted when he starts to manage Swedish Opera Singer Jenny Lind (Suzie Mathers).
Unfortunately this causes ripples with his greatest supporter, his wife Charity Barnum (Rachael Beck) who eventually convinces him to lead a more grounded life. While this is not life for P.T., his dream is realised again after a stint at politics when James Anthony Bailey offers him the chance to join the circus. Although he initially resists, fate has other ideas and thanks to Charity, he eventually agrees to join Bailey where they form the famous circus of Barnum and Bailey.
The star of the show is Todd McKenney whose performance is flawless and entertaining as P.T. Barnum and he is a definitely a multi-talented artist and a bright star in the Australian entertainment world. While he has some lengthy monologues, he cleverly made them his own and interesting with some amusing jokes that had the audience rolling with laughter. Adding to his performance is his perfect singing voice and theatrics, including tight rope talking. Rachael Beck as Barnum's wife also brought a warmth and humility to the story and was the polar opposite of Suzie Mathers role of Jenny Lind.
Another standout performer was Robbie Curtis as the "strong man" who is also an acrobat and fitted well into the various roles in the play. Then you have the lovely Sarah Grey with her equally impressive acrobatic performance and cheerful attitude that really drew you into her character. Furthermore, the singing and musical numbers of all involved was not only enjoyable but also very enchanting. There's also an element of interaction in this musical and as Mr and Mrs Barnum travelled the world, they even appeared in one of the boxes above the audience.
Final Thoughts?
All in all, Barnum the Musical was an enjoyable show from start to finish and while some of the dialogue was a little long at times, it still works and the final song of "There is a Sucker Born Every Minute" added some melancholy to the story but did provide a beautiful end to this highly entertaining performance and as a result, a standing ovation from the audience. At the conclusion of Barnum the Musical, the audience left with smiles on their faces and were chatting about their experience and for us, we give this show a well-deserved five out of five stars!
Gallery
BARNUM THE CIRCUS MUSICAL returns to Australia in an all-new spectacular production. From visionary director Tyran Parke, this new production of a favourite Broadway classic plays an exclusive engagement at Melbourne's most intimate professional musical theatre venue, the Comedy Theatre for a strictly limited time until  JUNE 2 2019.
Starring in the new Australian production as America's legendary circus impresario and unparalleled showman, P.T. Barnum is none other than Australia's own greatest showman Todd McKenney. Star of Australian stage and screen, Rachael Beck plays the devoted wife of P.T. Barnum, Charity whilst Suzie Mathers plays the Swedish Nightingale Jenny Lind. Also on stage is Kirby Burgess as the Ringmaster playing Joice Heth is Akina Edmonds and Joshua Reckless as Tom Thumb. Joining them with extraordinary talents in circus arts are the wonderful ensemble cast including Embla Bishop, Robbie Curtis, Sarah Gray, Matthew Hamilton, Stephen McDowell, Vanessa McGregor, Karlee Misipeka and William Meagher.
barnumthemusical.com.au
@barnumthemusical #barnuminoz