Films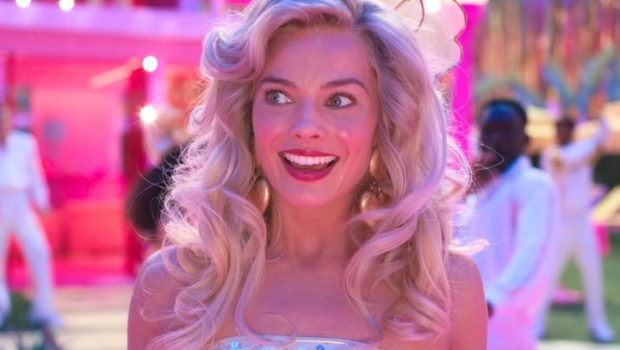 Published on July 19th, 2023 | by Branden Zavaleta
Barbie – Film Review
Reviewed by Branden Zavaleta on the 19th of July 2023
Universal/Warner Bros. presents a film by Greta Gerwig
Written by Greta Gerwig and Noah Baumbach Based on Barbie by Mattel
Produced by David Heyman, Margot Robbie, Tom Ackerley, and Robbie Brenner
Starring Margot Robbie, Ryan Gosling, America Ferrera, Kate McKinnon, Issa Rae, Rhea Perlman, Will Ferrell, and Ariana Greenblatt
Cinematography Rodrigo Prieto
Edited by Nick Houy
Music by Mark Ronson and Andrew Wyatt
Rating: PG
Running Time: 114 minutes
Release Date: the 20th of July 2023
If you're expecting something like Enchanted (2007) or even Barbie in the 12 Dancing Princesses (2006), Greta Gerwig's Barbie will impress, disappoint, surprise, and confuse, which is an odd combination, but then so is the film. Throughout the filmmaker's fourth directorial effort, fear of death and cellulite are major plot points, and Sasha (Avengers: Infinity War's Ariana Greenblatt), the one actual kid, is relegated to comedic relief and shoots off one-liners like 'you go white saviour Barbie!'. That's not to say that kids won't enjoy the spectacular colour, silly characters, and odd goings on, but it's clear that girls aren't really the target audience here. Or at least they're not the only target audience.
It begins with Stereotypical Barbie (Margot Robbie) in Barbieland. She wakes up and goes through her daily routine. She says hi to her neighbours (other Barbies), showers, and then floats down onto the pavement from the second story of her Barbie Dreamhouse™. All is perfect. She visits the beach, sees Ken (Ryan Gosling) beef it on a gnarly wave, and then they all go to Barbie's house to party. But mid-mambo she's struck by the odd thought of death, and soon she must visit the real world (our world) to find the cause. When Barbie (and Ken) travel there, it turns out that Barbies haven't solved the world's problems and are even despised for their anti-feminist traits. Soon Mattel™ becomes involved, Ken learns about the patriarchy, and candy-coloured chaos erupts.
The movie takes a buffet approach to everything. Robbie and Gosling's star power are more than enough for any film, but the cast is packed and double stuffed with celebrities of all types, including John Cena, Dua Lipa, Helen Mirren, Michael Cera, and half the cast of Netflix's Sex Education (2019) appear. It's also packed with jokes. Some are out of place, some are immediately dated, and some are two years too late (there's even a 'Snyder Cut' joke) but only a professional sourpuss could watch this film without any laughs. The same goes for the soundtrack, with Tame Impala, Khalid, and Billie Eilish squished in together.
It's also a film with a lot to say, with multiple monologues on the contradictions of women living in a world run by men. It does tip into over-explaining and biting off more than it can chew with the unwieldy issue. However, the buffet approach comes through again with something for anyone to think about.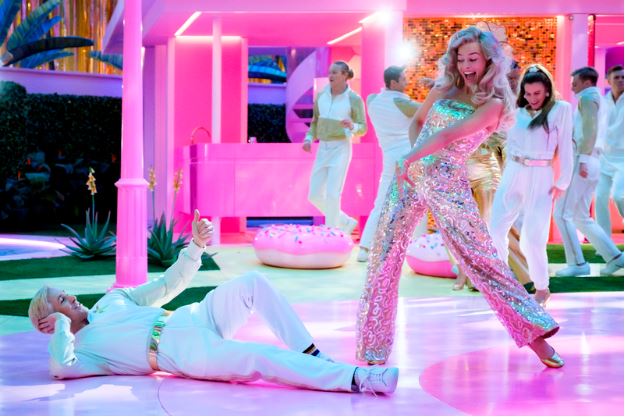 If the film is light on anything, it's the lighting itself, which is always from behind and oddly puts the Barbie world in slight shadow. True, it adds to the dollhouse effect, but at the cost of showing off the stars, the excellent costuming, and the impressive production design. It might be a minor gripe, but the low glow adds a subtle, uncanny feeling that isn't always welcome.
Besides its volume of movie stars, Barbie's production design by Sarah Greenwood is its shining star. Greenwood has been given and taken her inspirations widely. From the monotonous cubicles of Tati's Playtime, the Saturday Night Fever dance floor, and the Barbie Dreamhouse, she has managed to top them all. She and her team haven't just spray-painted everything pink. Instead, they've made a community without walls look idyllic and luxurious. They've also perfectly manicured the gardens, the cars, the sand dunes, and the sea, and they've even chiselled mermaids into the seawall.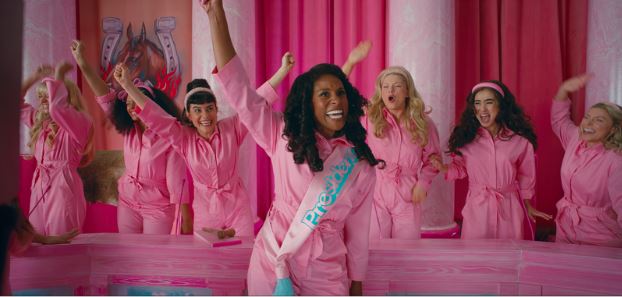 Barbie may not hit every note with its sugary mix of sweets, but nonetheless it's still a treat.
Summary: Barbie is a buffet of sweet, sour, spicy, and salty. Not all the flavours mix well, but it's more than a main course.