Games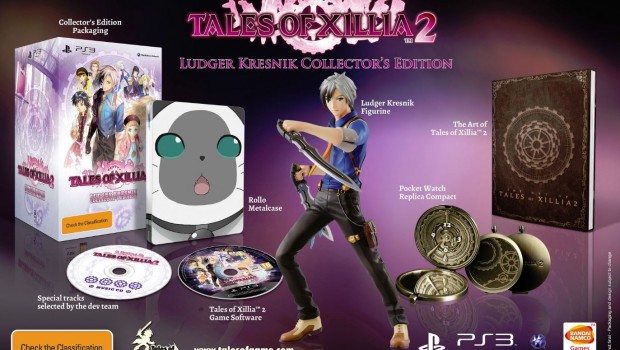 Published on April 30th, 2014 | by admin
BANDAI NAMCO GAMES EUROPE S.A.S. ANNOUNCES THE TALES OF XILLIA 2 LUDGER KRESNIK COLLECTOR'S EDITION AND DAY 1 EDITION FOR AUSTRALIA AND NEW ZEALAND
SYDNEY, AUSTRALIA – April 30, 2014 – Leading video game publisher and developer BANDAI NAMCO Games Europe S.A.S. today announced a special Collector's Edition and an exclusive Day 1 edition for TALES OF XILLIA 2 exclusively for the PlayStation®3 computer entertainment system, available on August 21, 2014. TALES OF XILLIA 2 follows two brand new protagonists, Ludger Kresnik and Elle Marta, a year after the events of the first game as they search for the Land of Caanan in a beautifully animated epic odyssey full of decisive choices, drama and adventure.
The TALES OF XILLIA 2 Collector's Edition comes up packed with plenty of collectable items that will make any TALES OF fan happier than ever! The collector's edition will include:
TALES OF XILLIA 2 full-game
Ludger Kresnik figure
Elle's Pocket Watch Replica Compact
TALES OF XILLIA 2 Original tracks selected by the dev. team
TALES OF XILLIA 2 Art Book
Ludger's emblematic cat, Rollo, gets his fair share of awesomeness with a Metalcase  picturing him
Boasting amazing set of items, the TALES OF XILLIA 2 Day 1 Edition will fulfill all TALES OF fans expectations:
TALES OF XILLIA 2 full-game
TALES OF XILLIA 2 Original tracks selected by the dev. team
TALES OF XILLIA 2Metalcase
"TALES OF series' success in Europe is a huge source of satisfaction and motivation for us at BANDAI NAMCO Games," said Herve Hoerdt, Vice President of IP Strategy, Marketing & PR at BANDAI NAMCO Games Europe. "Our teams are working really hard on this European version to top all fans' expectations. We are sure that all TALES OF lovers will be delighted to discover Ludger's adventures and our exclusive Collector's Edition!" 
TALES OF XILLIA 2 focuses its story theme around the concept of "choice", which is also expressed heavily in the game's overall gameplay mechanics. Throughout Ludger's journey the player will be able to decide how he reacts to various characters and situations. The outcome of the story will be depending on each of the player's choices!
The deep "choice" concept also extends within battle system for TALES OF XILLIA 2 by enhancing the TALES OF series' trademark gameplay. Players will be able to use the "Weapon Swap" during battles while controlling Ludger, allowing him to switch between three main weapons: dual blades, a sledgehammer and dual pistols, allowing him to adapt his fighting-style to his enemies as he rushes across the battlefield.  Build on TALES OF XILLIA's solid battle system, the innovative "Cross Dual Raid Linear Motion Battle System" will let players link to any selectable character in battle to serve as a support character and perform linked Artes against targeted enemies. Each party members have different characteristics and linked Artes, allowing players to strategically decide which characters are linked to whom as various battle situations and foes arise.