Games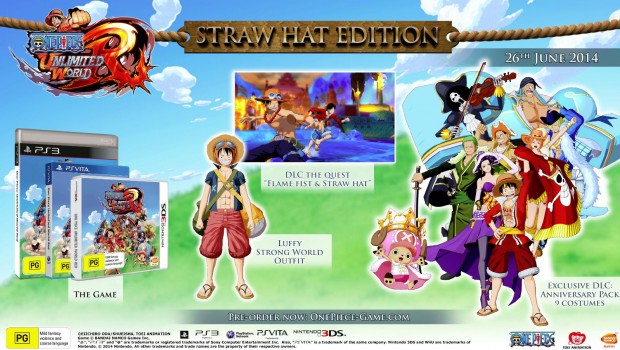 Published on April 28th, 2014 | by admin
BANDAI NAMCO GAMES EUROPE ANNOUNCES ONE PIECE UNLIMITED WORLD RED'S CHOPPER EDITION & STRAW HAT EDITION!
-Straw Hat Crew members get their own special editions!-
SYDNEY, AUSTRALIA – April 28, 2014 – BANDAI NAMCO Games Europe S.A.S announced today that ONE PIECE Unlimited World Red will be reaching Australian and New Zealand shores on 26 June, 2014! This new game will be available on PlayStation®3 computer entertainment system, PlayStation®Vita handheld entertainment system, Nintendo 3DSTM handheld system! ONE PIECE Unlimited World Red is an action-adventure RPG game developed by Ganbarion Co., Ltd., based on the widely popular and praised ONE PIECE manga created by the renowned mangaka Eiichiro Oda.
Boasting amazing and exclusive content, this new game will offer hours of exciting gameplay where the players' will happily discover two brand new characters and an all-new mode planned for the European & Australasian release: Battle Coliseum Mode! This fresh content will please all ONE PIECE lovers as it is directly related to the latest episodes in the Dressrosa arc!
For the impatient fans planning on buying the game on its release day ("Day 1"), BANDAI NAMCO Games Europe S.A.S. has prepared a unique offer to show this game's uniqueness, the "Straw Hat Edition":
One Piece Unlimited World Red full game
Exclusive Costumes: 10 outfits – Luffy Strong World Outfit & the Anniversary Pack with 9 outfits commemorating Japan's 15th anniversary of the One Piece animated series.
A unique quest where the 2 brothers are re-united: "Flame Fist & Straw Hat"
This terrific Anniversary Pack won't be sold later!
The amazingly cute collectors 'Chopper Edition' includes: 
One Piece Unlimited World Red Day 1 Edition
Key Holder of Chopper
10 stickers of the Straw Hat Crew members and the game logo
The Takoyaki DLC Pack (3 costumes & 1 quest)
"After 2 episodes of the Pirate Warriors series, we decided to come back to another kind of game and create the best Action/Adventure RPG game possible for all ONEPIECE fans, thanks to Ganbarion and their tremendous knowledge; we are sure to top all our previous games' and offer a fun experience within the ONE PIECE universe! Speaking of fun; we are bringing this new game to 4 different platforms: PlayStation 3, PlayStation Vita and Nintendo 3DS" said Herve Hoerdt, Vice President of IP Strategy, Marketing & PR at BANDAI NAMCO Games Europe. "Creating this exciting Collector's Edition based on Chopper has been quite a challenge for our Marketing teams, we are really happy with its diversity and is unique genre!"