Events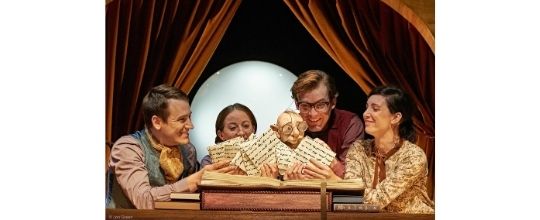 Published on July 31st, 2020 | by Alex Novus
Bambert's Book of Lost Stories is back for the month of August
For the month of August, as part of Arts Centre Melbourne's Together With You program, families will be able to immerse themselves into the wonderful world of Bambert's Book of Lost Stories.
This Helpmann Award-winning production presented with Barking Gecko Theatre will be streaming a special online season straight to families' homes from Saturday 8 August until Saturday 5 September. In what is a timely reminder of how stories connect us to the world and the power of kindness, the story of Bambert is one to cherish together.
"We are so happy to be sharing Bambert's Book of Lost Stories online while theatres remain dark across the country. As a tale of an isolated man who sends his stories out into the world, it is a testament to the power stories hold to connect us, bring comfort and help us make sense of the world. Little Bambert's poetic faith in his stories is a perfect antidote to these challenging times," says Luke Kerridge, Artistic Director of Barking Gecko Theatre.
The exquisite, theatrical tale was presented to sell out performances in the Fairfax Studio in October 2017 as part of Arts Centre Melbourne's Families program. It's a story about an impossibly small man named Bambert with an enormous love for writing. Tucked away in his quiet attic, his only companions are the characters he has created in his stories.
One day, Bambert decides to set his stories free, to send them out into the world on little balloons, in the hope that they will find a home. But, the stories contain instructions: whoever finds them must return them to Bambert with a stamp from wherever they landed so he knows where his stories have gone. But as each day passes, and no stories return, Bambert's hope begins to fade.
To further engage and connect families with the themes of this work, there are a number of creative activities to do at home which are inspired by the show.
Decorate a wish balloon
Bambert writes his stories into a book called his Book of Wishes. In this activity, you can colour in a drawing of the balloon from the show and add in your very own wish for the world. All you need is a printer and some coloured pencils!
Write a letter to a friend
Bambert's tale reminds us of the power of writing to connect us to other another. During this time of isolation, why not share stories with your friends and loved ones with a handwritten letter.
Stories in the Wall : Radio plays by students
Immerse yourself in these original radio plays inspired by Bambert's Book of Lost Stories, written and acted by primary students, with original music and sound design by secondary students.
Online puppetry workshop
After watching the performance, try making your own puppets at home. In this online video, Puppeteer Iris Radovic will teach you how to make puppets with materials you can find around the house, and then guide you in bringing your creation to life.
Isolate > Create > Connect
Barking Gecko Theatre in collaboration with ThinkArts in India has created a new digital initiative Isolate > Create > Connect  to highlight the similarities and differences that children are experiencing right now across the globe. This will become a lasting record of how life in isolation during COVID-19 was experienced by young people.
★★★★★ "A sweet tale of imagination and hope in an outstanding production" – Arts Hub
"A small, perfectly formed masterpiece" – The Australian
Creative Team
Director and Co- Adapter: Luke Kerridge
Adapter: Dan Giovannoni
Designer: Jonathon Oxlade
Lighting Designer: Chris Donnelly
Sound Designer: Ian Moorhead
Dramaturg: Matt Edgerton
Photos: Jon Green
Presented by Barking Gecko Theatre and Arts Centre Melbourne. Adapted for the stage by Dan Giovannoni and Luke Kerridge, from Bamberts Buch der verschollenen Geschichten by Reinhard Jung.
Arts Centre Melbourne announced it had postponed welcoming visitors back to its venues in accordance with the most recent Victorian Government guidelines on COVID-19. The ghost lights will stay on a little longer as Arts Centre Melbourne focuses on finding new ways to engage with audiences, including the digital online hub – Together With You . For more information including; bookings for free and ticketed events, Arts Centre Melbourne's health and safety policies, as well as additional digital content and experiences visit artscentremelbourne.com.au
Arts Centre Melbourne presents
Bambert's Book of Lost Stories
Streaming from Saturday 8 August until Saturday 5 September
Duration: 70 minutes
Age Recommendation: 8+
For more information visit artscentremelbourne.com.au