Events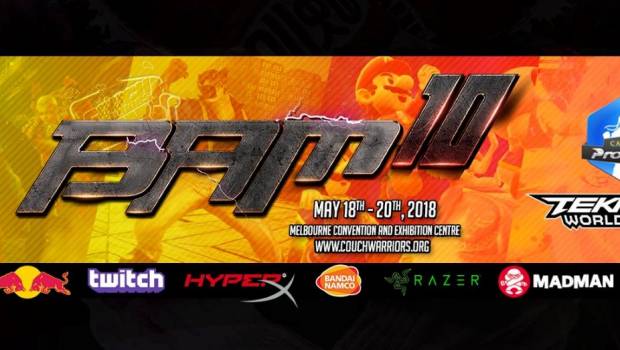 Published on May 18th, 2018 | by Admin
BAM10 THIS WEEKEND. ANZ's largest open entry esports event
It's the marquee esports and gaming event in Victoria and an international destination. Australia's largest open entry esports event and fighting game major – Battle Arena Melbourne (BAM)! Celebrating its 10th anniversary, BAM10 brings together players across the nation for fun and competition THIS WEEKEND on May 18-20 at Melbourne Convention Centre.
BAM10 is set to attract approx 2,000 attendees and spectators in venue, while delivering over 1 million video views across live streaming channels. More than $30,000 in cash and prizes will be given away.
Part of the global esports circuits TEKKEN WORLD TOUR as a Master Event and CAPCOM PRO TOUR as a Ranking Event, and the largest Smash Bros event in the Southern Hemisphere, BAM brings global attention to Australia.
See reigning EVO Champions Tokido (Street Fighter V), JDCR (Tekken 7) and Armada (Super Smash Bros Melee), and that's the tip of the iceberg.
Internationally renowned pro esports commentators Rip, Tasty Steve, Jiyuna and Markman will present the Tekken Master event, while players and spectators can enjoy a huge range of activities..
We invite you to join this must-attend destination for national competition across the spectrum of fighting game esports, and enjoy many convention features with a Nintendo Play Area, Preview of new games Soul Calibur VI and Fighting EX Layer, plus great titles in the Indiecade, Cosplay, prizes and more.
Spectator passes are available online and at door for only $20 for the weekend
Competitors can still join for "Gold" and "Silver" level tournaments.
WATCH LIVE ON TWITCH.TV 
Twitch.tv/MelbourneMelee
And more.
Full schedule: https://www.couchwarriors.org/bam-10-schedule/
Tickets at door and online: www.smash.gg/bam10
Follow on social: @CouchWarriors / #BAM10