Comics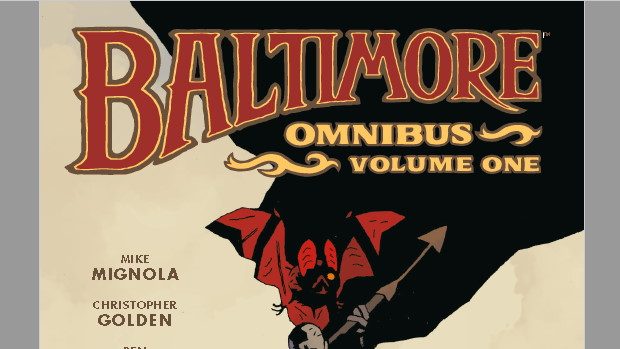 Published on September 26th, 2019 | by Chris O'Connor
Baltimore Omnibus Volume 1 Comic Review
Summary: For many surviving World War 1 and the plague that ended it would be a reason to rest... but for Lord Henry Baltimore it is just the beginning. The creature who so cruelly destroyed Baltimore's family is out there... and he will hunt him to the ends of the earth to seek his revenge.
Lord Henry Baltimore has been through a lot, he has survived World War One and the Plague that ended it, but in the midst of it all he had his family ripped from him by a cruel creature. Baltimore now pursues that creature with a seemingly inhuman passion that will see him fight through bloody battlefields, submarine graveyards, ruined plague ships, and encounter many horrible beasts all in the hope of finally having his revenge.
Writing
There is definitely a Moby Dick feel to this story… the big difference is that Lord Henry's pale quarry can and does verbally taunt him and seems to obtain great pleasure in eluding him. There is a darkness throughout this collection and it's not just the monsters… it's the atmosphere. Again not just the atmosphere of the dark with all the monsters lurking about… but the weight on Baltimore's shoulders… what he has been through and what he perceives as his duty of sorts to seek revenge for his family. The number of times he comes tantalizingly close to his prey only to be side tracked by people in need or some other issue that draws his attention just long enough for his foe to again put distance between them. It's a fantastic carrot on a stick that is written in a way that doesn't ware the reader out but does keep them on the edge of their seat hoping that Baltimore will finally catch up to his prey… some day… maybe.
Artwork
There's a certain style of art that is used in works associated with Mr Mignola… I hope the artists don't mind me saying that. I'm not quite sure how to describe it but when you see it, your first reaction tends to be "ahh… this must be part of the Mignolaverse" and for me that's a great thing because I love it… the only reason I don't give the art 5 stars is because I know it can be somewhat subjective (as all art can… but more so with stylistic art). I also can't quite pinpoint how much of that visual style is Dave Stewarts colouring… it certainly forms a large part of it. But I can definitely say that Ben Stenbeck had me glued to the pages throughout… I mean this isn't a small book… running around 496 pages there's a lot to get through, but I found myself consuming it voraciously as much for the art as the story.
Final Thoughts?
I'm not sure I have come across Lord Baltimore before but I thoroughly enjoyed reading this collection. It's a story that we is instantly understandable in terms of Lord Baltimore's drive… it's a pretty easy way to get an audience on board, to show your hero having the people they love most taken from them… but in this story they went the extra mile and made it even more painful. It's not hard to imagine that the events changed Lord Baltimore into a monster in his own right… but a monster fighting for good… seemingly unstoppable, fixated on his goal but still compassionate enough towards others to allow himself to be sidetracked for those in need. It may indeed be 496 pages but at the end you will be left wanting more. A great addition to your library.
Comics Details
Publisher: Dark Horse
Writer: Mike Mignola, Christopher Golden
Artist: Ben Stenbeck
Colourist: Dave Stewart
Cover Artist: Mike Mignola
Genre: Horror, Action/Adventure
Format: 496pgs, FC, HC
Release Date: 9th October, 2019