Hardware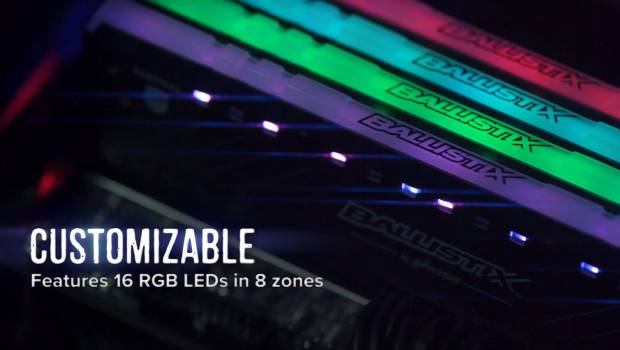 Published on June 1st, 2018 | by Admin
Ballistix Tactical Gaming Memory Review (16GB Kit)
Summary: Ballistix Tactical Gaming Memory is the perfect customisation option for your gaming rig which gives you access to your own light show!
The Ballistix Tactical Tracer DDR4-2666 UDIMM Gaming Memory from Crucial takes customisation of your super rig to a whole new level thanks to the inclusion of 16 RGB LED's on each memory module. So once this memory is installed in your PC and by installing the Ballistix Memory Overview Module (M.O.D.) Utility, this allows you to control the 8 zones on each module to create your own spectacular light shows. In other words, it's giving you a kaleidoscope of colours and effects that comes directly from your RAM and more importantly if offers some decent speeds to support your gaming needs.
Obviously you do need a clear computer case and more importantly, the Ballistix Tactical Gaming Memory offer speeds over 3000 MT/s thanks to the ability to overclock, however by default its set at 2666Mhz with stock timings of 16-18-18-36 and 1.2v. In terms of compatibility, it support the latest CPU's such as Intel's Coffee Lake or AMD's Ryzen plus the newest of motherboards. As it supports Intel XMP 2.0 (Extreme Memory Profile), the RAM will automatically adjust to the best setting for your system. Furthermore, it allows for 16GB (reviewed), 32GB and 64GB configurations.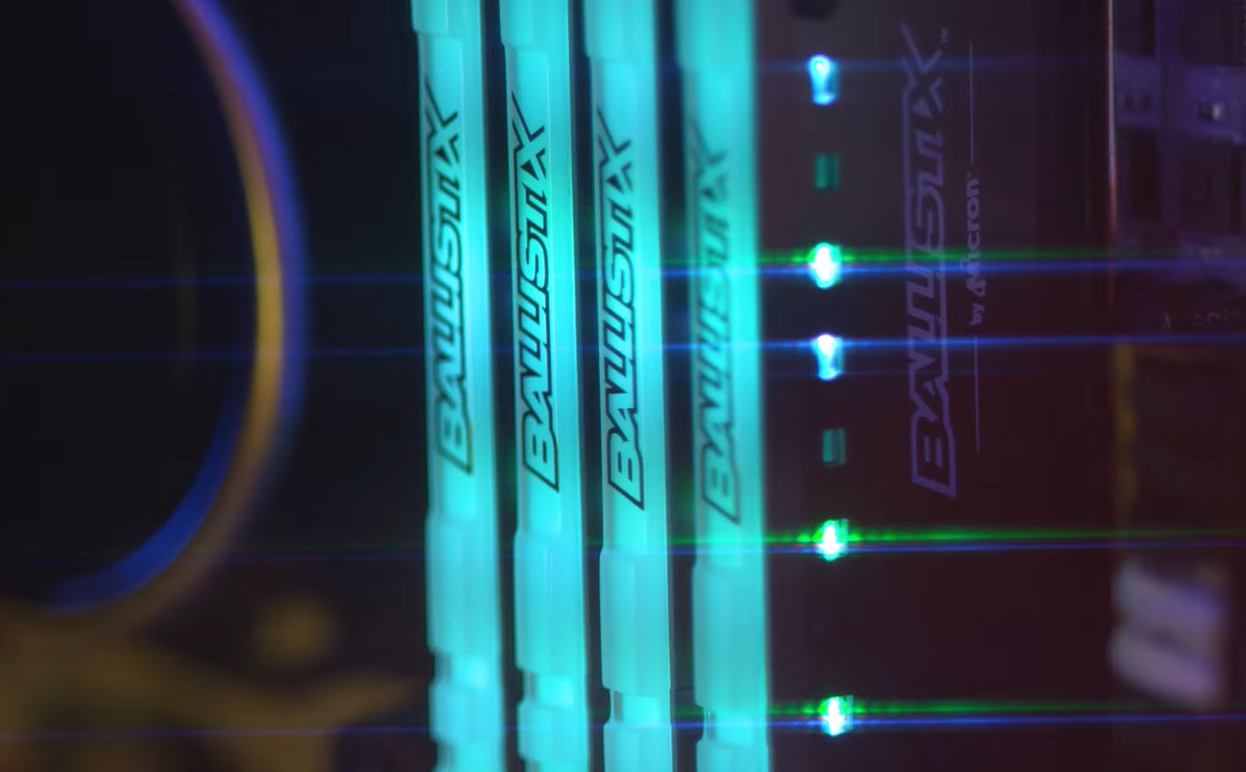 RAM Details
Title: Ballistix Tactical Tracer RGB 16GB Kit (2 x 8GB) DDR4-2666 UDIMM gaming memory
Brand: Ballistix
Model Number: BLT2K8G4D26BFT4K
Series: Ballistix Tactical
Total Capacity: 16GB kit (8GBx2), including 32GB and 64GB configurations
Warranty: Limited Lifetime
Well packaged from Crucial and out of the box, the first thing that I noticed about the Ballistix Tactical Gaming Memory was its design and for review, we received the 16GB kit which contains two 8GB modules. Given the inclusion of RGB LED's on the top of the RAM (see screenshots), the black PCB modules are relatively compact for what they are designed to do and have a larger heat spreader to help with cooling.
Like other components or peripherals that may use RGB LED's, you can customise the colours to perform a variety of special effects, including adjusting brightness or disabling them altogether which is controlled via the Utility from Crucial. My favourite pre-programmed effect is the rainbow which literally pulsates through a myriad of colours or a magical packet of Skittles!
Technical Specifications
Capacity: 16GB (x 8GB), 32GB (4 x 8GB)
Type: 288-Pin DDR4 SDRAM
Speed/Timings: DDR4 2666 (PC4 21300) – 16-18-18-36
Cas Latency: 16
Voltage: 1.2V
ECC: No
Buffered/Registered: Unbuffered
PCB Type: 10-Layer Design
Heat Spreader: Yes
Form Factor: UDIMM
Fan Included: No
Height: 40 mm
Warranty: Limited Lifetime
Multi-Channel:  Quad-Channel Kit
Features: Intel XMP 2.0 (Extreme Memory Profile) Ready
By default, the RAM has its own light bar attached but you can create your own if you have access to a 3D printer and the details can be found on the Crucial website at https://ballistixgaming.com/products/dram/tactical/tactical-tracer-ddr4-rgb.html on how you can do this. If you have issues with space in your gaming rig, the included light bar can be removed easily thanks to the two screws which reduces the height from 40mm to 35mm.
Installation is like any other memory module and once slotted into your motherboard, your system will automatically detect the modules. In order to customise the LED's on the RAM and as mentioned, you do need to install the Ballistix M.O.D. Utility and like a moth to the flame, the lights of the Ballistix Tactical Gaming Memory becomes quite mesmerising. Needless to say, you can also get lost in creating the different lighting configurations for this RAM which I guess is all part of its purpose. Fortunately this utility is quite easy to use and very comprehensive.
Another highlight of the utility is that it makes overclocking easier and this program even gives you statistics on speed and how much heat the modules are producing thanks to the integrated thermal sensor which is ideal for overclockers. Furthermore, the RAM is compatible with other motherboard software from companies such as ASUS and Gigabyte that use RGB LED technology in order to unify control of the LED's on these boards and your new RAM.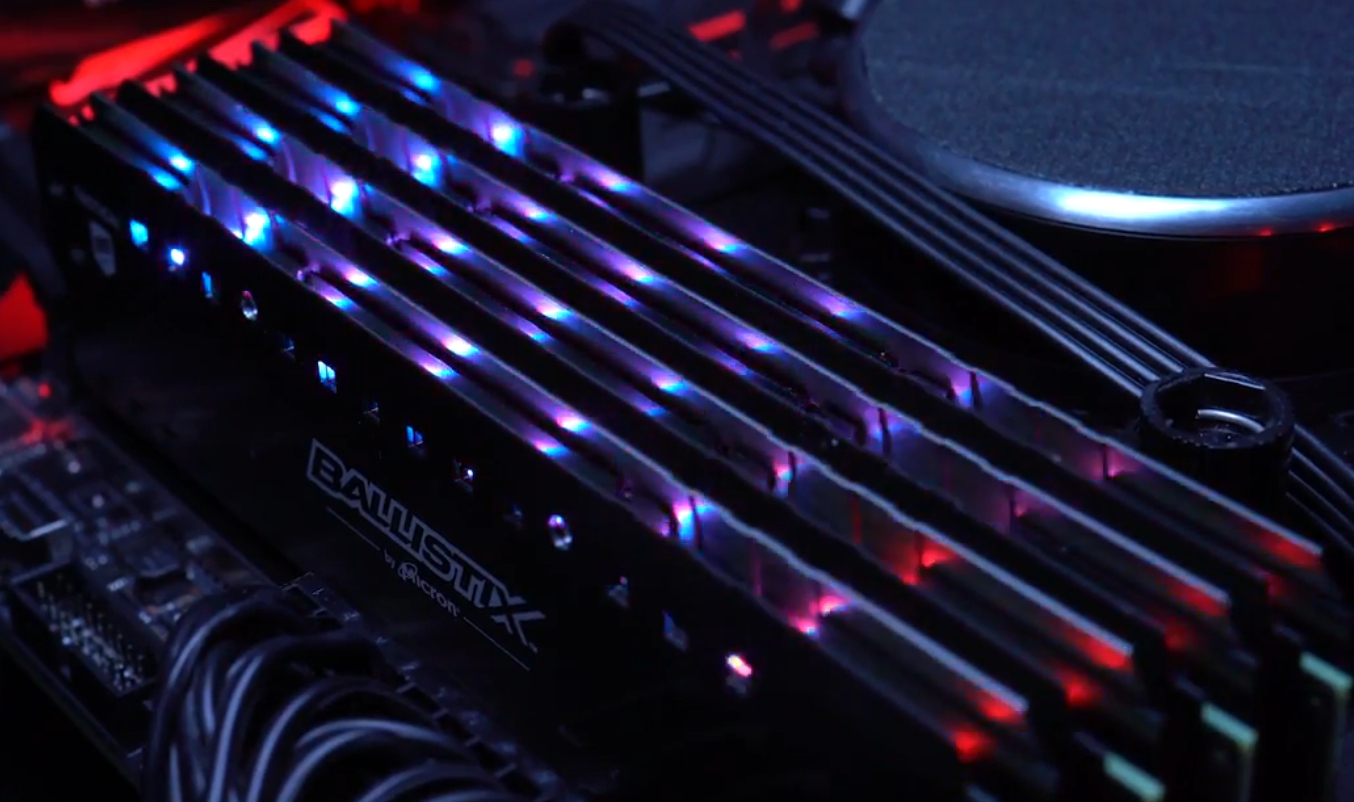 Benchmarking
We used AIDA64 for the memory benchmarking which is a synthetic test that shows the theoretical performance of the memory. It's a great benchmark test to use, especially when you overclock your RAM. As you can see from the results before, there was a marked difference from the default speed of 2666Mhz to our overclocked speed of 3200Mhz.
Standard Setting Benchmark
AIDA64 Memory Benchmark (2666Mhz, 16-18-18-36, 1.2v)
Read 39318
Write 40981
Copy 42019
Overclocked Benchmark
AIDA64 Memory Benchmark (3200Mhz, 16-18-18-38, 1.3v)
Read 44981
Write 47893
Copy 46033
The other test was SiSoftware SANDRA which has a memory element as part of its benchmarking suite. At the lowest setting (2666Mhz), the Ballistix Tactical Gaming Memory scored 35.3GB/s and 37.77GB/s at 3200Mhz. Although not a noticeable different, every number does count in some way or another. Given the speed of 3200Mhz, I'm sure that other overclockers will attempt to push this RAM, however we found the settings of 16-18-18-38 with 1.35v the most stable for our systems components.
Final Thoughts?
When it comes to customisable gaming memory, Crucial have delivered in not only providing some impressive RGB LED effects but the ability to easily overclock, including a very sturdy utility. Add in the ability to create your own lightbars via a 3D printer and lighting up your case has a new meaning. Overclockers and gamers will also be pleased at the conservative speeds that the Ballistix Tactical Tracer DDR4-2666 UDIMM Gaming Memory produces and at the end of the day, there's even further potential to max out this RAM with more tweaking.