Hardware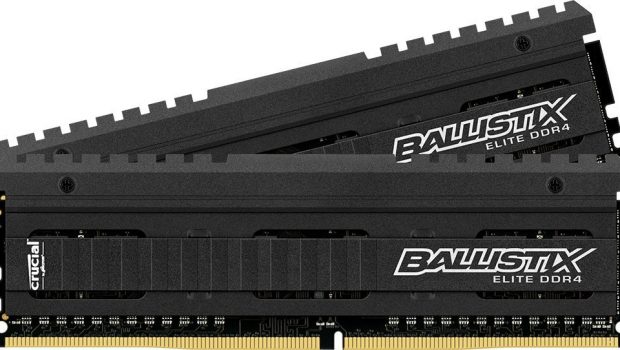 Published on May 30th, 2017 | by Tony Smith
Ballistix Elite 16GB DDR4-3200 Dual Channel Memory Kit Review
Summary: Ballistix Elite 16GB DDR4-3466 Dual Channel Memory Kit helps take your rig to the next level!
For PC enthusiasts and gamers, creating the perfect rig is a careful combination of the right parts, patience and one very important element is RAM. Slow RAM can cause a ripple effect through your system and as parts change and evolve over the years, you need to ensure that this element of your PC is also addressed.
Thankfully developers like Crucial continue to evolve their products which is where the Ballistix Elite DDR4-3200 comes into action with their 16GB memory kit. To put some perspective on these memory modules, DDR3 generally hovered around 2133Mhz and these DDR4 from Crucial ramp up the speed to 3200Mhz which is a whopping difference.
Product Specifications
| | |
| --- | --- |
| Brand | Ballistix |
| Form Factor | UDIMM |
| Total Capacity | 16GB kit (8GBx2) |
| Warranty | Limited Lifetime |
| Specs | DDR4 PC4-25600 • 15-16-16 • Unbuffered • NON-ECC • DDR4-3200 • 1.35V • 1024Meg x 64 • |
| Series | Ballistix Elite |
| ECC | NON-ECC |
| Module Qty | 2 |
| Speed | 3200 MT/S |
| Voltage | 1.35V |
| DIMM Type | Unbuffered |
Aimed at both the PC enthusiasts and gamers, this memory kit from Crucial screams some decent bonuses for the end-user which include increased memory bandwidth, optimized latencies, thermal sensors and even a utility to monitor the temperature in real-time which is ideal for overclockers with speeds from 2666Mhz. They also boasts faster speeds than standard DDR4 memory plus its been optimised for the latest Intel systems with Intel® XMP 2.0 profiles.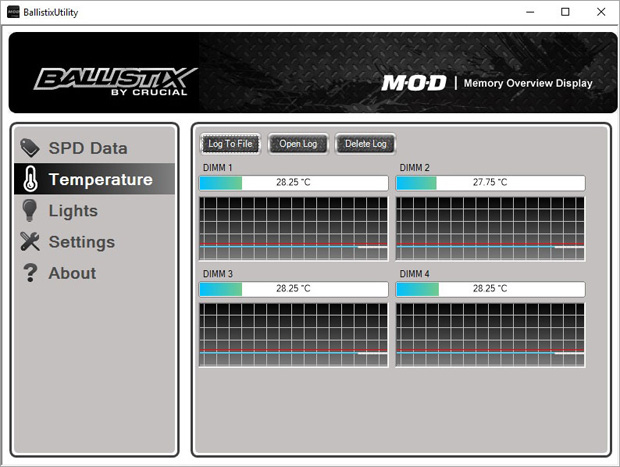 Product highlights

Speeds start at 2666 MT/s
Radically increase memory bandwidth
Menacing black heat spreader and PCB
Faster speeds and responsiveness than standard DDR4 memory
Exclusive Ballistix M.O.D. Utility and thermal sensor allow for real-time temperature monitoring
Intel® XMP 2.0 profiles for easy setup and configuration
Optimized for the latest Intel platforms
Limited lifetime warranty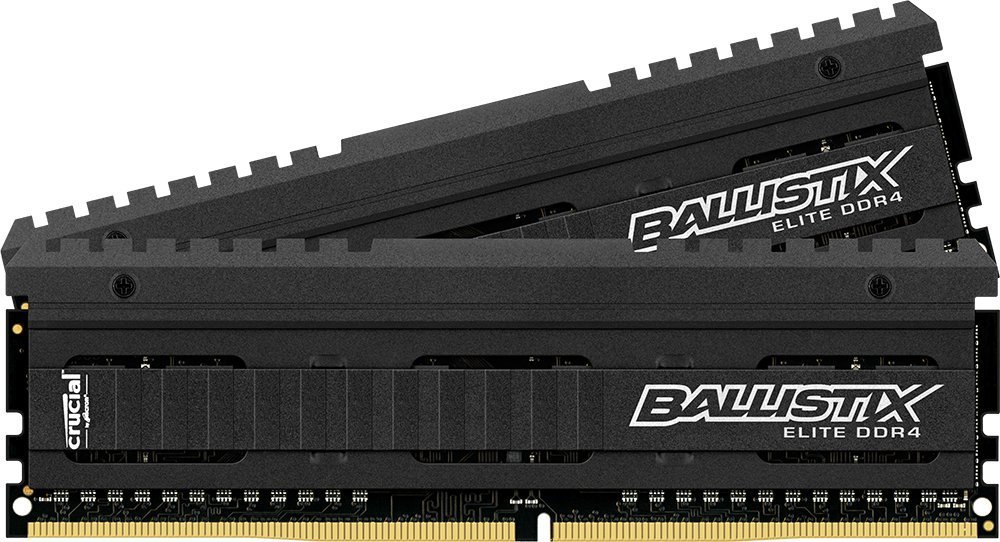 Out of the packaging, the Ballistix Elite DDR4 has a professional build with some very solid heatsinks to help disperse the heat from the RAM. Given the relative standard size of the DDR4, the Ballistix Elite should easily fit in a wide variety of cases with minimal installation issues. Once we installed the 16GB kit into our test machine (powered by the i7 7700K), we were ready to test the Ballistix Elite DDR4-3466.
Benchmarks
Our first test was with Aida 64 that is a system information, diagnostics and benchmarking solution for Windows based computers. From the scores below collated from the memory and cache test, it produced some strong scores for read (47812), write (48690) and copy (42753). This means that the Ballistix Elite can really push items around quite quickly in its memory and sits above average when compared to its competitors. Furthermore, Aida 64 had a latency rating of 50.3 which mirrors the above scores in that this these modules are not your average DDR4. In laymen terms, latency is how fast it handles tasks.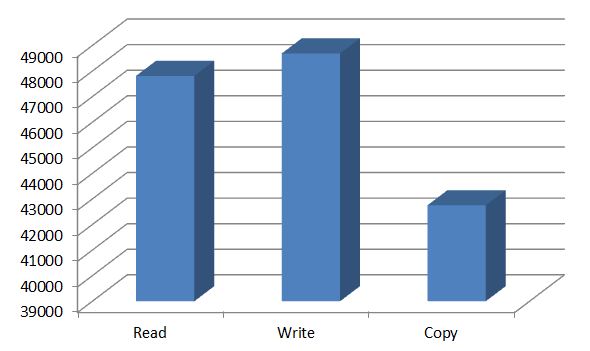 Another test we used was Cinebench that is a real-world cross platform test suite that evaluates your computer's performance capabilities. What Cinebech does best is rendering and the company behind this bench marking tool has helped created some of the worlds biggest blockbuster films.
Like Aida 64, the Ballistix Elite scored a very respectable 939 for its test that helps cement this produce at some very decent midrange RAM. In terms of overclocking, we managed to successfully get between 5 to 10% speed increases, although further tweaking is required to ensure system stability.
Final Thoughts?
The Ballistix Elite 16GB DDR4-3200 Dual Channel Memory Kit from Crucial offers both PC enthusiasts and gamers some powerful RAM to help get the most out of their systems. Last these cool and fast cats from Crucial come with a limited lifetime warranty to give you an extra layer of protection.
Recommended!
For more information please visit http://www.crucial.com/usa/en/ble2k8g4d32beeak