Events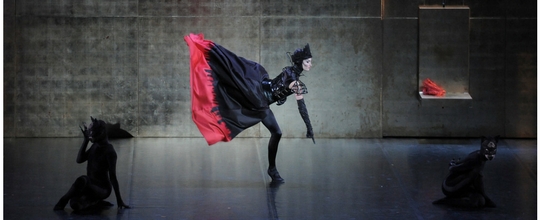 Published on March 5th, 2018 | by Admin
Ballet Preljocaj's dark take on Snow White
Hailed by audiences and critics alike for its entrancing choreography and stunning beauty, France's Ballet Preljocaj's contemporary retelling of Snow White makes its way to Arts Centre Melbourne this August.
This lush, full-length story ballet by celebrated French choreographer Angelin Preljocaj – awarded Best Ballet at the 2017 Helpmann Awards – features massive sets, the magnificent excess of Gustav Mahler's symphonies performed live by Orchestra Victoria and an all-star roster of French artists including set design by Thierry Leproust and costumes by legendary Haute Couture designer Jean Paul Gaultier.
Preljocaj conjures imagery from the original Brothers Grimm fairy tale of 1812 – set around the innocence of a character with 'skin as white as snow, lips as red as blood, and hair as black as ebony' pitted against the envy, deceit and obsession of her stepmother Queen – a story that has since inspired countless pop-culture interpretations for film, television, music, and dance.
Of his Snow White adaptation, Preljocaj said: "I was very keen to tell a story, to offer something magical and enchanted. I have followed the version by the Grimm Brothers, with just a few personal variations based on my own analysis of the symbols in the tale."
"The wicked stepmother is without doubt the central character in the tale. She is the one who I examine through her narcissistic determination not to give up on seduction and her role as a woman, even if it means sacrificing her stepdaughter," he explained.
Born in Paris, Preljocaj began studying classical ballet before turning to contemporary dance, eventually founding his own company in 1985. Since then, he has created 50 choreographic works, ranging from solo to larger formations. Preljocaj regularly collaborates with other artists in various fields such as music (Goran Vejvoda, Air, Laurent Garnier, Granular Synthesis, Karlheinz Stockhausen), visual arts (Claude Lévêque, Subodh Gupta, Adel Abdessemed), design (Constance Guisset), fashion (Jean Paul Gaultier, Azzedine Alaïa), drawing (Enki Bilal) and literature (Pascal Quignard, Laurent Mauvignier).
Don't miss your chance to see this truly unique take on a classic in the opulent confines of Arts Centre Melbourne's State Theatre this August.
"Dark, modern and gripping… a must-see production" – Limelight ★★★★½
"Preljocaj can choreograph magic" – The Guardian ★★★★
Arts Centre Melbourne and Bank of Melbourne present
Ballet Preljocaj's Snow White
Featuring Orchestra Victoria
Arts Centre Melbourne, State Theatre
1 – 5 August, 2018
Book at www.artscentremelbourne.com.au