Books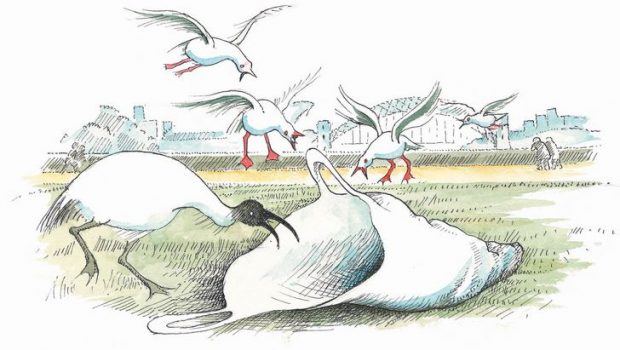 Published on July 24th, 2017 | by James Wright
A Bag and a Bird Review
Summary: A Bag and a Bird is a delightful Australian story about a real-world problem.
New Zealand author and illustrator Pamela Allen creates a wondrous and engaging story for children about a bird and a plastic bag. There is also an eco-message in this book, including a tour of some of the famous sights of Sydney which have been well illustrated by Allen. Given that, the illustrations of Allen really help bring the story to life and there's some great attention to detail that really capture the characters, emotions and the famous locations.
The story begins with John and his mother who live in Kirribilli Sydney and are preparing for a visit to the Botanic Gardens. This also includes John putting his lunch inside a plastic bag which is the catalyst for the story. So while they visit all the destinations of Sydney like Circular Quay and the Sydney Opera Hour, they soon stop for lunch. However a gentle breeze grabs the bag and blows it away, only to be found a group of birds who scavenge for food.
Unfortunately one of the birds gets stuck in the bag which makes it hard for him to fly and swim. While John watches on in shock, a good Samaritan comes to the rescue and enters the water in an attempt to save the bird. As everyone eagerly watches on, the elderly man manages to save the bird and bring him to shore in order to set him free. As the bird flies away, John learns a valuable lesson about rubbish and places the bag deep inside a garbage bin. The story ends with John visiting the Harbour Bridge which is a perfect way to end this story.
Final Thoughts?
What we enjoyed about A Bag and a Bird was the message behind this book and teaching children to be eco-friendly while being taken on an insightful and enjoyable journey through the eyes of John. More importantly, the words of Pamela Allen flow well as she captures the story with her pretty illustrations that will definitely make this book a favourite for your children.
A Bag and a Bird is available from 28 August 2017