Films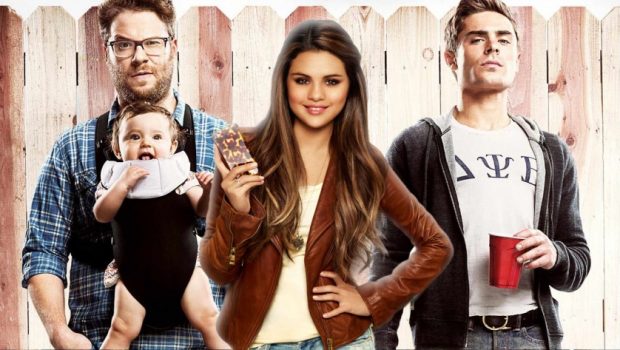 Published on May 14th, 2016 | by Curtis Mayfield
Bad Neighbours 2 – Film Review
Reviewed by Curtis Mayfield M-H on the 4th of May 2016
Universal Pictures presents a film by Nicholas Stoller
Written by Andrew J. Cohen, Brendan O'Brien, Nicholas Stoller, Seth Rogen and Evan Goldberg
Produced by Seth Rogen, Evan Goldberg & James Weaver
Starring: Seth Rogen, Zac Efron, Rose Byrne, Chloë Grace Moretz and Ike Barinholtz
Music by Michael Andrews
Cinematography: Brandon Trost
Edited by Zene Baker
Running Time:  119 minutes
Rating: MA15+
Release Date: the 5th of May 2016
Lately, comedy sequels have been experiencing a higher turnover than Australia's prime ministers. An indicator of this can be seen in the return of iconic characters such as Ron Burgundy and Derek Zoolander in Anchorman 2 and Zoolander 2, respectively. A slew of other comedy sequels have been given to audiences with initially one-off movies making a surprisingly large amount of money, leaving studios with no choice but to cash in on the opportunity to make more movies (and money). Which brings us to Bad Neighbours 2, an extra instalment from the 2014 movie Bad Neighbours, that not only proved that Rose Byrne and Zac Efron had comedic chops but also that a movie that has a production value of $18 million could make the unbelievable amount of $270 million worldwide. It would be insanity for the producers not to turn back to the money machine for this unexpectedly large audience. Seth Rogen again takes the lead, reprising his stoner dad role from the first movie, along with Byrne who is just as wacky but in her own motherly way.
Retelling almost the same story as last time (a la 22 Jump Street) but with a slightly more meaningful twist, Rogen and Byrne take on their roles as middle-aged parents Kelly and Mac, who have a two-year-old daughter and another child on the way. While deciding to sell their home and move into the polished suburbs, things seem to be going well. They have potential buyers for the house and a 30-day window where the deal to sell the house can dissolve if something goes wrong. Well that something does go wrong and it comes in the form of Shelby, who's played by the awesome Chloë Grace Moretz. The revolutionary stoner Shelby and her college buddies move in next door to the couple and things soon get out of hand. Shelby has just started college and has quickly learned that sororities can't have parties and that frats are "super rapey". This begins the deconstruction of what being a female on an American college campus can be like and it's this reflective stance that makes Bad Neighbours 2 a fresh addition to the last one. Who would have thought a comedy that features a mass amount of toilet humour and slapstick jokes could coexist with weighty themes like gender double standards, 'mansplaining' and inequality? Even Teddy (Zac Efron) has learnt that it's not cool to call girls hoes anymore.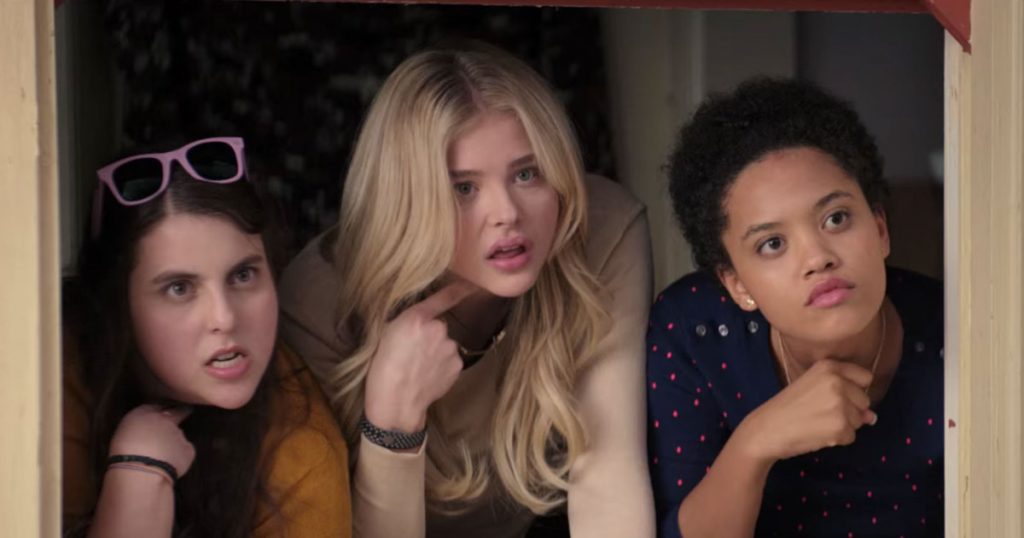 As Shelby learns that sorority life isn't all that fun, she moves out and begins her own college household where douchey frat guys aren't welcome and women can party in a safe place. This sounds heavy but the deeper messages are layered with plenty of jokes. Shelby isn't alone as she brings in Beth (Kiersey Clemons) and Nora (Beanie Feldstein) as her partners in crime. There's plenty of character development as well with Teddy (Efron) repeating much of the same mistakes he made last time around by partying too much and not moving on with his life. When Teddy stumbles across the girls struggling to figure out how to create a sorority, he takes it upon himself to help them plan massive parties while blocking out his own issues of living a stunted life. Teddy isn't the only one that's experiencing growing pains with Mac and Kelly dealing with the fact that they may not be the best parents in the world. Still feeling sore from last time, Teddy decides to team up with the sorority and go to war once again with the married twosome, only to get himself burnt.
What remains the same with Bad Neighbours 2 is the comedic chemistry all the characters had on screen from the last time. Favourites from the previous movie appear, like Ike Barinholtz and Carla Gallo who play off Rogen and Byrne nicely. Sadly, Hannibal Buress and Jerrod Carmichael don't have bigger roles this time, which is strange since both their celebrities have risen since the last movie but the two still have noteworthy appearances. In order to keep things fresh, there are also a handful of appearances from Billy Eichner, Awkwafina and SNL's Kyle Mooney. The screenwriters have definitely beaten critics to the punch by acknowledging that some of the film is relying on an older premise as the characters again try to foil the plans of the young people next door but soon find that trying to take down a house full of girls isn't quite as easy. In a movie that's filled with a bunch of idiots and no straight characters, the laughs are plentiful and shocking as a lot of gross-out humour is used. Director Nicholas Stoller has stuck to a formula that works best for this kind of audience. It also doesn't hurt that the golden team of Seth Rogen and Evan Goldberg have joined the writing team for the sequel. Fans of the first will love this. For those who didn't gel well with the first one, it's best to avoid this movie as the jokes and outlandish moments come on thicker than before.
Summary: Who would have thought a comedy that features a mass amount of toilet humour and slapstick jokes could coexist with weighty themes like gender double standards, 'mansplaining' and inequality?