Games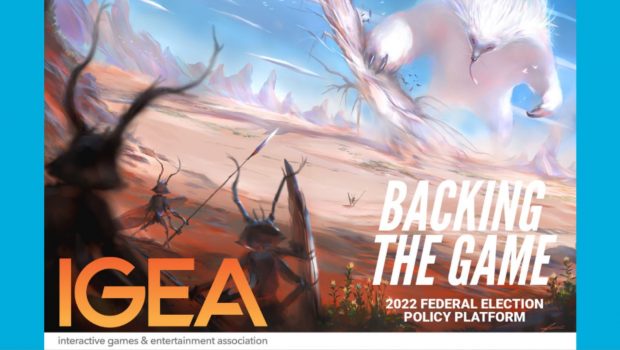 Published on March 21st, 2022 | by Adrian Gunning
BACKING THE GAME: IGEA'S 2022 Federal Election Policy Platform
Today IGEA launched its latest publication, Backing the Game: 2022 Federal Election Policy Platform.
As part of their creative industry, trade and investment, and job creation policy platforms, IGEA and our members are calling on both the Coalition and the ALP, as well as the Greens, other parties and independents, to commit to:
Prioritising the legislating of the Digital Games Tax Offset to enable local studios to increase game production while giving the green light to the many international 'AAA' studios waiting on this reform to enable them to establish a base in Australia.
Launching a long-term Game Development Fund to provide vital support to early-stage Australian game developers and emerging local studios in the same way that local TV and film production is nurtured and incentivised.
Reviewing Australia's skilled migration system so that it remains fit-for-purpose and agile. Our sector relies on and creates high tech digital jobs, and there is a skills shortage in our industry. Allowing studios to efficiently attract global talent will enable them to keep growing and to train up the next generation of local talent.
Ron Curry, CEO of IGEA, said, "Games are an integral part of the lifestyle of many Australians. Not only do the overwhelming majority of Australians enjoy playing games, but a significant economic opportunity abounds for Australians making games and games-adjacent industries.
"Our whole industry has been eagerly awaiting the implementation of the Digital Games Tax Offset since its announcement in last year's Budget, from highly talented local studios pulling together budgets for their ambitious next project, to global video game companies finalising their proposed investment plans for Australia.
"To complement the tax offset, we also need a long-term commitment to direct funding to support the more early-stage games studios looking to scale their businesses and deliver creative projects. Finally, the huge economic potential presented by a thriving Australian game development sector requires access to skilled employees. Our migration settings should be updated, flexible and welcoming for the specialised employees that are needed."
You can download Backing the Game: 2022 Federal Election Policy Platform here