Comics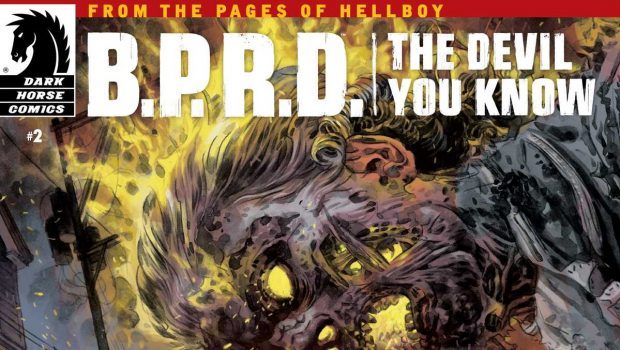 Published on September 11th, 2017 | by Chris O'Connor
B.P.R.D. Better The Devil You Know #2 Comic Review
Summary: The B.P.R.D. might finally be getting a hold of the situation, then again... things aren't usually what they seem.
After major disasters the cleanup must commence… there aren't many disasters more major than the near obliteration of life on earth. So with the apocalypse narrowly averted it's time to clean up any stragglers and try and return things to some sense of normal. But some of those stragglers or opportunists can seem almost as bad as what the B.P.R.D. has just faced… it's time to regroup and take back control.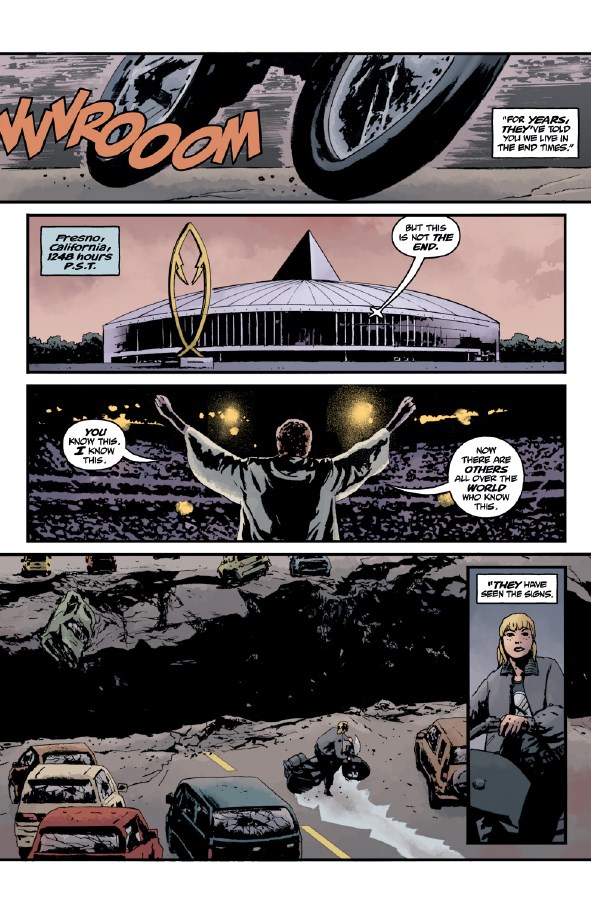 Writing
One thing I'm noticing this series does very well is a see saw like balance of the team succeeding in one area as another area seems to have a new enemy springing up. Like the hydra it almost seems like the B.P.R.D. won't be able to stem the tide of darkness… but then they will have a few victories that beat the enemy back enough to give them some breathing room. That sort of tension works wonders for keeping the reader on edge, the ever present "have they succeeded now?" keeps your finger ready to turn the page. There are no dull spots, not wasted panels it's all important to the world of the B.P.R.D. The final few panels of this episode are lovely and without giving too much away they hint at what the future might hold.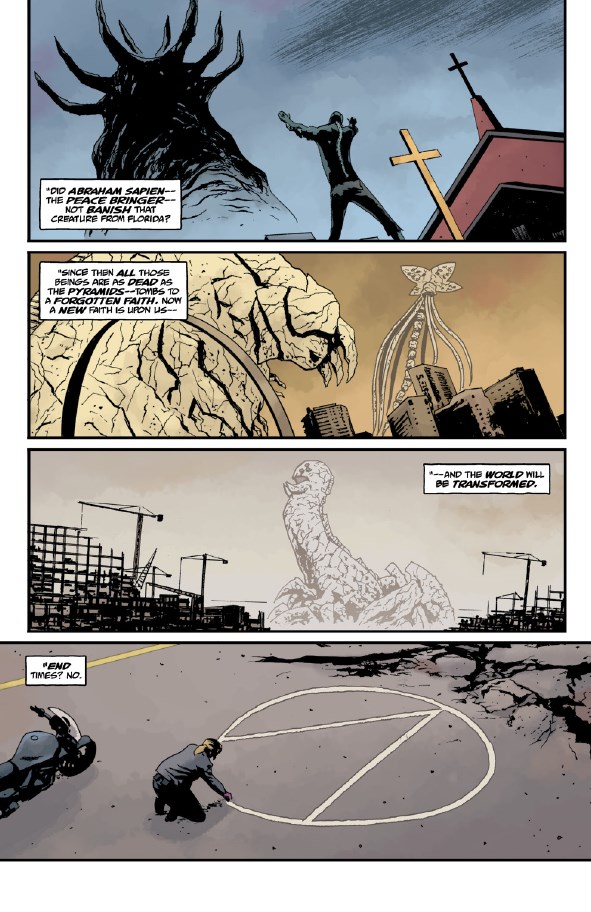 Artwork
There's an interesting quality to Laurence's art… some of it makes me think of photos that are painted over or what is usually termed posterized. Other images look completely hand drawn both give their own feel to the panel. The posterized images sometimes give a sort of by the fire telling a spooky tale aesthetic with the lighting hitting the points of the face that create a "scary" visage. Then the more detailed faces really show a huge amount of character making me think of the difference between a boudoir style photoshoot with it's hyper airbrushed look compared to a National Geographic style black and white portrait photo of a refugee or similar in which you can see the years of experience etched across their face. The way Laurence uses these two styles (or at least my interpretation of styles) throughout the comic work really well to heighten the emotional draw of the story.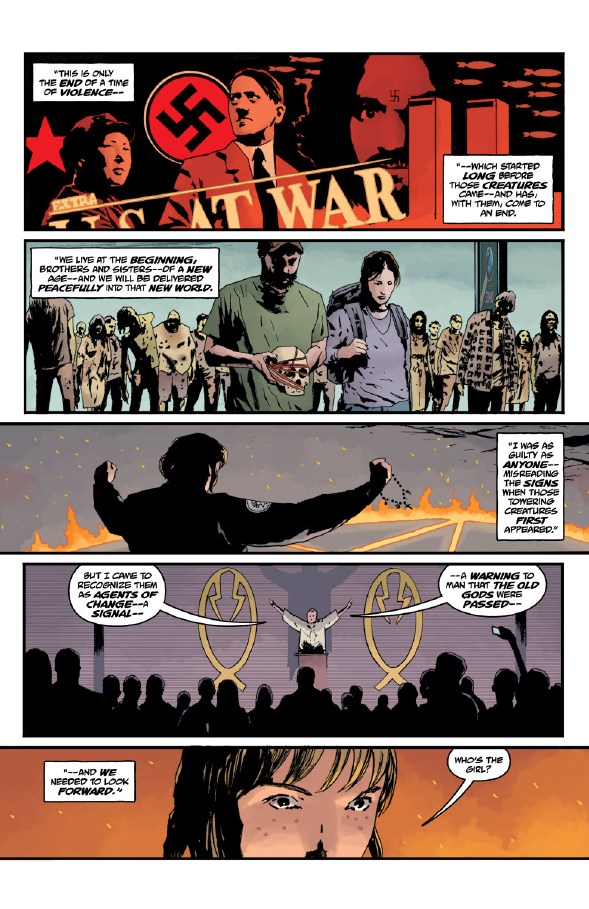 Final Thoughts
As mentioned, that push and pull, one victory seems to give way to a new danger emerging tenseness of the story just keeps me engrossed. There is a palpable sense of the tide ebbing and flowing for the B.P.R.D. and the world at large. There are no guarantees as to what lurks just around the corner be it victory of defeat and the sense that it could go either way is ever present… that carrot to purchase the next issue is well and truly dangled temptingly in this issue. Certainly a good addition to your B.P.R.D. collection.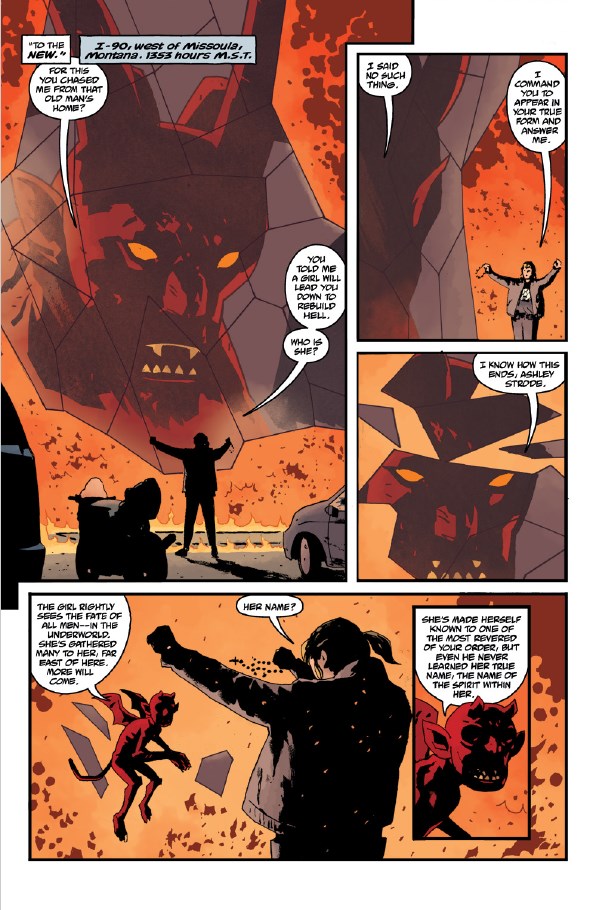 Publisher: Dark Horse
Writer: Mike Mignola, Scott Allie
Artist: Laurence Campbell
Colourist: Dave Stewart
Cover Artist: Duncan Fegredo
Genre: Horror
Format: 32 pages, FC, Ongoing
Release Date: 30th August, 2017