Comics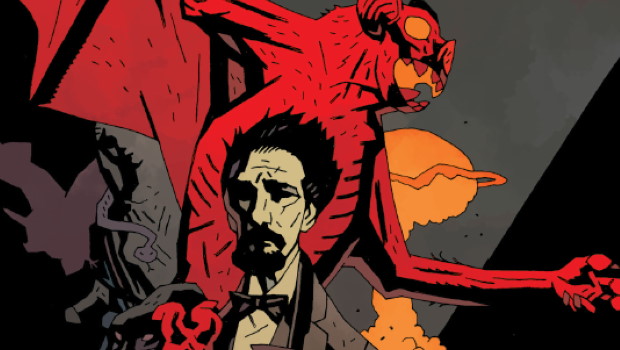 Published on February 17th, 2020 | by Chris O'Connor
B.P.R.D.: 1946-1948 TPB Comic Review
Summary: Taking a look back at what happened after Hellboy entered the world, we get to learn how Professor Bruttenholm forged the foundations of the B.P.R.D. with blood, sweat and fears.
With World War II winding down, Professor Bruttenholm and a small group of war weary veterans investigate Hitler's top secret Project Vampir Sturm and manage to uncover one of the greatest villains of the Third Reich. But the discovery is not without it's consequences and one Bureau agent will never be the same again.
Writing
It's great to get a deeper look into Professor Bruttenholm and the beginnings of what was to become the B.P.R.D. not only that but we get to see Varvara and how her relationship with Professor Bruttenholm starts and grows. Though Hellboy is not particularly focal to any of the stories… there are still some very important moments with him and a very sweet moment between he and the Professor. There are seeds sewn for a number of the characters and stories we know from more contemporary stories and they are given lovely details that really flesh them out.
Artwork
The main thing I take away from the artwork in this collection is the minimalism used. Sometimes it can be a fine balance between adding enough detail to give a scene the right impact and putting in so much detail that without the right colouring it can just become a big mess. In this case, the detail is kept to a minimum, but not in any slack sense, far from it. There's an indication of a great skill at hand, knowing just how much detail to put in to create the scene. Lines and their weight are used to build a face with far more affect than a face with intricate details applied. Coupled with colouring that mixes just the right tones, uses just the right contrasts and you have some lovely, easy to view panels.
Final Thoughts?
I think this collection is summed up best by Scott Allie and the question "what were they doing in the meantime?". For many fans of Hellboy there has been a bit of a gap between Hellboy being discovered and him becoming a full field agent. This collection takes us to the early days, before the B.P.R.D. is even really an entity, to the ground works being laid for what is to be. Professor Bruttenholm remains somewhat a mystery… but we can at least now read about some of the most important work of his early career and just what went in to shaping the man and the organisation he would head. Arguably an essential addition to your Mignolaverse collection.
Publisher: Dark Horse
Writer: Mike Mignola, John Arcudi, Joshua Dysart
Artist: Gabriel Ba, Fabio Moon, Paul Azaceta, Max Fiumara
Colourist: Dave Stewart, Nick Filardi
Cover Artist: Mike Mignola
Genre: Horror, Action/Adventure
Format: 472pgs, FC, TPB
Release Date: 4th March, 2020