Hardware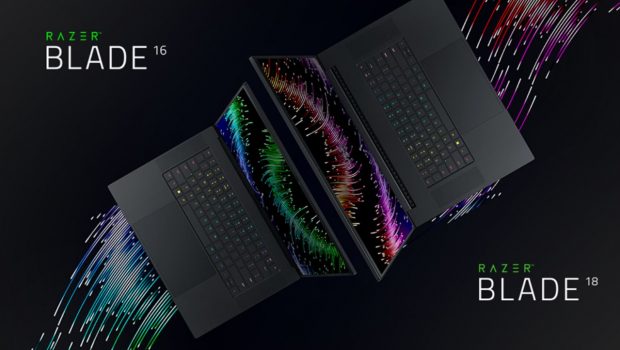 Published on February 13th, 2023 | by Andrew Bistak
AWARD-WINNING RAZER BLADE 16 AND BLADE 18 AVAILABLE BEGINNING FEBRUARY 8
The new Razer Blade 16 and Razer Blade 18 are now available for purchase beginning February 8. These brand-new chassis from Razer were announced at CES earlier this year, where they garnered a combined 19 awards and recognitions. Both laptops sport the Intel® 13th generation Core™ i9 HX processor and NVIDIA®'s RTX™ 40-series GPUs all operating at the maximum possible TGP, reaching 175W with an RTX 4080 or 4090. The expansive 16:10 aspect ratio displays provide gamers and creators alike with the perfect canvas for work and play.
The Blade 16 sets the standard for peak performance combined with portability, packing a Core i9 13950HX and up to an RTX 4090 into a footprint only marginally larger than a previous generation 15-inch laptop. The result is a machine that delivers more graphics power per cubic inch of volume than any other 16-inch gaming laptop.[1][2] The 16-inch display is available with a first-of-its-kind dual-mode mini-LED panel, capable of switching between two native resolutions and refresh rates: immersive UHD+ at 120Hz or FHD+ at an ultra-smooth 240Hz.
The Blade 18 is the ultimate desktop replacement, combining desktop-grade performance with a desktop-level peripheral feature set. Outfitted with up to an RTX 4090 and either a Core i9 13950HX or 13980HX processor operating at 65W TDP out of the box, the Blade 18 delivers more than double the processing performance[3] and 150% greater graphics performance[4] than a 2021 Blade 17. It also sports a 6-speaker array with THX® Spatial Audio, a comprehensive selection of ports, and a 5MP webcam.
Razer is also launching a brand-new CPU overclocking feature for Blade 16 and Blade 18, available with the latest Razer Synapse update. With this feature, Razer is taking advantage of the new Blades' HX processors to allow users to push performance beyond factory spec. Blade 16 and Blade 18 users will have access to customizable tuning parameters for CPU core voltage, sustained boost power maximum wattage, short boost power maximum wattage, and boost power time window to deliver truly unbridled potential.
All Blade laptops are protected by a 1-year manufacturing warranty and a 2-year battery warranty backed up by Razer's award-winning customer support. Optional enrollment in RazerCare provides further peace of mind.
For more information on the new Blade 16 and Blade 18, please visit the product pages here and here respectively.
For more information on how Razer empowers you to #WinItYourWay, please see here.
[1] "Graphics power per cubic inch" determined by dividing a laptop's TGP (Total Graphics Power) by its total volume (LxWxH).
[2] Research conducted on comparable competing gaming laptops available for sale as of Feb. 2, 2023.
[3] CPU Benchmarks (Cinebench R23 – Multicore): Blade 17(i9-11900H) – 11246; Blade 18(i9-13950HX) – 28022
[4] GPU Benchmarks (3DMark Firestrike): Blade 17(RTX 3080) – 22409; Blade 18(RTX 4090) – 34436