News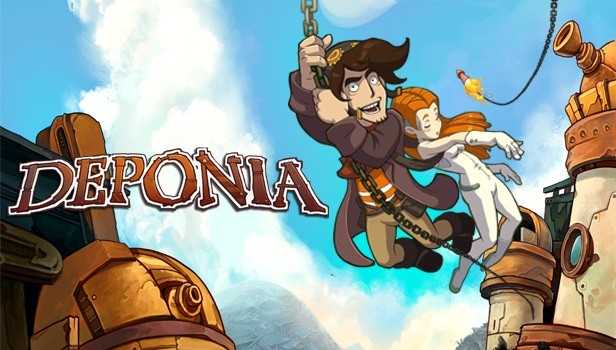 Published on March 17th, 2014 | by admin
Award-winning adventure game coming to console: Daedalic announces Deponia for PSN
Award-winning adventure game coming to console: Daedalic announces Deponia for PSN
Hamburg, March 17th, 2014 – Deponia, debut of the multiple award-winning point & click adventure game trilogy centering on the fictive trash-planet of the same name and anti-hero Rufus, will soon also be playable on PlayStation®3: Developer Daedalic Entertainment today announces the release of a ported version for PlayStation®Network in Summer 2014.
Controls and user interface have been completely revamped to fit the requirements of the PlayStation® system. "Still, the whole point & click gameplay and feeling remain the same. But we could benefit from the advantages of a controller-based system, for instance by additionally allowing direct Rufus control", explains Tom Kersten, producer of the Deponia series at Daedalic Entertainment.
Deponia, so far available for PC and Mac, and now coming to PlayStation®Network, centers on unsuccessful tinkerer Rufus and his home, the trash planet of Deponia: Rufus isn't a pleasant guy. Ill-tempered and entirely too convinced of his own greatness, he lives at the edge of a small settlement somewhere in the most remote sector of the garbage-covered planet. He dreams of a better life in the floating cities of wealth and beauty high above the planetary surface. When the angelic Goal falls from these privileged spheres down into a neighboring trash heap, Rufus sees his chance. He decides to bring the unconscious beauty back to her home. Only with a vague hope of making it off Deponia at first, he soon formulates an unscrupulous plan, as he learns that he is a dead ringer for Goal's upper-class fiancé. The planned handover soon dissolves into a wild chase full of twists, turns and mystifying mix-ups…
Deponia is a fast-paced comedy of errors and one of the most unusual love stories in gaming history. The twist-filled story takes its offbeat characters all over trash planet Deponia, a unique game world in the style of Douglas Adams, Terry Pratchett and Matt Groening.
Deponia will be released on PlayStation®Network in summer 2014, being playable on PlayStation®3.
www.deponia.de/en
facebook.com/daedalic