Books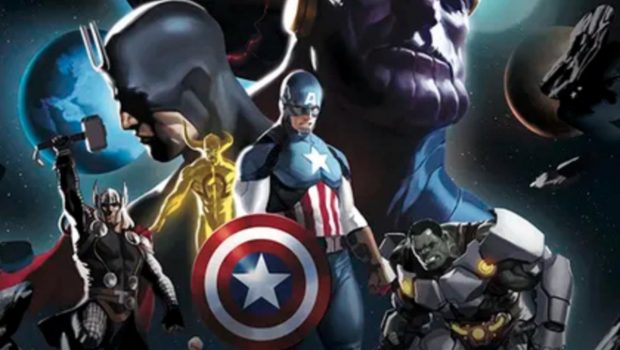 Published on June 13th, 2019 | by Tony Smith
Avengers Infinity Prose Book Review
Summary: Avengers Infinity Prose is an alternate spin on everyone's favourite Mad Titan that is not only well-written but is an enjoyable read from start to finish.
If you can't get enough of the AVENGERS, especially after watching the latest film, Avengers: End Game then Titan Books and writer James A. Moore have the perfect panacea for you! This cure is the Avengers Infinity Prose Novel that puts a slightly different twist on the Thanos "Mad God" mythology and more importantly is firmly set in the Marvel comics world that unlike the current films, as the X-Men are on the same world as Spider-man, Thor and Captain America. I'm sure that with Fox now under the banner of Disney, we might see some of the X-Men appear in the MCU but for now, this meeting only takes place in the comics or novels.
The premise behind this story and without spoiling too much revolves around the heroes of earth being split with the Avengers off-world as they attempt to rally the alien races together in order to stop a threat known as the Builders who threaten the galaxy. However with Earth's major heroes absent, Thanos has turned his eyes back to Earth as the remaining heroes (The Inhumans, Black Panther, Doctor Strange and the X-Men) band together to stop his forces, the Black Order from decimating the planet. Needless to say, the story behind this novel is quite epic in its construction and would make an awesome film if … you know… was still… dun de dun. Well, I don't want to spoil Avengers: End Game but like I said, the story included in this novel would make a great blockbuster film.
More importantly, writer James A. Moore successfully captures the characters and villains of the comics well and when your favourite character or characters pops up, it does feel like it's them talking. Also, the novel flows quite well with excellent pacing and the writer does a great job at world-building, particularly for those not that familiar with the world of comics and the denizens who populate this world. Another highlight of this novel were the action scenes and thankfully they were very easy to follow as the words ignited my imagination.
Final Thoughts?
The Avengers Infinity Prose novel successfully celebrates this diverse comic book universe that takes our favourite heroes on another adventure and with the stakes doubled, it makes for a totally engaging and entertaining read from start to finish. All in all, writer James A. Moore should be commended on bringing this story to life as we revisit Thanos and learn more about the bigger Marvel comic universe.