Comics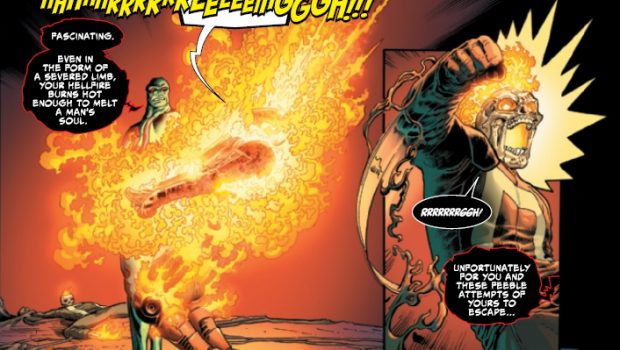 Published on January 30th, 2022 | by Tim Chuma
Avengers Forever #2 Review
Summary: Maybe if you are a fan of the main character, this one is a bit tough going.
Ghost Rider Robbie Reyes has been captured by the War Machines on an alternate earth and is being tortured. The only thing keeping him alive is his hatred as if he falls asleep he turns back into a human and will die. At one point his car stages a rescue but is stopped by the Ghost Goblin. Dethlok is in his cell but doesn't do much except talk to him and keep him awake. In the background Tony Stark and Ant Man are trying to rescue them but will they be able to do anything?
Continuing with this series it is as grim as you would expect with Ghost Rider being tortured for most of it and not much other action except for his car trying to stage a breakout. This is alright if you have been following the series, but if you came to this new you would not know what was going on that much.
As this is an alternate timeline the events of this story don't apply over to other series and there does not seem to be any crossover events at least so you only have to read one comic.
I would recommend this one if you have been enjoying the storyline so far or are a big Ghost Rider fan. Anyone else maybe go back and read the start of the series and see if you want to commit.
Comic details:
Writer: Jason Aaron
Penciler: Aaron Kuder
Cover Artist: Aaron Kuder
Publisher: Marvel
Published: January 26, 2022