Comics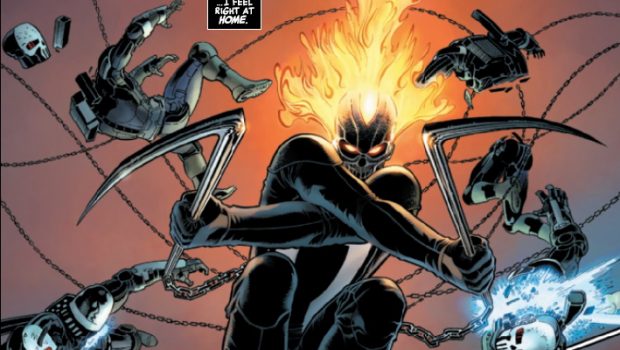 Published on January 2nd, 2022 | by Tim Chuma
Avengers Forever #1 (2021) Review
Summary: When is the earth not already destroyed in these? Maybe if you are a huge Tony Stark and Ghost Rider fan get this one.
3
Earth is ruined! Again!
On Earth #815 all the Avengers have long since died and the Black Skull is the ruler of the wasteland. The Invincible Ant Man is Tony Stark who is a wanted archaeologist tracking down the weapons of fallen Avengers. Into the fray enters the Ghost Rider and straight away takes it up to the Black Skull.
In the MCU multiverse there are so many different versions of the earth they just give them numbers these days and it seems almost all of them are even the worst possible scenario or about to be one. In the films they are only starting to go into this concept as it was a bit too complicated to explain and keep all the timelines straight.
How much you will get out of this one depends on if you are ready to commit to another apocalypse timeline as there are several already going at the same time by this point. Supposedly this one is based on a major event in one of the main storylines but I have not read that story.
If you are a fan of Iron Man and need to read everything he is in then I would recommend this one. Also Ghost Rider seems to be front and centre in this one right from the start.
Comic details:
Writer: Jason Aaron
Penciler: Aaron Kuder
Cover Artist: Aaron Kuder
Publisher: Marvel
Published: December 22, 2021