Comics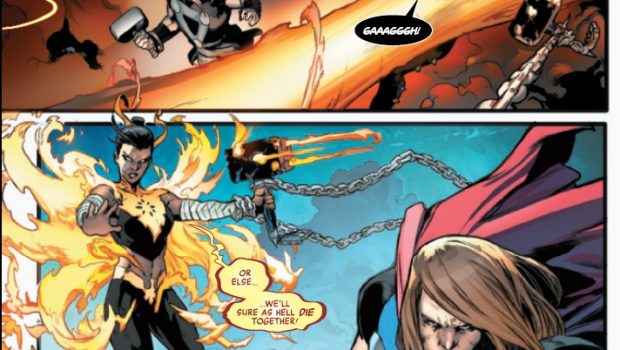 Published on March 21st, 2022 | by Tim Chuma
The Avengers #54 Review (2022)
Summary: Maybe if you are already following this storyline, otherwise give this a miss.
Avengers mountain is in ruins, Doctor Doom and his Multiversal Masters of Evil have killed the last Dethlok. Good and Evil Thor fight each other. Clearly some stuff has happened up to this point and this may not be the best point to jump into this story it seems.
There are a lot of things going on in this issue but without knowing who is who or what sides people are on it is difficult to work out what is going on. Maybe if you went to the Wiki and read up on it but if you are prepared to do that you would also have read the previous  entries in this storyline already.
I cannot place this within any of the existing timelines or even the new Multiverse ones that seem to be springing up lately, a lot of these stories do jump from one to another but not in this case it seems.
While this may be a good issue for people who are already fans, I cannot recommend just buying this one on its own unless you know who everyone is in this series already.
Comic details:
Writer: Jason Aaron
Penciler: Juan Frigeri
Cover Artist: Javier Garron
Publisher: Marvel
Published: March 16, 2022