Hardware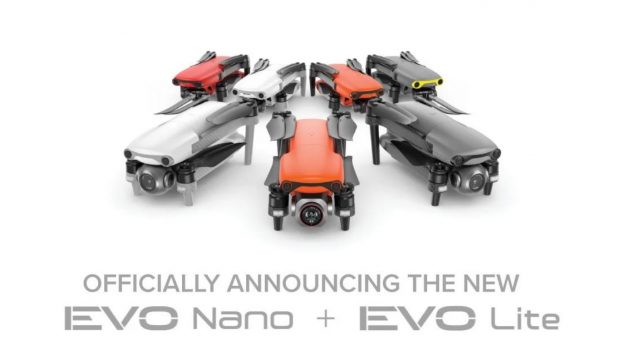 Published on January 7th, 2022 | by Adrian Gunning
Autel EVO Nano and Lite Series Drones Available Soon in North America
The first shipment for the long-awaited EVO Nano and Lite Series drones from Autel Robotics finally arrived in North America. The Nano series and Lite series include both a standard drone and a "plus" model with some exciting extra features. These drones promise astounding video quality (up to 6K for the Lite+), a wide image transmission range of 7.4 miles, industry-leading battery life of up to 40 minutes (EVO Lite series), and advanced features such as vision sensors for smart obstacle avoidance. They're even available in a range of colors, like the eye-catching Autel Orange and Blazing Red, or the cool Arctic White and Deep Space Gray.
EVO NANO SERIES: ONLY 249G, WITH 1/2″ OR 1/1.28″ SENSOR
Autel's EVO Nano Series is the superlight and ultracompact companion for the photography enthusiast, weighing in at only 249g. The EVO Nano+ boasts a 1/1.28-inch (0.8-inch) CMOS sensor capable of 50 Megapixel (MP) photos and the standard EVO Nano is no slouch with its 48 MP camera. An RYYB color filter array design with a large aperture of f/1.9 of EVO Nano+ offers superior noise reduction capabilities and the power to effortlessly produce quality images in low-light conditions. The three-axis mechanical gimbal damps out vibration, ensuring footage is smooth and stable no matter how rough the conditions. These compact drones fit almost anywhere – from the side pocket of a hiking pack to the palm of a hand.
EVO LITE AND LITE+: 4-AXIS GIMBAL, 1″ SENSOR FOR UP TO 6K/30FPS
Autel's EVO Lite and Lite+ bring new perspectives and new possibilities. Experience a new level of image quality thanks to a supersensitive 50 MP camera equipped with a 1/1.28-inch (0.8-inch) CMOS sensor. The camera adopts an RYYB color filter array design, which absorbs 40% more light than traditional RGGB arrays, allowing users to capture natural scenery in all its glory. Track fast-moving subjects with a precise autofocus that locks in within milliseconds using a phase detection autofocus and dual focus algorithm. Moreover, the EVO Lite is the first drone in the world to introduce a four-axis gimbal design, enabling users to shoot vertical videos for easy editing and sharing on mobile devices.
The EVO Lite+, with its big 1-inch CMOS image sensor and Autel's intelligent moonlight algorithm, can capture crisp, vibrant details at night with low noise — even when the ISO is cranked up high. And users can flex their creativity and take control with the adjustable aperture – from f/2.8 to f/11. They can also alter exposure and depth of field to show off their unique artistic style.
SHOOT, EDIT, AND SHARE, IN MINUTES, WITH THE AUTEL SKY APP
Newly-launched for EVO Nano and EVO Lite series, Autel's powerful but easy to use Autel Sky App gives users access to amazing features like SkyPortrait, "Your Personal Paparazzi." With the touch of a button, the drone rises into the air and snaps a photo of the user and their friends, automatically adjusting the lens so no one gets left out of the frame. Automatically follow any person, animal, or vehicle, to focus on personal activities while the drone handles the cinematic side, with Dynamic Track 2.1: Master Subject Tracking. Create dramatic, professional-level shots at the touch of a button. Meanwhile, record voices and ambient sounds on the ground through the smartphone, to bring videos to life even when the drone is far away, or narrate while filming for better editing workflow.
As soon as shooting is done, simply place a smartphone close to the drone to download photos and videos at a blisteringly-fast 160Mbps (20MB/s). Next, there's MovieMaster for easy movie making and sharing. The Autel Sky App provides a suite of video templates to make it even simpler. Easily add a soundtrack and filters in the Autel Sky App to make videos even more epic, producing unforgettable results whether the user is a veteran pilot or completely new to the drone game. Drastically shorten the tedious editing process to create and share creations on the spot.
For more information about EVO Nano series please visit:
www.autelrobotics.com/productdetail/24.html, and for more details about the EVO Lite series, go to www.autelrobotics.com/productdetail/23.html
AVAILABILITY, MSRP, AND WHERE TO BUY
The first batch of Eve Lite+ is arriving at the US warehouse around December 30th and it will be shipped to distribution partners within a few days.
Further shipments with more models will be arriving during the month of January.
EVO Nano Standard: $649
EVO Nano Premium Bundle: $799
EVO Nano+ Standard: $799
EVO Nano+ Premium Bundle: $949
EVO Lite Standard: $1,249
EVO Lite Premium Bundle: $1,549
EVO Lite+ Standard: $1,349
EVO Lite+ Premium Bundle: $1,649
All EVO Nano and Lite series products will be available at B&H, Best Buy, and Adorama.