News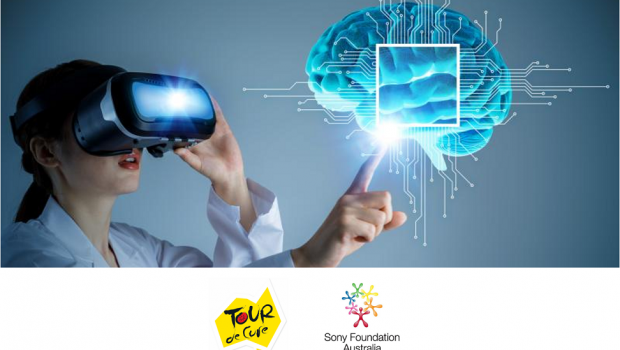 Published on February 20th, 2019 | by Admin
Australia's Largest Virtual Reality Cancer Research Grant Aids Australian Researches In Finding A Cure
AUSTRALIA'S LARGEST VIRTUAL REALITY CANCER RESEARCH GRANT AIDS AUSTRALIAN RESEARCHERS IN FINDING A CURE
TOUR DE CURE AND SONY FOUNDATION PARTNER TO MAKE THE IMPOSSIBLE, POSSIBLE
SYDNEY, AUSTRALIA – Australian cancer charity, Tour de Cure, and Sony Foundation Australia, the charity arm of Sony group of companies, are excited to announce the three winning applicants of the partnership's over $500,000 research funding grant – the largest virtual reality (VR) cancer research grant in Australia.
Virtual Reality has already made the impossible, possible, and with the immersive technology in active use around the medical world on projects that make a difference, Sophie Ryan, Chief Executive Officer of Sony Foundation Australia was inspired by the idea of bringing two fields together to make ground-breaking discoveries to benefit young Australians.
"We realised that Sony Foundation was in a unique position to help facilitate the collaboration between innovative Sony technology and its developers with cancer researchers to help close a gap in research specifically addressing youth cancer. We're excited to see the new ground forged as a result of this research funding," said Ryan.
The partnership between Sony Foundation and Tour de Cure encouraged grant applicants to partner with Sony Interactive Entertainment VR developers across the globe to devise specialised content ideas to tackle the spectrum of cancer research challenges, with a focus on youth cancer, from diagnosis, treatment, prevention and ultimately the search for a cure.
Alarmingly, less than 6% of young Australian's diagnosed with cancer aged 15-25 are on clinical trial, and only a small amount of technology companies are translating research into practical VR application. Ultimately, Tour de Cure and the Sony Foundation saw this as an opportunity to invite Australian research institutions to apply for the $520,00 grant and be assessed by a global panel of experts across cancer research, interactive technology and VR content development. The selected winners were determined by the projects merit in the hopes that they will lead to the next big discovery in the fight against cancer.
Paul Mirabelle, Chairman of the Research, Support and Prevention Committee of Tour de Cure Australia, noted the two major winners along with the development project winner were selected based on their ambition to challenge the 'expected' use of VR as opposed to traditional medical uses of the technology.
"We were thrilled to receive a variety of excellent applications for this grant. The quality of the applications speaks to the shared commitment in the research community to approach the fight against cancer. Ultimately those projects selected were those that best reflected the method, determination and ambition needed for this new approach to research to be effective", said Mirabelle.
"This truly unique program, will require close collaboration of traditional cancer research organisations with VR content creators across the interactive media industry to take the application of VR beyond pain management and distraction techniques, to a completely new realm."
One of the major grant winners, Associate Professor Dan Catchpoole at The Children's Hospital at Westmead, will utilise VR to traverse large groups of young people suffering from cancer, focusing on their specific genetic and biological information and comparing them to each other. This will allow researchers to identify the unique genetic and biological traits that characterise each patient, and ultimately inform a clinician on the best possible therapy for the individual cancer patient.
Also a major grant winner, Professor Sean O'Donoghue at Garvan Institute of Medical Research, intends to use VR as a diagnostic and educational tool to create three dimensional models to visually represent what is happening within cancerous tumours on a molecular and mechanical level. This research project will aid communication about rare cancers between peers, educators, students and medical professionals alike.
The development project grant winner is Professor Alwin Chuan from University of New South Wales and Liverpool Hospital and Professor Kate Stevens from The MARCS Institute at Western Sydney University, which explores the possibilities to provide cancer patients with ongoing and readily available virtual psychologists and cognitive pain management therapies. This will come in the form of VR psychologists and visual therapies, allowing a patient to direct their own pain management and empower them to manage their own therapy, in their own time.