Films
Published on November 21st, 2018 | by Damien Straker
Australians in Film and Screen Australia Announce Recipients of Mentor LA Program
Four Australians to be mentored by award-winning Hollywood creatives responsible for highly successful TV shows including Grey's Anatomy, The Handmaid's Tale, Girls and Black-ish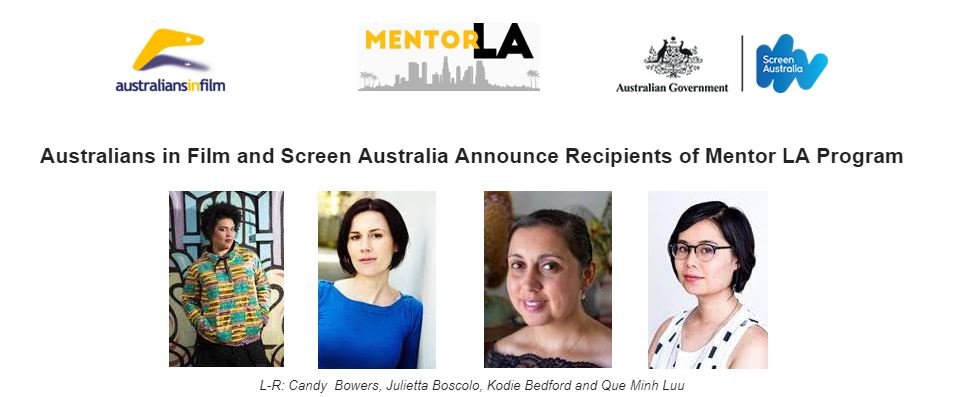 Award-winning executive producer Betsy Beers (Grey's Anatomy, How to Get Away with Murder), writer and producer of Emmy award winning series The Handmaid's Tale Yahlin Chang, Emmy-nominated director Jamie Babbit (Silicon Valley, Girls) and comedy writer and executive producer Peter Saji (Black-ish) will be matched with four Australian screen professionals in Australians in Film (AiF) and Screen Australia's annual Mentor LA program.
Executive producer Que Minh Luu, writer/director Julietta Boscolo, and writers Candy Bowers and Kodie Bedford have been selected to take part in the structured 12-month program.
This year, Mentor LA encouraged applications from creatives currently under-represented in the Australian screen industry with unique stories to tell, matching them with mentors that champion diversity and inclusion.
President of AiF, Kate Marks said: "Mentor LA was established to create new and exciting pathways to help grow the careers of young screen professionals and as a by-product, the Australian industry as a whole. This year's successful applicants Que, Julietta, Candy and Kodie all have a dynamic and a fresh point of view in storytelling. AiF is thrilled to again be  partnering with Screen Australia and providing this unique opportunity to these talented filmmakers."
Graeme Mason, CEO Screen Australia said: "Mentor LA is an incredible opportunity for these four Australian storytellers who are at the point in their career when getting international perspectives on their work is highly valuable. Congratulations and savour every minute!"
Betsy Beers will mentor writer/producer Que Minh Luu, who wrote and produced the Logie-nominated children series Play Along With Sam, and Ghosts of Biloela, a geo-locative interactive drama for smartphones. 
Upon receiving the mentorship Luu said: "I'm beyond excited for the opportunity to be mentored by such a titan of screen production as Betsy Beers over the coming year. I'm so proud of the stories we tell as Australians and look forward to applying what I learn back home as well. Thank you so much to Australians In Film and Screen Australia for their support of local screen creatives."
Luu is an executive producer at ABC working across scripted drama, comedy and digital, including Harrow, The Heights and upcoming TV shows Frayed with comedian Sarah Kendall and Diary of an Uber Driver, based on the popular blog and bestselling e-book.
Peter Saji will mentor Melbourne-based comedian and writer Candy Bowers. Bowers is the co-artistic director of Black Honey Company, a sub-genre of hip-hop theatre that delves into the heart of radical feminist dreaming. She's also appeared in Newton's Law, Get Krack!n, Tonightly with Tom Ballard and The Cry.
Bowers expressed her excitement for the mentorship placement, saying: "Never in my wildest dreams could I have imagined I'd be mentored on my TV comedy trajectory with someone like Peter Saji. I've wept watching Blackish when I should have been laughing. The tears of reflection and recognition were so sweet. This is a life and career changing moment for me. I've been dreaming about being a showrunner on a comedy TV series since I was a little girl, so I guess this is my wildest dream, thank you Australians in Film and Screen Australia."
Bowers is currently working on her first feature film with Robert Connolly's production company ArenaMedia, an anthology of Australian monologues for actors of colour titled Everybody Else.
Yahlin Chang's mentee is writer Kodie Bedford, who recently wrote for the acclaimed Australian drama series Mystery Road, as well as the short film Last Drinks at Frida's, which debut at Sydney Film Festival in 2017.
Of this opportunity, Bedford said: "I'm so honoured and excited to be picked for Mentor LA with Yahlin Chang, not only because she's writing on a top international drama series but also because she's a female writer from a minority background who has shown me what's possible – that I can make it and my stories are valid. This industry is so much about collaboration and I'm excited to learn everything I can from Yahlin, improve my writing skills and bring it back to the Australian industry where I can hopefully create unique and female driven Australian stories."
Bedford is currently working on the second series of Mystery Road and recently received Belvoir Theatre's Balnaves Foundation Aboriginal and Torres Strait Islander Fellowship, which provides a paid residency at Belvoir, working across production, programming and development, where she'll develop her new play, Cured!
Julietta Boscolo, who will be Jamie Babbit's mentee, is an emerging director who served as director's attachment on the popular Channel 9 series Love Child. She also directed and wrote the award-winning short film Let's See How Fast This Baby Will Go, for which she received the Emerging Filmmakers Award at the Melbourne International Film Festival.
"I am thrilled to have been selected for Mentor LA to be mentored by acclaimed film and television director Jamie Babbit. I look forward to working with Jamie over the next year, learning from her experiences and perspective to strengthen my own voice as a director," said Julietta.
Julietta has several longform projects in development and is looking for new opportunities to discover original stories.
Over the 12-month program, Mentor LA provides access to the highly-regarded US screen development process, with mentees meeting online quarterly with their mentor. The program culminates in a trip to Los Angeles to meet their mentor in person.