News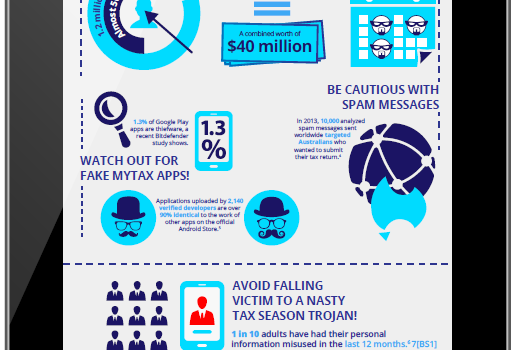 Published on July 25th, 2014 | by admin
Australians Should Bolster Security for Tax Returns, Bitdefender Says
Antivirus provider offers tips and tricks to protect tax return data
SYDNEY, AUSTRALIA July 24, 2014 – Australians should bolster security before submitting their tax returns, as cyber-criminals could take advantage of the copious amounts of personal data filled out online, according to antivirus software provider Bitdefender.
According to Catalin Cosoi, Chief Security Strategist, Bitdefender, many Australians prefer Wi-Fi networks to mobile broadband while connecting to the Internet and as such, they should be cautious when accessing the MyTax app through public Wi-Fi networks.
"Free Wi-Fi hotspots can be tricky and, in Australia, they have lately multiplied like jellyfish. To submit tax returns, shop or bank online, these are really not the best places to connect to the Internet. Hackers and petty cyber-thieves may easily intercept credit card numbers, name, address and other personal details they use for identity theft."
Australian phishing season is open all year round. In 2013, the Australian Taxation Office (ATO) blocked 8,000 fraudulent claims that could have caused $40 million in losses. Users are advised not to trust e-mails allegedly from ATO, as the office will never send messages asking for passwords or other personal details.
"Tax season marks a good opportunity to reinforce password security and create strong credentials for the tax return account. Passwords should be changed regularly and not be reused for social media accounts, e-mail and the Tax Return app" says Mr Cosoi.
Millions of Australian passwords were stolen in 2013 data breaches and many more are easy to guess. Australians should stop using passwords such as "123456", "password" or other variations included in the world's most popular – and worst – passwords list for 2013.
Last year, 10,000 analysed spam messages sent worldwide targeted Australians who wanted to submit their tax return. In a single month, cyber-criminals started three campaigns impersonating the Australian Taxation Office.
For additional security advice and information, check Bitdefender's infographic – "Surf Safely to Tax Time, Australia!"