Events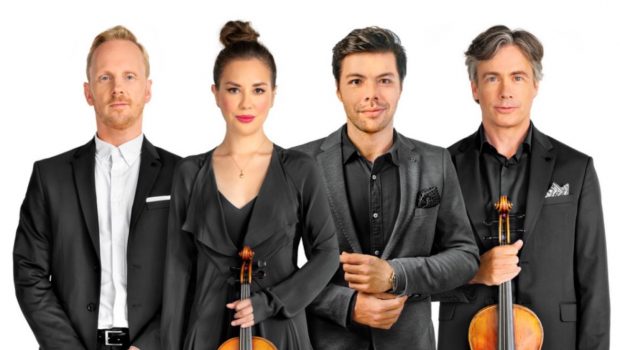 Published on June 25th, 2021 | by Adrian Gunning
Australian String Quartet returns to Melbourne Recital Centre
Courage, boldness and revitalisation underpin this program which features Felix Mendelssohn's operatic vigour, Pavel Fischer's depiction of a rousing call-to-arms and Béla Bartók's fresh take on string quartet writing.
As an early ethnomusicologist, Bartók dedicated his life to cataloguing folk music from across central Europe. This research heavily influenced his writing which, mixed with an unmistakable Beethovien zeal, lead to a revitalisation of string quartet writing. Bartók's third string quartet exemplifies this in one continuous movement, brimming with inventive string techniques that create a diversity of colours and emotions.
Mendelssohn wrote the Opus 12 string quartet before his twentieth birthday. His young, opera-addicted mind dials up the drama and beauty of this piece, while the popular Canzonetta movement exemplifies the cheeky Puck-like passagework associated with his Octet, and music from A Midsummer Night's Dream.
Moravian violinist and composer Pavel Fischer was inspired by the courage of Scottish piper Bill Millin who on D-Day, marched on Normandy beach, rallying the troops with his bagpipes. This incredible quartet seamlessly blends traditions of folk music and western art, creating an explosive and exhilarating end to this program.
Join us for this special concert which celebrates ASQ Viola Stephen King, before he moves to his new role as ASQ's Director of Learning and Engagement, and welcomes new ASQ Cello Michael Dahlenburg.
***Note: The ASQ was initially scheduled to perform in Melbourne on 1 June. In this concert, they perform a slightly altered program to its original billing, which does not feature Genevieve Lacey.
Repertoire:
Béla Bartók, String Quartet no 3
Felix Mendelssohn, String Quartet no 1 in E flat major op 12
Pavel Fischer, String Quartet no 3 Mad Piper
Event details: 
Date: Wednesday 30 June, 7pm
Venue: Elisabeth Murdoch Hall, Melbourne Recital Centre
Running time: approx 70 minutes, no interval
Tickets: Standard $70, Concession $60 & Under 30 $30