Films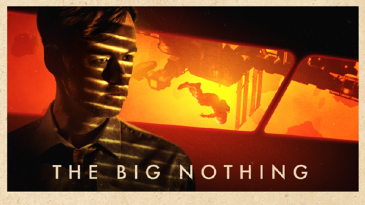 Published on March 2nd, 2021 | by Adrian Gunning
AUSTRALIAN NEO NOIR SERIES 'THE BIG NOTHING' TO PREMIERE TO OVER 5 MILLION VIEWERS
The much-anticipated six-part Australian neo noir series The Big Nothing will reach over five million global viewers when it premieres on March 5 2021 via the You Tube and Facebook platforms of the world's most definitive sci-fi destination, DUST.
With over three and a half million followers on Facebook and over two million via their dedicated You Tube account DUST features the world's best sci-fi short films and originals shows 'in the universe'.
Co-created by South Australian filmmakers, Claire Bishop, Lucy Campbell, Sophie Morgan and Peter Ninos, The Big Nothing, a 5 x 10-minute series, follows Detective David Lennox as he investigates a murder on an isolated space station.
Starring an entirely Australian cast including Chad Michael (Pine Gap), Brendan Rock (Storm Boy, Wanted), Jo Stone (Pine Gap, ANZAC Girls) and TAFE Arts graduate Jono Darby, The Big Nothing is a tense exploration of duty, secrets and alienation in the vastness of space, centred around claustrophobic interrogations and revelatory flashbacks.
With all suspects having a motive to kill and a rogue group preparing to attack the station, Detective Lennox must uncover the killer before it's too late.
Produced on just $10k and shot in just 10 days, The Big Nothing was borne from the desire of the filmmakers to tell an enthralling mystery wrapped up in a sci-fi setting.  Together with a team of local filmmakers, builders, electricians, carpenters and crew, six sets were built by The Big Nothing's filmmakers at South Australia's film studio, Hendon Studios.  Upon completion of principal photography, the series garnered the interest of Screen Australia who provided completion funding allowing for the filmmakers to enlist the talents of VFX Artist, Nick Deboar (Game of Thrones) to complete the VFX.
"We're so excited to premiere our series on DUST.  It's testament to the talents of our Australian cast and crew, and a global audience's thirst for Aussie made sci-fi stories," said The Big Nothing's filmmakers.
With a number of festivals under its belt including the prestigious Seattle International Film Festival, Adelaide Film Festival, Seoul Web Fest, Buffalo International Film Festival, Orlando Film Festival, Austin Revolution Film Festival, Carballo Interplay, Melbourne WebFest, Toronto Webfest, The Big Nothing has garnered a number of awards including Best Directors at Los Angeles' First Glance Film Festival.
The Big Nothing received principal production funding from Screen Australia in association with Mercury CX, and support from the South Australian Film Corporation.  The series is co-produced by Adam Camporeale, with Executive Producers Dan Phillips, Andrew Graue and Enzo Tedeschi.
The trailer can be viewed here – https://youtu.be/Y-2pqa-aqxc