Games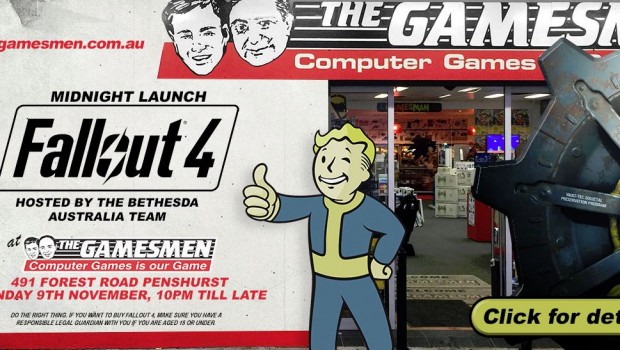 Published on November 5th, 2015 | by admin
Australian Midnight Launch Activity for Fallout 4
Australia's longest operating independent video game retailer, The Gamesmen, will be holding a special midnight launch event for the highly anticipated open-world game, Fallout 4.
The family owned and operated Penshurst store will be transformed into a giant Vault 111 and open its doors at 10pm on Monday, November 9 to hundreds of eagerly awaiting fans who will be amongst the first people in the world to be able to purchase and take home a physical copy of Fallout 4. Hosted by the local Bethesda team and open to the public, those that attend can win the chance to take home some exclusive Fallout 4 swag and be able to check out The Gamesmen's unique museum displaying the history of gaming over the last 30 years.
Slated for release worldwide on November 10, 2015 for Xbox One, PlayStation 4 and PC, Fallout 4 is the long-awaited follow up to the 2008 'Game of the Year', Fallout 3, and the first title from the award-winning team at Bethesda Game Studios since the release of their global phenomenon and 2011 'Game of the Year', The Elder Scrolls V: Skyrim.
For more information on The Gamesmen please visit https://www.gamesmen.com.au/.  For more information on Fallout 4 please visit www.Fallout4.com.
The Gamesmen is located at 491 Forest Rd, Penshurst NSW. Their event starts at 10pm Monday, November 9.