Events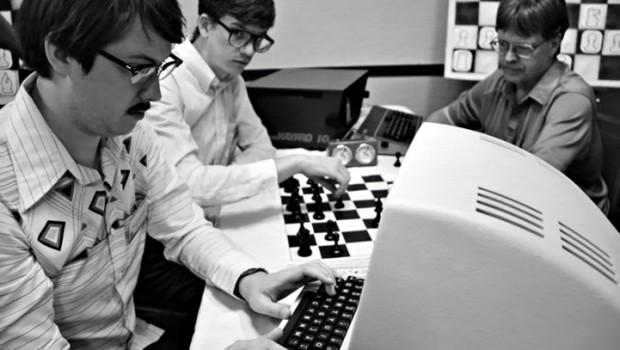 Published on October 30th, 2013 | by Admin
The Australian Centre for the Moving Image presents Long Play: Computer Chess (M)
Friday 27 December 2013 to Sunday 19 January 2014
"Filmmaker friends seem to appreciate that I went and did something insane." – Andrew Bujalski speaking to The Lumière Reader
From 27 December 2013 until 19 January 2014, the Australian Centre for the Moving Image (ACMI) presents Computer Chess, the new feature film written, directed and edited by indie stalwart, Andrew Bujalski (Funny Ha-Ha, Mutual Appreciation).  
Screening as part of ACMI's Long Play season, Computer Chess is an homage to the 80s where dreams of the future, computer geeks and technology are combined to create Bujalski's most bonkers proposition to date.
A group of brilliant but nerdy computer scientists – all male bar one – has descended on a dreary motel for its yearly computer chess convention. Split into teams and pitted against one another to see who can write the smartest code for their computers, the programmers will conclude their weekend with a computer chess tournament. So engrossed in their work, the programmers don't give a second thought to the other motel patrons, who happen to be a bunch of life-loving hippies on a couples retreat.
When one of the couples takes an interest in Peter, one of the younger and more naive programmers, the results are nothing short of hilarious. Meanwhile, the competition continues unabated, with the programmers striving to make their machines smarter than humans.
Starring Wiley Wiggins (Dazed and Confused, Waking Life), the film largely features a cast of non-professional actors from varied backgrounds, including an assistant professor in computer science from the University of Chicago, Gordon Kindlmann, and a writer, film programmer and film studies professor from Suffolk University, Gerard Peary.
Using old school recording methods – the film was shot predominantly on a vintage tube video camera (the Sony AVC 3260) – Computer Chess blurs the boundaries between documentary and fiction, and begs the question: is this for real?
Regarded as a pioneering force of the Mumblecore movement, a filmmaking style that employs small budgets, untrained actors and plenty of naturalistic dialogue, Bujalski has created a film far more ambitious that his previous works.
"With Computer Chess, Andrew Bujalski seems to have shed his Mumblecore skin to reveal his most funny, complex and impressive feature to date," said ACMI Film Programmer Kristy Matheson.
The Long Play season of Computer Chess screens at ACMI Cinemas from Friday 27 December 2013 until Sunday 19 January 2014. For program information and tickets, please visit acmi.net.au/film 
Praise for Computer Chess: 
"An endearingly nutty, proudly analog[ue] tribute to the ultra-nerdy innovators of yesteryear…" – Justin Chang, Variety 
"Consistently funny throughout, fans of squirm-inducing humour will find much to enjoy…" – Ben Nicholson, CineVue 
Andrew Bujalski, 92 mins, USA, 2013, DCP, Source: Accent Film Entertainment