Events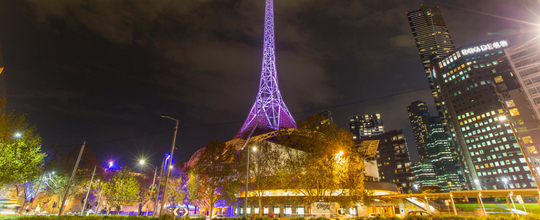 Published on August 21st, 2018 | by Admin
Australian Ballet School Showcase 2018
From pure classical to contemporary dance, the students of The Australian Ballet School will fill the stages of Arts Centre Melbourne's State Theatre and Canberra Theatre Centre with balletic artistry when they present Showcase 2018.
Now a much loved annual tradition, The Australian Ballet School's September showcases are dazzling performances demonstrating the outstanding technical skill and talent of its dedicated students.
This year features a curated program of ballets where beauty, symmetry and finesse are balanced with the boundless passion and flair of young talent. The result will be an enthralling journey through the traditional and the new, presented by students of The Australian Ballet School.
Showcase 2018 features four premieres – Wolfgang Dance and Danza de la Vida, both choreographed by Simon Dow, Heart Strings choreographed by Margaret Wilson and Ballo Barocco, choreographed by Stephen Baynes.
The Melbourne showcase opens in spectacular style with all 118 students performing Grand Défilé, which literally translates as Big Parade, with choreography by Paul Knobloch.
Audiences in both cities will enjoy a program featuring:
Alegrias, choreographed by Areti Boyaci, originated in Cadiz in the South of Spain and remains one of the main forms in the flamenco canon.
Wolfgang Dance, choreographed by Simon Dow, uses Mozart's wonderful and well-loved first movement Allegro from Eine Kleine Nachtmusik.
Waltz from Birthday Celebration, choreographed by Mark Annear, was created for The Australian Ballet School's 40th Anniversary Gala in 2004 and highlights the flow and beauty of the classical ballet technique.
Don Quixote, Dryads, Act II | Choreography by Ai-Gul Gaisina after Marius Petipa – half unconscious from his injuries, Don Quixote imagines that he has been transported to a magic garden. As a reward for his valour and faithfulness, the Queen of the Dryads brings to him the grateful Dulcinea and he declares his love for her. His dream world fades and Don Quixote continues his quest for the lady of his visions.
Valetta, choreographed by Paul Knobloch, is a display of pure classical movement encompassing a twist on a popular formula and inspired by the MGM Musicals of the late 1950's.
Heart Strings, choreographed by Margaret Wilson, is a suite of short dances each with its own characteristics.
Ballo Barocco, choreographed by Stephen Baynes, is a work that displays the students' classical technique and musicality performed to the music of J S Bach.
Danza de la Vida, choreographed by Simon Dow, draws from the Tango traditions of Argentina, in a fusion of classical ballet movement with the language of tango.
Informed by meaningful history and motivated by the exciting possibilities of the future of dance in Australia and abroad, The Australian Ballet School is committed to achieving exceptional student outcomes to produce dancers of the highest calibre for their parent company, The Australian Ballet and companies around the world.
In a unique, nurturing culture that embraces creativity, artistic expression and passion, the School continues to advance the art of ballet, produce dancers with a distinctive Australian style, balancing technique and artistry with educational needs and holistic care, training teachers and developing the artistic leaders of the future.
SHOWCASE 2018 Event Details: 
Melbourne:
7.30pm, Sunday 9 September
Arts Centre Melbourne, State Theatre
Bookings: 1300 182 183 or online
Canberra:
1.30pm and 7.30pm, Saturday 22 September
Canberra Theatre Centre
Bookings:  (02) 6275 2700 or online
Tickets – Melbourne & Canberra:
Premium: Standard $89, Child $79, Concession $79
A-Reserve: Standard $72, Child $62, Concession $62
B-Reserve: Standard $55, Child $45, Concession $45
Running Time: 2 hours 16 minutes (including 20-minute interval)