Games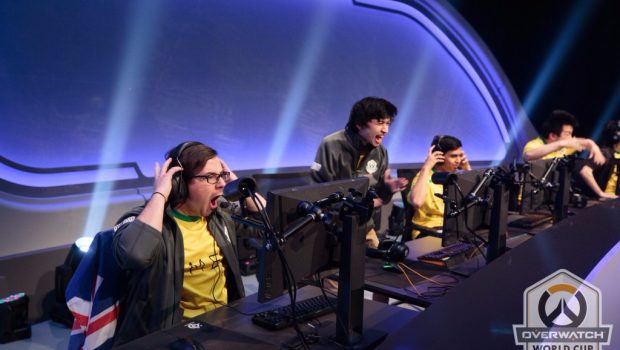 Published on July 24th, 2017 | by Admin
Australia And Sweden Secure Spots For The Overwatch World Cup Finals
Sydney, Australia 24 July – After an exciting weekend of esports competition at the Overwatch World Cup Group Stage: Sydney, Australia and Sweden have emerged victorious and secured spots for the Overwatch World Cup Grand Finals, to be held this November.
Australia achieved dominant victories over Italy (4-0) and Portugal (4-0) in the preliminary rounds, before losing to Sweden (3-1). The home side stepped up when it mattered most, closing out one of the tightest matches of the series so far, and defeating Japan 3-2 in a nail-biting sudden death finish during the playoffs. The match between Japan and Australia can be viewed in full on Twitch.tv.
Ajay 'Aetar' Umasankar commanded the charge on offense for Australia, showing slick damage dealing skills as Soldier: 76 which impressed the sold out event crowd. Jason 'ieatuup' Ho flanked expertly on mobile hero, Tracer throughout the competition. Marcus 'Kiki' Jacob and Ashley 'Trill' Powell played exemplary tank roles as D.Va and Winston respectively, while Jordan 'Gunba' Graham flexed his muscles, rotating between Sombra, Ana, and Zenyatta as required. Captain and shot-caller Andrew 'Rqt' Haws played support Lucio, leading the team to victory.
Sweden, the highest ranked team participating at the Overwatch World Cup Group Stage: Sydney, also earned its place to attend the World Cup Finals. After a slow start against Portugal in its first match (2-2), the team went on to beat Italy (4-0) and Australia (3-1), before reigning victorious in a clean sweep over Spain in the playoff showdown (3-0).
The Overwatch World Cup Finals will take place at BlizzCon (www.blizzcon.com) in Anaheim, California 3-4 November this year, with the first four teams: France, China, Sweden, and Australia now confirmed to attend. Two more Group Stages remain, and will take place in Poland and the United States in August to determine remaining four nations taking part.