Events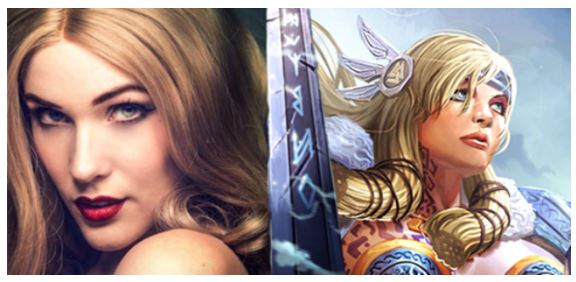 Published on October 16th, 2015 | by admin
Aussie Cosplayer Eve Beauregard Deified for SMITE Oceania Championship Finals at PAX Aus 2015
MELBOURNE, OCTOBER 16, 2015 – SMITE Oceania Championships at PAX Australia on the ESL Arena Stage hosts renowned Australian cosplayer Eve Beauregard, leading her team in SMITE cosplay to grace the ESL Arena Stage and newly announced SMITE Halls of the Gods community party. Appearing as popular SMITE character Freya Queen of the Valkyries, Eve is excited to be part of SMITE's celebrations at PAX Aus 2015, and is busily working on her costume and props to make her SMITE character debut.
"I can't wait to cosplay Freya with the SMITE crew at PAX Aus 2015! I'm pretty keen to pick up a few pointers from the pros while I'm around the ESL stage," said Eve. Eve will be joined by cosplayers Tim "Piltover" Nichols as Ullr The Glorious One, Mandi "Artisans Theory" Macleod as Isis Goddess of Magic and Sarah "Rascal" Callan as Artemis, Goddess of the Hunt.
Fans can meet Eve and the team in character at the ESL Arena Stage at PAX Australia on Saturday 31 October, as the top four teams battle for the right to represent the region in the SMITE World Championships. Following the conclusion of the championship, SMITE fans can share a drink with Freya, Ullr and Isis later in the evening, at the Hall of the Gods party for the SMITE Community. Tickets are limited and will be available through Eventbrite with proceeds going to charity (details below).
About Hall of the Gods SMITE Community Night
To celebrate the conclusion of the championship, fans of SMITE are invited to get their ticket to attend the Hall of the Gods SMITE community night. This Halloween, join the community, pro players, casters and Hi-Rez guests, experience an evening of divine celebration of all things SMITE. Tickets are limited, and can be obtained from Eventbrite for $5 with all proceeds going to charity. Eventbrite tickets can be found here
About Eve Beauregard Eve Beauregard is a professional nerd hailing from Sydney who spends her time traversing the globe to talk geek culture, video games and cosplay. She has appeared at events throughout Europe and the US, as well as touring the entire country as a guest, speaker, cosplay judge and host. Eve has been active in the cosplay world for almost a decade, and has been a vocal campaigner for bringing Australia into the international cosplay circuit. www.evebeauregard.com
About the cosplayers Piltover City Customs www.facebook.com/PiltoverCityCustoms
Artisans Theory www.facebook.com/artisanstheory Rascal https://www.facebook.com/RascalCosplay