Hardware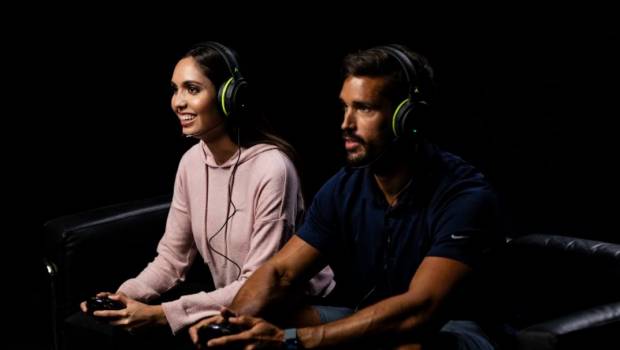 Published on December 13th, 2020 | by Andrew Bistak
Audeze Penrose Wireless Headset Review (PlayStation 5) #PS5
Summary: With the Audeze Penrose Wireless Headset, there's a new audio sheriff in town!
The Audeze Penrose Wireless Headset is a must have accessory for lovers of audio and more importantly, they are compatible with the latest next-gen consoles, the PlayStation 5 and the Xbox Series X which we've both reviewed at Impulse Gamer.
For the uninitiated, Audeze are a premium audiophile headphone manufacturer and their current gaming headset, the Penrose offer 100mm planar magnetic drivers, a broadcast quality microphone with a fleixble boom that is not only great for multiplayer but also perfect for streaming.
Technical Specifications
Style: Over-ear, closed-circumaural
Transducer type: Planar Magnetic
Magnetic structure: Fluxor™ magnet array
Phase management: Fazor
Magnet type: Neodymium N50
Diaphragm type: Ultra-thin Uniforce™
Transducer size: 100 mm
Maximum SPL: >120dB
Frequency response: 10Hz – 50kHz
THD: <0.1% (1 kHz, 1mW)
Earpads: Contoured memory foam: artificial leather
Microphone: Detachable broadcast quality mic
Battery type: Lithium-polymer
Wireless Connection: 2.4 GHz Wireless + Bluetooth (SBC, AAC)
Wired Connection: USB-C, USB-A, 3.5mm analog audio
Weight: 320g (including battery)
While the microphone does have built-in noise filters, it reduces external sound by 20db that is quite low. Lastly it is "true" wireless thanks to its 2.4 GHz low-latency lossless wireless connection and with that, you're ready to get your gaming on.
Box contents
Penrose Wireless Planar Magnetic Headset
2.4GHz Wireless Dongle
Detachable Broadcast Quality Microphone
USB-A to USB-C Cable
3.5 mm to 3.5 mm Cable
Quick Start Guide
Warranty Card
Introducing the Audeze Penrose Wireless Headset
.
Unboxing Gallery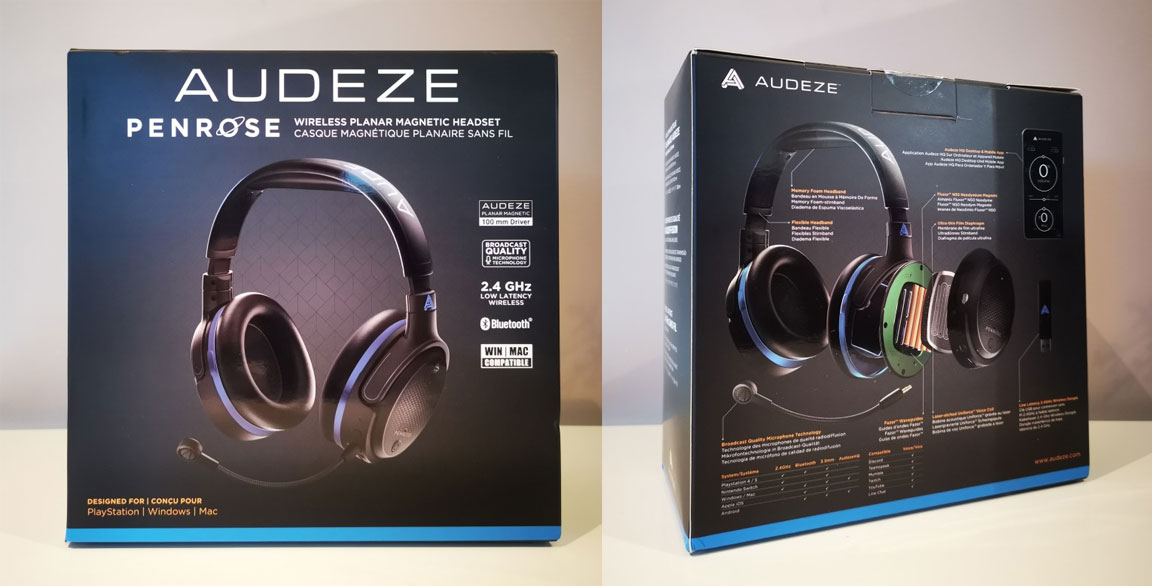 .
The presentation of the Penrose Wireless Headset definitely matches its premium design and more importantly connecting it to the PlayStation 5 is simplicity at its best. Whether your console is on or off, all you need to do is connect the USB dongle into one of the USB ports on the PS5 and then turn the headset on by holding the power button for 3-seconds.
Then through the powers of modern magic, the pairing process is complete and you're ready to listen to clear rich audio which sounds phenomenal on the headset. Controls are also well-placed (power, microphone mute, multi-function button, volume wheel/button) on the Penrose and although it takes a little time to familiarise yourself, it eventually becomes second nature.
Before jumping into gaming, I tested the Penrose with both Disney+ and Netflix in order to see how the cinematic experience would translate to the headset. Firstly, I watched a handful of episodes of The Mandalorian Season 2 and wow, the audio quality was superb and and you can hear all the subtle nuances of the audio from this excellent Star Wars series that just immerses you further into the story telling. I also watched some of the battle scenes from the last Avengers Film and again, it was a cinematic delight in terms of audio. Other highlights were Extraction and 1922 on Netflix that again sounded clear, balanced with a good amount of bass.
Then you have gaming which is another double wow! The Penrose really adds the audio immersion element to every single game you play and titles such as Cyberpunk 2077, Spider-Man Miles Morales, Astro's Playroom and Assassin's Creed Valhalla sounded spectacularly good. My favourite games for his headset was Spider-Man Miles Morales and Cyberpunk as it helped bring both these open-worlds to life and it's those subtle noises that you don't always hear with the TV speakers were more prevalent with the Penrose, however in a good way. Online gaming is another area where this headset excels and my friends and "enemies" had no issues in hearing me on the battlefield. The battery life of the headset is great which peaks at 15 hours and charging is fast, thanks to USB-C.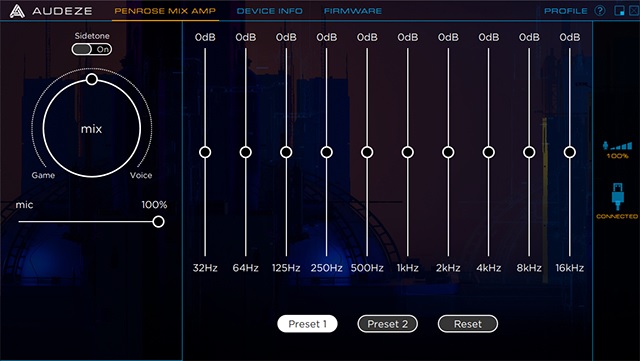 If you want to tweak the headset, Audeze offer both a mobile and desktop app that supports custom EQ and sideline toggling. With that said, you can connect the Penrose to smartphones and tablets thanks to Bluetooth 5.0 with additional support for SBS and AAC codecs which again increases the audio scope of this headset. Furthermore, you can answer calls with the headset of course listen to music via your smart devices. Lastly, it has a 3.5mm connection and cable so you can directly plug them into devices which support this format.
Final Thoughts?
The Audeze Penrose Wireless Headset for Xbox and PlayStation Consoles retails for $499AUD (Dec 2020) and while the price is high, the sound quality is fantastic and more importantly, the headset is super comfortable to wear and quite lightweight at just 320 grams, even for those longer than long gaming sessions such as Cyberpunk 2077 or Call of Duty Black Ops.
Audio has a new sheriff in town!
Key features include:
Audeze 100mm planar magnetic drivers
Broadcast quality microphone
2.4GHz lossless low-latency wireless
Bluetooth 5.0 (SBC and AAC)
Audeze HQ mobile and desktop app with custom EQ and sidetone toggling