Events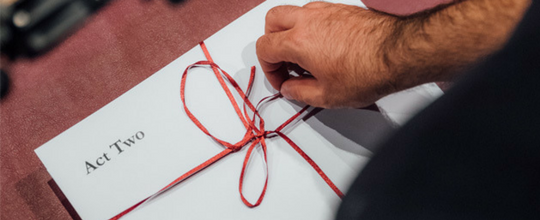 Published on December 4th, 2017 | by admin
Audacious theatrical experiment Nassim at Arts Centre Melbourne
MELBOURNE, FOR IMMEDIATE RELEASE – From Iranian playwright Nassim Soleimanpour comes NASSIM – an audacious theatrical experiment that explores the power of language to unite us in unknown, uncertain times.
No rehearsals. No preparation. Just a sealed envelope and an actor reading a script for the first time. Plus some tomatoes.
Described by The Guardian as 'a clever, subversive piece about the slipperiness of language and meaning", Soleimanpour will be joined on stage by Alison Bell, Benjamin Law, Charlie Pickering, Nakkiah Lui, Catherine McClements and Denise Scott over the course of five nights from 23 January at Arts Centre Melbourne.
NASSIM follows Soleimanpour's globally acclaimed White Rabbit Red Rabbit, which has been translated into over 25 different languages and performed over 1,000 times by names including Whoopi Goldberg, Nathan Lane, Alan Cumming, Eddie Perfect and Judith Lucy.
Forbidden to leave his native Iran, Soleimanpour wrote White Rabbit, Red Rabbit to travel the world in his place. Now living in Berlin, NASSIM sees him join each different performer on a journey into the unknown; stumbling upon the personal and profound, the limits of liberty and ultimately, where theatre can take you.
Slyly humorous and fearlessly pointed, Soleimanpour's words have escaped censorship and await their audience in this theatrical social experiment.
"A strikingly gentle, humane and emotive consideration of the experience of an artist living and working in the diaspora. " – The Herald
★★★★ "Emotionally charged theatrical experiment" – The Stage
"An unusually vivid celebration of theatre's liveness" – The Guardian
★★★★ "As he heightens the audience's sense of complicity in his art, Soleimanpour makes a quietly persuasive case for theatre's special power to foster empathy" – London Evening Standard
Tickets available at https://new.artscentremelbourne.com.au/whats-on/2018/theatre/nassim.