Hardware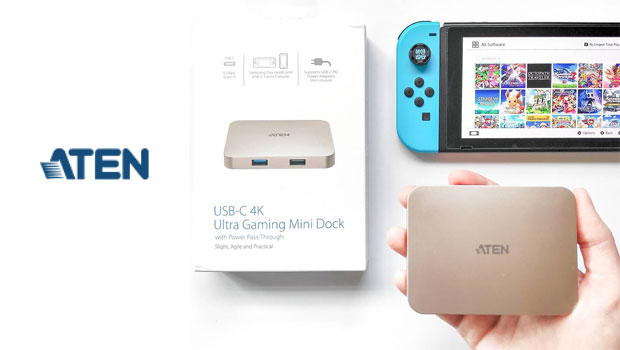 Published on March 14th, 2022 | by Tory Favro
ATEN USB-C Gaming Dock 4K Ultra Mini Dock-PD60W Review (Supports Switch TV Mode)
Summary: An amazing solution for those wanting to dock their console whilst on the go. Price is prohibitive, but functionality is superb.
As a Nintendo Switch gamer, and a traveller (back when it was a bit easier to go places), something that would always make it into my backpack would be my Switch console. Typically I go away for longer periods of time and the portability of the console ticks a lot of boxes, in addition to the small size of the cartridges, allowing me to take a lot of games without taking up much space.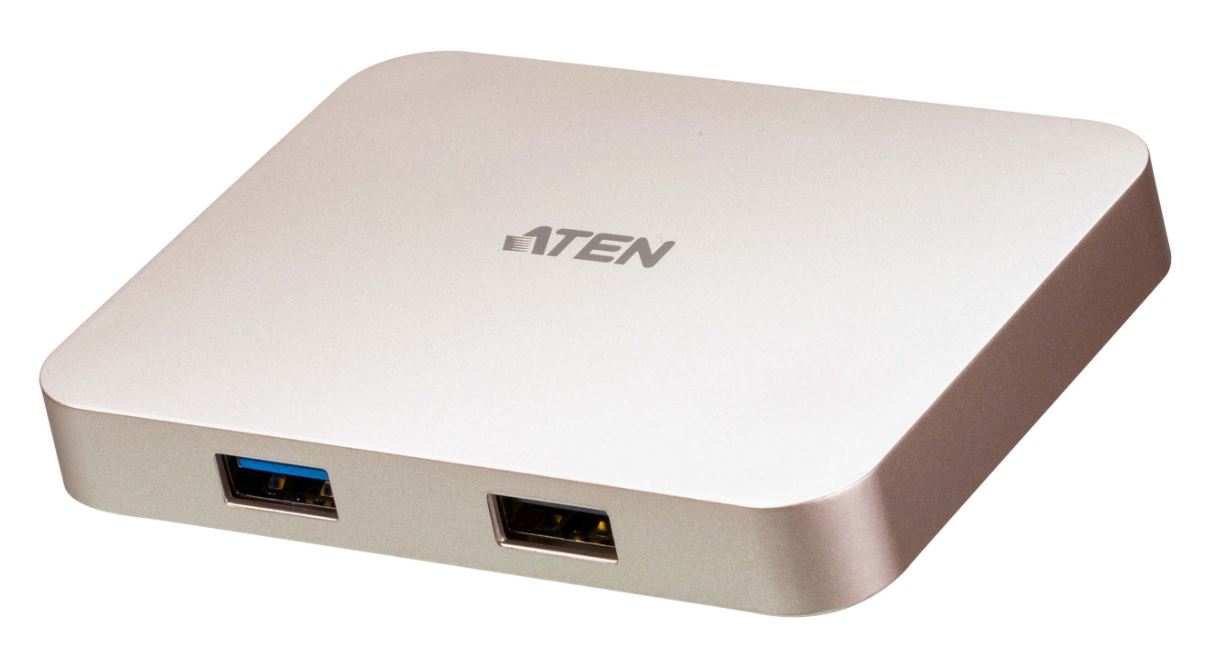 The main gripe I have had for several years now is that if you wanted to play on a television, say in a hotel room, you had to have the dock for that to happen; you could not simply attach your USB-C cable to the television and play on a larger screen. For me personally I prefer playing the Switch on a television and this led to frustration. The dock is cumbersome and just adds to the bulk of your travelling weight. I get it, first world problems right? Well it was my problem and I'm glad that it has been fixed to some extent.
Introducing the Aten USB-C dock. This device makes it all that little bit easier to play on larger screens on the go without compromising too much on overall weight or space. Roughly the size of a deck of playing cards and way less than a quarter of the weight, it's easy as pie to get this little device up and running.
This dock is outfitted with all the connections you'll need to be able to use larger screens with a number of devices, including tablets. Anything larger (like a Switch – which is the focus of this review for me) and you will need your original USB-C wall adapter that came with the console. Extra power is required, however it is not any real burden.
The dock features a USB-C power input, USB-C in, HDMI out, and two USB ports. Running the Switch was so easy. Plugging the power adapter into the dock, you then plugged the Switch in via USB-C to USB-C on the dock, then finally HDMI out to the television. No need for any firmware or updates; everything worked perfectly immediately out of the box.

The dock allows for 4K passthrough which for review purposes I did test and it works perfectly. For you fellow Switch gamers, the graphics were crisp and clear and I could not detect any real input lag resulting from its use. I did test this with both the JoyCons and the Pro Controller. Everything was responsive which was a real treat. Docking my MacBook Pro to the Aten also worked well.
As you can see from the pictures (supplied), the dock is a fraction of the size of the Nintendo one. Ease of carrying is guaranteed. In fact I have a slightly larger sized carry case for my switch and can easily fit the console, my games case adapter and this dock in one package. A perfect solution for travelers and parents wanting to simplify kids sleepovers!
Final Thoughts?
I did see somewhat similar devices when in America, but trying out two of them whilst there resulted in frustration and reverting to handheld mode. The Aten just works and in this day and age, that is a good thing indeed. It has a retail price of about the $100 mark which is a bit heavy if you are just going to use it casually, but for those with a need to use it a lot, this thing could be a lifesaver, especially when it is designed for multiple applications.
Features
Supports USB Power Delivery 2.0 for charging up to 60W (additional USB-C PD power adapter is needed)
Supports 4K resolutions – up to 3840 x 2160 @ 30Hz
Supports Samsung DeX mode or Huawei Desktop mode
Lightweight and card case-sized design – Stylish and ultra mini design for easy carrying
Compatible with Thunderbolt 3 (USB-C)
Apple M1 chip compatible
Specifications
Computer Connections
1
Cable Length
50 cm
Connectors
Computer
1 x USB-C Female (Black)
Device
1 x USB 2.0 Type A Female (Black)*
1 x USB 3.2 Gen 1 Type A Female (Blue)***Supports max. 5V, 0.3A output
**Supports max. 5V, 0.7A output
Video Output
1 x HDMI Female (Black)
Power
1 x USB-C DC-in Female*

*Support Power Delivery 2.0 for charging up to 60W, power profiles include 5V, 9V, 15V, 20V (additional USB-C PD power adapter needed)

*For mobile device charging, a Limited Power Source (LPS) certified single port USB-C PD Power Adapter over 25 Watt is recommended.

Video Resolution
3840 x 2160@30hz
Power Consumption
DC5V:7.5W:33BTU
System Requirements
• Windows 10 and above, USB-C enabled computer with DP Alt Mode*
* With Intel 7th-Generation Core Processor (Kaby-Lake) and above. More info about CPU generation, please find: https://www.intel.com/content/www/us/en/processors/processor-numbers.html• Mac OS X 10.12 and above, USB-C enabled computer

• Android 8.0 and later, USB-C enabled Smartphone with DP Alt Mode**
**Only Samsung and Huawei support PC-like operation, others only support mirror mode. For a list of supporting mobile device, refer to UH3235's user manual.

• iPadOS 13.1 and above, iPad Pro (USB-C)

Environmental
Operating Temperature
0–40°C
Storage Temperature
-20–60°C
Humidity
0–80% RH, Non-condensing
Physical Properties
Housing
Plastic
Weight
0.05 kg ( 0.11 lb )
Dimensions (L x W x H)
9.30 x 7.00 x 1.50 cm
(3.66 x 2.76 x 0.59 in.)
Note
For some of rack mount products, please note that the standard physical dimensions of WxDxH are expressed using a LxWxH format.