Events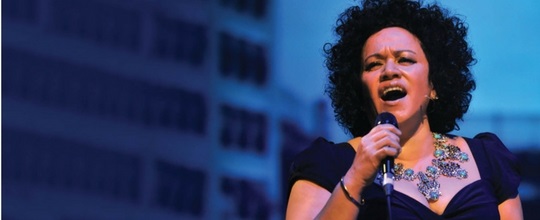 Published on March 19th, 2018 | by admin
At Last – The Etta James Story
The critically-acclaimed smash-hit show, At Last –The Etta James Story, starring legendary artist Vika Bull, will return to Arts Centre Melbourne's Playhouse from 19 – 24 June. Following its world premiere in Melbourne in 2013, At Last – the Etta James Story has packed theatres throughout Australia and New Zealand. In 2017 this home-grown show toured the UK, selling out theatres in London, Liverpool, Manchester and across the country, receiving five star reviews and multiple standing ovations wherever it played.
Starring the sensational Vika Bull the show tells the story of soul legend Etta James' turbulent life and features some of her most beloved songs including Tell Mama, Something's Got A Hold On Me, the heart rending I'd Rather Go Blind, and her iconic At Last. Bull puts her heart and soul into this unforgettable show and is joined on stage by some of Australia's finest and funkiest musicians.
Etta James had a long and tumultuous career that saw her win six Grammy Awards and receive a star on the Hollywood Walk of Fame. Sadly, her frantic recording and touring schedule coincided with her ever-growing addiction problems and over time she not only sang the blues, she lived the blues. Mercifully, her passion for life and strength of character saw her conquer her demons and she continued to record and perform into her seventies.
Etta James has influenced a vast array of artists from Diana Ross, Janis Joplin, Stevie Wonder, The Rolling Stones and Rod Stewart and is acknowledged as inspiring the careers of a new generation of singers including Christina Aguilera, Adele and the late Amy Winehouse. Her spirit lives on in her music and the legion of loyal fans that love her the world over.
For thirty years the glorious voice of Vika Bull, alongside her sister Linda has comprised one of the most distinctive, versatile and emotionally charged sounds on the Australian music landscape. Since their multi-platinum conquest of pop radio with The Black Sorrows in the late eighties the sisters have forged diverse pathways into soul, gospel, blues, country and the island music of their Tongan ancestry. By turns tender and powerful, their rich solo vocals and instinctive harmonies have spawned eight albums of their own, as well as illuminating studio and concert performances with Paul Kelly, RocKwiz, C.W. Stoneking, Deborah Conway, Kasey Chambers and many more.
Vika Bull will be joined on stage by John McAll, (musical director, pianist and keyboardist), Tibor Gyapjas (narrator and trumpet), Ben Gillespie (trombone & vocals), Chris Bekker (bass), Haydn Meggitt (drums), Dion Hirini (guitar) and Anton Delecca (saxophone).
"Nobody does Etta better" – Australian Stage
Arts Centre Melbourne and Theatre Shows International present
At Last – The Etta James Story
19 – 24 June 2018
Arts Centre Melbourne, Playhouse
Book: artscentremelbourne.com.au or 1300 182 183