Hardware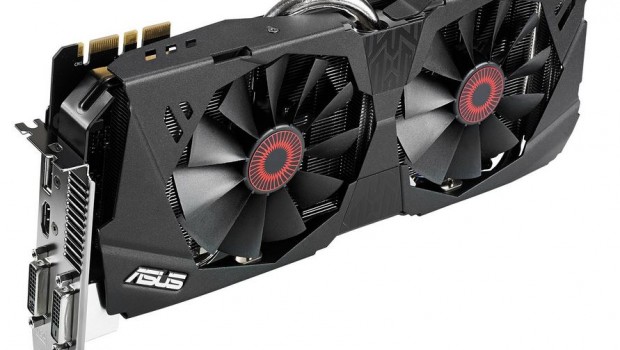 Published on September 11th, 2014 | by Admin
ASUS Strix R9 285 Review
Summary: The ASUS Strix R9 285 perfectly targets the midrange gamer with 1080p capabilities and 4K graphics
ASUS Strix R9 285
Product: Graphics Card
Model No: STRIX-R9285-DC2OC-2GD5
Price: TBA
Reviewer: James Wright
The ASUS Strix R9 285 has arrived in Australia that delivers some impressive performance and a wealth of features to target the most hardest of gaming aficionados and more importantly, it's quite affordably priced. Besides the powerful GPU and DDR5 Ram, the card boasts DirectCU II with 0dB Fan Technology that not only keeps the card cooler but reduces the overall noise while playing high-end games.
Interestingly enough, some games such as Starcraft II that are not as intensive as a game like Tomb Raider can be played in total silence thanks to its passive fan design. Even when playing a game like Tomb Raider or even Battlefield 4, it's actually one of the quieter cards that I've tested. Another feature of the card that it is 4K-compatible and supports bridgeless CrossFire which is definitely a bonus.
Highlights
954 MHz Boost clock for better performance and outstanding gaming experience.
DirectCU with 0dB fan technologylets you enjoy light games in complete silence, and hardcore gaming at 30% cooler with 3X-quieter performance!
DIGI+ VRM with 8-phase Super Alloy Powerdelivers precise digital power for superior efficiency, reliability, and performance.
GPU Tweakhelps you modify clock speeds, voltages, fan performance and more, all via an intuitive interface.
GPU Tweak Streamingshare on-screen action in real time – so others can watch live as games are played.
The Strix which is Ancient Roman for Owl uses the latest 3rd generation Graphics Core Next Architecture that supports AMD TrueAudio, PowerTune, DirectX12 and Mantle. The card even looks like an Owl due to the twin fan configurations and is powered by two 6-pin connectors. As you can see from below, the card uses the Tonga GPU and matches the specifications provided by AMD.
Add in two DVI connectors (DVI-D/DVI-I), a full sized DisplayPort plus a HDMI connection as you have everything you need to connect this card to a variety of monitors. With that said, the card itself uses a 28nm manufacturing process with an engine clock of 918Mhz, 1792 Stream Processors, 3.29 TFLOPS, 112 texture units with a 256-bit memory bit-interfance with 2GB of GDDR5 RAM plus a data rate of 5.5 Gbs. Sure it may not be the fastest card on the block but it has a few tricks that targets the gamer well.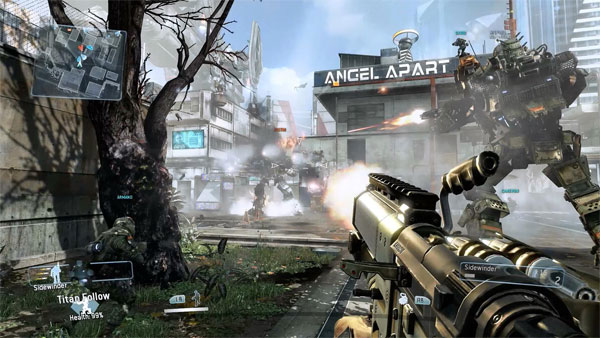 Specifications
Graphics Engine: AMD Radeon R9 285
Bus Standard: PCI Express 3.0
Video Memory: GDDR5 2GB
Engine Clock: 954 MHz
Memory Clock: 5500 MHz ( 1375 MHz GDDR5 )
Memory Interface: 256-bit
Interface:
DVI Output : Yes x 1 (DVI-I), Yes x 1 (DVI-D)
HDMI Output : Yes x 1
Display Port : Yes x 1 (Regular DP)
HDCP Support : Yes
Accessories: 1 x 6pin to 8pin power cable
Software: ASUS GPU Tweak & Driver
Dimensions:
10.6 " x 5.5 " x 1.6 " Inch
26.9 x 13.97 x4.06 Centimeter
In terms of testing we tested this card with an Intel Core i7-4770K processor with 16GB of DDR3-2133Mhz memory plus a Samsung 28" 4K UHD LED screen. Windows had the latest updates and drivers for all our software installed on the test machine, including some of the best games from this year and last.
As the card is a 190 Watt TDP product, it is powered by two six-pin PCI power connectors which provides sufficient power to the card and reduces the need for specific power supplies. Interestingly enough, the card even glows when powered which looks quite cool and is ideal for those gamers with clear cases.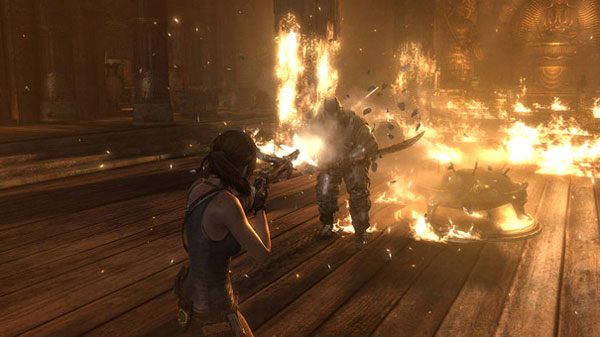 With our games, all titles were tested in FULL HD (1080p) or 1920×1080 with full detail turned on. Considering the specifications of the card, it did perform quite reasonable at this level with all games being quite playable. We did notice some slowdown in Battlefield 4 but for the majority it was more than adequate. By dropping the resolution down a little, Battlefield 4 became silky smooth but the surprise for us was Titan Fall that not only looked amazing but played extremely well. The scores were also the average frames per second which are listed below for Unigine Heaven, Tomb Raider, Grid AutoSport, Far Cry 3, Battlefield 4 and Titan Fall.
Anything more than 50 is quite a good score!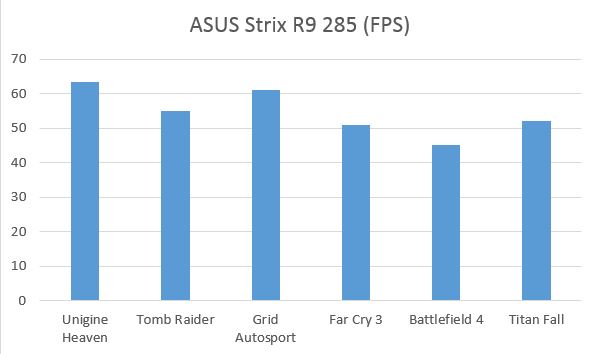 Final Thoughts?
For users with older graphics cards who are looking for a reasonable priced upgrade to FULL HD than the ASUS Strix R9 285 definitely has the bells and whistles to achieve this plus a few additional bonuses like 4K and TrueAudio. The card also sits just below the GeForce GTX 770 in terms of performance and once again, by tweaking the card and your system, you can definitely improve the FPS in your gaming titles.
Check it out!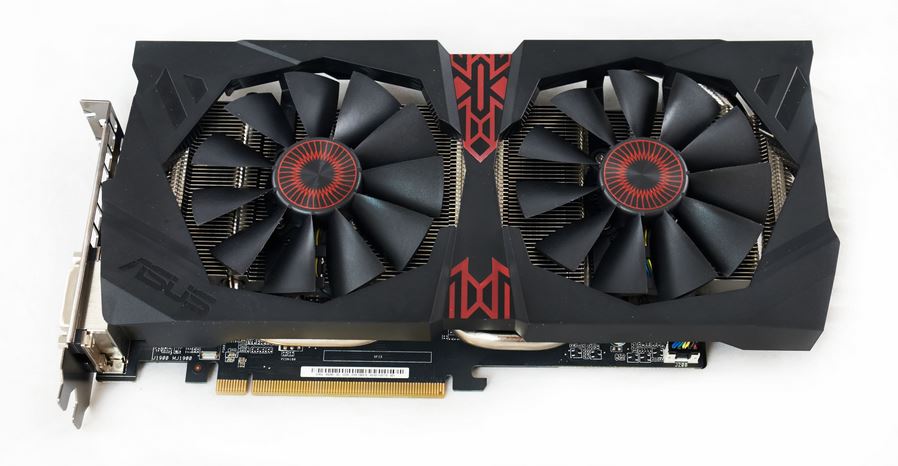 The only drawback is the current 2GB of RAM on the card that does slightly impact some of the titles we tested. The card also targets some upcoming titles that include Alien Isolation and Star Citizen plus some bundles that makes this card a great choice for the mid-tier gamer.
Recommended!